Pre-Hospital Emergency Care BSc (Hons)
Study level:

Undergraduate
CPD/Short courses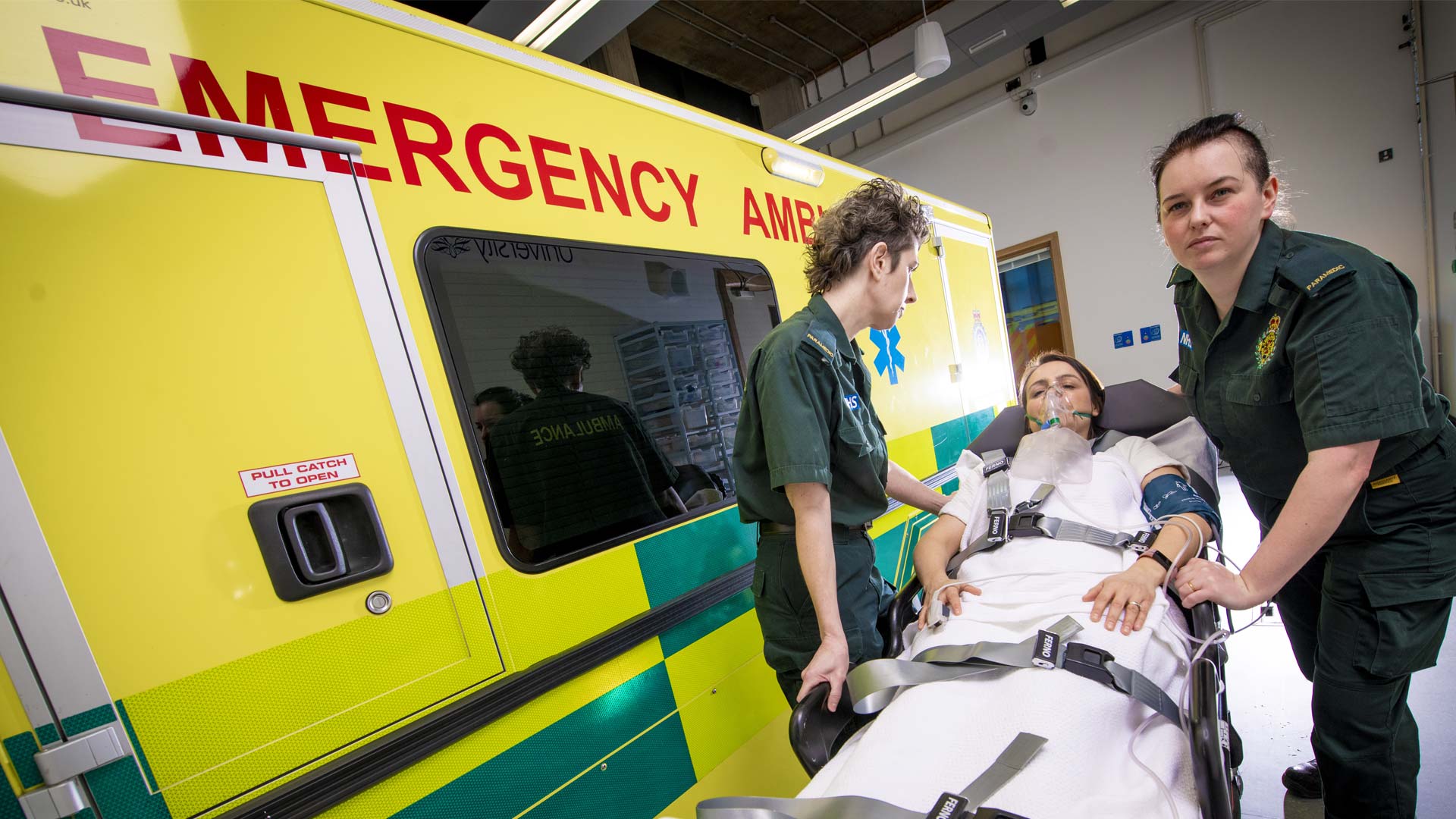 This online course has been developed to complement pre-hospital paramedic/nursing care qualifications and experience and provide the opportunity for registered paramedics or nurses to build upon existing FdSc and DipHe qualifications to achieve a BSc (Hons) degree.
Location
100% online study
Study mode
Full-time
Part-time
Duration
1 year full-time
2 years part-time
Start date
September 2023
January 2024
Course overview
This online course has been developed to complement pre-hospital paramedic/nursing care qualifications and experience and provide the opportunity for registered paramedics or nurses to build upon existing FdSc and DipHe qualifications to achieve a BSc (Hons) degree.
The innovative e-learning format of this course has been designed to overcome many of the difficulties experienced by those who wish to access higher education, but who are unable to attend a traditional classroom-based course, for example those who work variable shifts. It can be studied full or part-time.
Course detail
The course is made up of a combination of mandatory and option modules, so you have the opportunity to select modules that are of particular interest to you.
The course team is supported by a team of Hourly Paid Lecturers who are both practising clinicians and subject experts in their fields. These lecturers produce module content, offer tutorial support and engage directly with students on the online platform.
This course will enable paramedics and other emergency clinicians to top up their existing FdSc/DipHe Paramedic Science/Nursing awards in preparation for existing and emerging roles within pre-hospital emergency care.
Benefits for you:
100% online delivery enables you to study at your own pace and in your own time.
Ability to develop critical thinking and critical decision-making skills.
Improved job satisfaction.
Benefits for your employer:
Increase clinical competence of workforce.
Deliver evidence-based practice.
Increase commitment to defining and delivering quality care.
Upon successful completion of the course, you will have:
Enhanced your existing knowledge and understanding of pre-hospital emergency care.
Demonstrated continued professional development and the enhancement of practice.
Undertaken critical analysis of relevant literature, including research-based evidence and policy documents.
An understanding of achieving and leading quality care service and delivery.
Networked with a range of students from different specialties.
Modules
Mandatory modules:
Principles of Health Assessment (20 credits)
The aim of this module is to develop your understanding of the knowledge, principles, skills and techniques required to support the undertaking of holistic health assessment.
Principles of Doing a Literature Review (20 credits)
This module enables you to develop skills to enable you to critically explore knowledge in a chosen area of healthcare, through the process of independent enquiry and research. You will have the opportunity to develop the skills to devise and execute an appropriate enquiry, in depth, with view to offering a literature review.
Literature Review (20 credits)
This module will enable you to acquire knowledge in a chosen area of healthcare through a process of independent enquiry and research. You will have the opportunity to devise, design and execute an appropriate method of enquiry and analyse, in depth, results appropriate to health and social care practice. You will develop an enhanced understanding of the review process and its relationship to professional practice through the production of a literature review.
Choose three from the following:
Pre-Hospital Evaluation of Minor Injuries and Illnesses (20 credits)
The aim of this module is to critically examine the approach to the assessment and management of minor injuries and illnesses.
Pre-Hospital Care and Management of Long-Term Conditions (20 credits)
The aim of this module is to develop your ability to critically assess; treat; refer and discharge patients with exacerbations of a range of long-term conditions.
Mentoring in Paramedic Practice (20 credits)
The aim of this module is to allow paramedics in practice who have consolidated their initial role and responsibilities and to undertake further study to develop as clinical practice mentors.
Principles of Pre-hospital Trauma Assessment and Management (20 credits)
This module is intended to engender an improved understanding of pre-hospital traumatic pathophysiology and to encourage you to evaluate the evidence-base underpinning contemporary approaches to assessment and emergency treatment guidelines.
The Vulnerable Patient Across the Age Continuum (20 credits)
This module aims to explore the theory and practice of healthcare assessment within the context of managing vulnerable patients. The principles of assessment will focus on vulnerable patients across the age continuum and within an emergency care context. This module enables you to develop a greater understanding of the issues of vulnerability and how the different issues may impact upon those affected, as well as offering strategies to those health professionals facing clinical decisions.
Assessment and Management of Acute Mental Health Problems (20 credits)
This module aims to enable you to develop a greater degree of understanding in assessing those presenting with potential mental health issues. The module presents a range of interventions, as to how these increasingly difficult situations could be managed, as the professional develops a greater level of autonomy.
How you'll learn
The course is delivered wholly online by e-learning methods. You will also be directed to learning and web resources and additional reading and will have access to online research databases.
Assessment
Depending upon which module is being studied, some assessment may be via an online examination, whilst other modules require an electronic essay to be submitted before a specified deadline.
The Coventry University Group assessment strategy ensures that our courses are fairly assessed and allows us to monitor student progression towards achieving the intended learning outcomes.
Entry requirements
Applicants should be a registered paramedic/nurse with one of:
Paramedic Studies FdSci
Paramedic Science FdSci
Paramedic Science DipHE
Dip HE Nursing DipHE
or equivalent.
Disclaimers

1Accreditations

The majority of our courses have been formally recognised by professional bodies, which means the courses have been reviewed and tested to ensure they reach a set standard. In some instances, studying on an accredited course can give you additional benefits such as exemptions from professional exams (subject to availability, fees may apply). Accreditations, partnerships, exemptions and memberships shall be renewed in accordance with the relevant bodies' standard review process and subject to the university maintaining the same high standards of course delivery.

2UK and international opportunities

Please note that we are unable to guarantee any UK or International opportunities (whether required or optional) such as internships, work experience, field trips, conferences, placements or study abroad opportunities and that all such opportunities may be subject to additional costs (which could include, but is not limited to, equipment, materials, bench fees, studio or facilities hire, travel, accommodation and visas), competitive application, availability and/or meeting any applicable travel COVID and visa requirements. To ensure that you fully understand the visa requirements, please contact the International Office.

3Tuition fees

The University will charge the tuition fees that are stated in the above table for the first Academic Year of study. The University will review tuition fees each year. For Home Students, if Parliament permit an increase in tuition fees, the University may increase fees for each subsequent year of study in line with any such changes. Note that any increase is expected to be in line with inflation.

For International Students, we may increase fees each year but such increases will be no more than 5% above inflation. If you defer your course start date or have to extend your studies beyond the normal duration of the course (e.g. to repeat a year or resit examinations) the University reserves the right to charge you fees at a higher rate and/or in accordance with any legislative changes during the additional period of study.

4Facilities

Facilities are subject to availability. Due to the ongoing restrictions relating to COVID-19, some facilities (including some teaching and learning spaces) may vary from those advertised and may have reduced availability or restrictions on their use.

Student Contract

By accepting your offer of a place and enrolling with us, a Student Contract will be formed between you and the university. The 2022/23 Contract is currently being updated so please revisit this page before submitting your application. The Contract details your rights and the obligations you will be bound by during your time as a student and contains the obligations that the university will owe to you. You should read the Contract before you accept an offer of a place and before you enrol at the university.