Local inventor seeks commercial partner
Thursday 21 May 2015
Press contact
---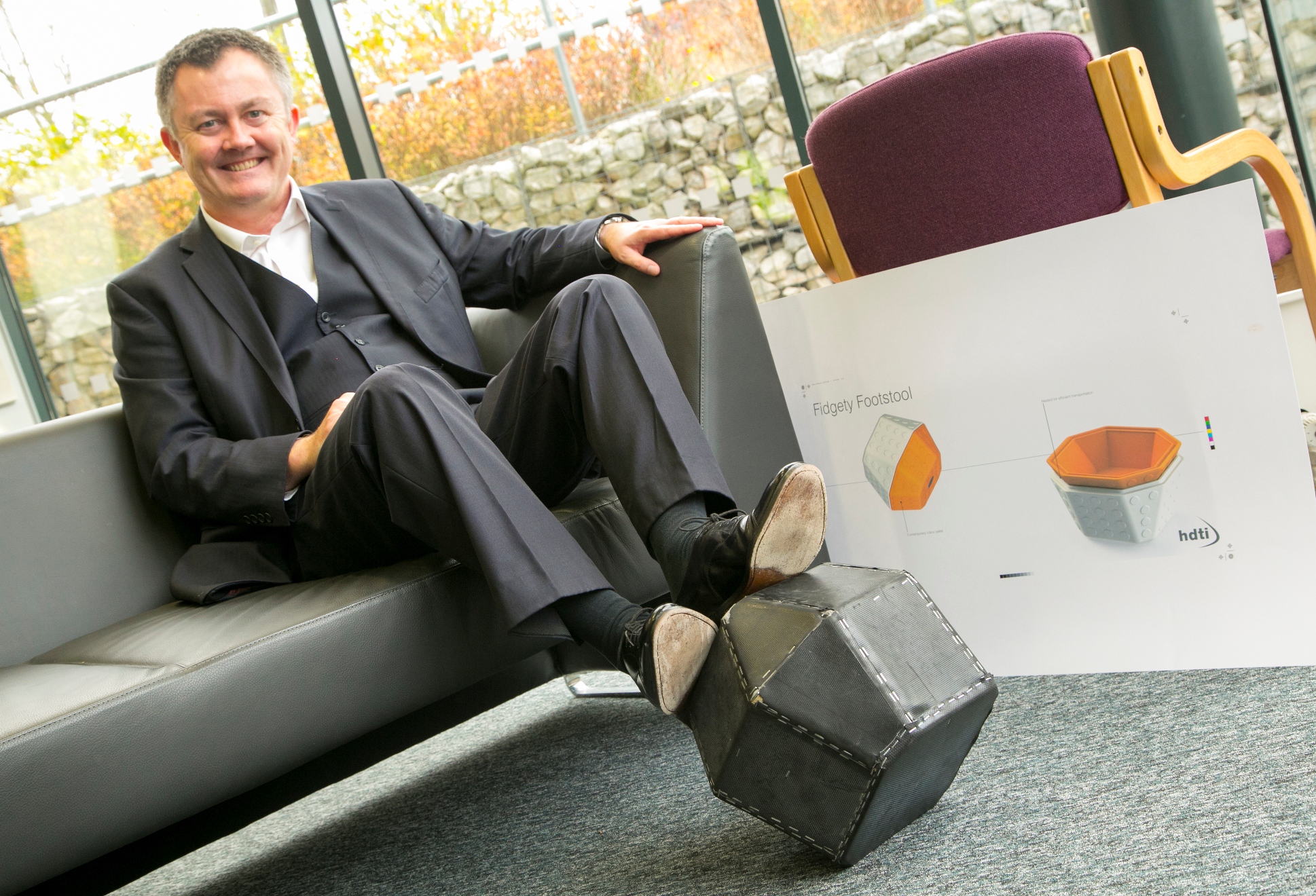 A Coventry inventor is looking for a commercial partner to manufacture a new product which has improved his backache.
Gerald Cooke has developed a novel foot stool which he believes has led to a massive improvement in his sciatica which he has suffered for the last ten years.
The 60-year-old came up with the idea of the non-slip Fidgety Foot Stool after discovering he could improve the symptoms by gently moving and changing the position of his feet on the asymmetric product when he was sitting down.
After developing a prototype, Mr Cooke contacted Coventry University Health Design & Technology Institute (HDTI) for advice.
He was able to take advantage of HDTI's Assistive Technologies and Community Healthcare Development Project, provided by the European Regional Development Fund, which paid for the research of an independent usability study and expert appraisal.
Encouraged by the extremely positive results, he has protected the intellectual property in the Fidgety Foot Stool by registering the design and has commissioned HDTI for help in finding a commercial partner to license his idea and manufacture the product.
Mr Cooke said the Fidgety Foot Stool could alleviate the symptoms of sciatica, back pain, restless leg syndrome and other health conditions.
"By using it as a foot stool, you can rest your feet or ankles on it in a variety of heights, angles and positions and tilt it so that it is in the most comfortable position for you," he said.
"I use it when I'm sat at home watching television and, as well as improving my sciatica so I'm not in as much pain, it stretches your calves and thigh muscles.
"The name fidgety foot stool came to mind because that is what you would do with it – fidget.
"I have taken the product as far as I can so I now need help from a company who is interested in manufacturing and selling it under licence."
HDTI Commercial Development Director Guy Smallman said the foot stool had been evaluated by a group of physiotherapists who have experience of dealing with people with posture and back problems.
He said: "Their response was very positive and some studies which we carry out are not as encouraging as this.
"The physiotherapists felt it would appeal to a wide market rather than just older people or people with specific health conditions. The real novelty is the associated movement that the user has, rather than it simply being a stool for a person to balance their feet on. It can also be used for gentle exercise.
"The next stage now is to manufacture the product. Under the terms of the licence, the business would have the exclusive monopoly rights to make and sell it."
For more information about the Fidgety Foot Stool and to explore potential licensing opportunities, please contact Guy Smallman, Commercial Development Director at Coventry University HDTI, at guy.smallman@coventry.ac.uk