Innovative product set to transform the lives of people with high-risk foot conditions
Tuesday 31 March 2015
Press contact
---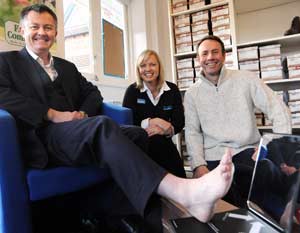 An innovative product which is set to transform the lives of people with high-risk foot conditions has been launched by a Stratford businesswoman.
Solesee, which is the brainchild of Lisa Preston, is a discrete, portable and easy –to-use mirror system which enables people with diabetes and other medical conditions to check the soles of their feet.
Daily checks on the condition of the soles and heels of their feet means people will be able to spot any signs of skin damage or abrasions which could lead to more serious conditions such as ulcers.
In England, there are 100 amputations each week among people with diabetes and diabetics are 30 times more likely to have an amputation than other patient groups.
Lisa, who trained in specialist footwear whilst living in Australia for 20 years before returning to the UK, has designed Solesee with help from Coventry University's Health Design & Technology Institute (HDTI). She has also partnered with local entrepreneur David Smyth to develop the marketing and sales strategy around Solesee and help raise funds to launch the new product. She said
The concept for Solesee was devised after years of fitting specialist footwear to people with poor foot health.

On a daily basis I see people who need to be inspecting the underneath of their feet every day, but cannot easily do so. Bending over and twisting your foot around to see underneath is no easy task.

In many cases people just don't realise how often they should be checking their feet and so only get them checked when they visit their foot health professional, which can sometimes be once a month which is just not often enough.
After researching products already available on the market, which mostly appeared to be variations to 'mirrors on sticks', which are difficult to hold and use, Lisa has devised a more effective, simple and portable product to encourage more regular foot checks. Lisa said:
I had to think of an easy to use, safe and discrete way to help people look at the bottom of their feet and, most importantly, to help educate them to take responsibility and look every day for any changes in their foot condition.
Initial trials of Solesee were carried out with Podiatrists and people with high risk feet that live in Stratford before feeding the results from these trails into the design and development of the product which is now in production.
Guy Smallman, Commercial Development Director at HDTI, met Lisa at a networking event in Stratford and he and his team helped turn her idea for Solesee into reality.
This could potentially save the National Health Service a great deal of money – looking after people with health problems resulting from not being able to check their feet regularly is extremely expensive.

The idea of prevention being better than cure is the best way to address it – and allow people to stay healthy and active and enjoy life – which is why this product will really help.

We secured funding from the European Regional Development Fund's Assistive Technologies and Community Healthcare Development Project to produce initial concept designs from which we produced a prototype. Following this, we sourced a manufacturer to make an initial batch of 20 for the focus group to assess

With Lisa's wealth of knowledge and expertise in this area and, together with the marketing expertise that David brings, this has a great chance of being a commercial success.