Home Sweet Home for Institute's new Product Designer
Thursday 15 May 2014
Press contact
---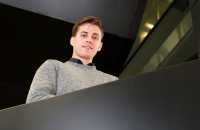 A Coventry University graduate has taken up the post of Industrial Product Designer at the University's Health Design & Technology Institute (HDTI).
Award-winning designer James Miles is familiar with his new surroundings, having spent six months as an intern working on product designs in 2010 at the HDTI while studying at Coventry.
After graduating with a First Class Honours in Consumer Product Design from the University in 2011, the 24-year-old joined JMDA in Worcester as a Junior Product Designer.
Now, the Stratford-based designer will be working alongside HDTI Senior Product Designer Paul Magee on projects centred on community healthcare and assisted living.
James, who won the Nanjing Innovation Design Prize in 2011 awarded by the University of Singapore, is excited about returning to HDTI to develop new technologies.
He said:
"My internship was a massive help and gave me invaluable experience for my studies in my final year. This was really valuable in improving my design thinking and overall skill set.
"I'm looking forward to the challenges ahead as I really enjoy working on projects which bring benefits to users because it can make a real difference in improving their day-to-day lives.
"My job involves concept generation, design development and designing for manufacture to create innovative healthcare products and assistive technologies.
"It is really interesting to watch your initial designs progress into prototypes for products which can be used to improve people's lives."
The Health Design & Technology Institute has recently been awarded a second phase of funding from the European Regional Development Fund (ERDF) of £341,500 to extend its support to SMEs in the West Midlands for a further 18 months.