HDTI supports launch of EEZEE HAND
Monday 24 March 2014
Press contact
---
A new playing card system to help people with disabilities is now on the market thanks to support from Coventry University Health Design & Technology Institute (HDTI).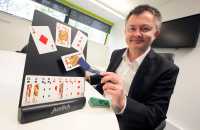 The EEZEE HAND playing card system was conceived by inventor Charles Henderson, with advice from HDTI, to help those with limited dexterity to pick up and handle a deck of cards in comfort and with ease.
A keen card player, Charles developed his idea from the initial concept through to an advanced prototype but, despite being granted a patent for his invention, he found it very difficult to gain interest from mainstream games companies to manufacture the product.
After a conversation with Guy Smallman, HDTI's Commercial Development Director, Charles made the trip to Coventry from his home on the Isle of Wight to demonstrate his product.
Following the meeting, HDTI agreed to help Charles find a partner to take his idea forward.
As part of its support, HDTI carried out research into the most appropriate games manufacturers who would be interested in the product and introduced the concept and prototype to Games Play UK, who after an initial meeting and demonstration, were keen to help take the product to market. HDTI then brokered a license agreement on Charles' behalf.

Guy Smallman, Commercial Development Director at HDTI, said: "As soon as Charles showed us the prototype we believed his idea had potential.
"So many people who used to enjoy playing cards aren't able to do so simply because they no longer have the dexterity they once had.
"Holding cards can be very difficult and uncomfortable for the ageing population, particularly people with arthritis.
"EEZEE HAND allows people to enjoy this activity again and benefit from the stimulation it provides."
Keith Wilkinson, Managing Director of Games Play UK, added: "Our first reaction to the product was that it was an amazing aid for so many people who have been unable to play cards because they simply haven't been able to hold them.
"The product is also available for licensing opportunities for world-wide mass production opportunities since there is no doubt this creation can be exported across the globe."