HDTI secures new ERDF funding to support small businesses
Monday 24 March 2014
Press contact
---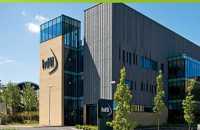 HDTI has secured additional funding for product design and usability testing in the assisted living and community healthcare market. This an 18 month extension to its existing highly successful Assistive
Technologies and Community Healthcare Development Project, sponsored by the European Regional Development Fund (ERDF).
Aimed at small and medium sized enterprises, entrepreneurs and inventors based in the West Midlands region, the fund provides qualifying companies with up to five days product development consultancy free of charge, which can be used to provide product design and/or usability testing.
Norman Price, Deputy Chair of the West Midland ERDF Local Management Committee said: "Phase 1 of this project demonstrated the success that can be achieved when you support businesses that have new concepts and ideas with access to high quality research, development and expertise.
There are also real benefits to the community and quality of life that can be drawn from this work.
"Allowing businesses to develop and test their ideas out before launching them on the market helps to reduce the risks and increases the chances of success. It's important that we give local businesses every possible chance to grow and i'm delighted that we have been able to help continue the provision of this support".
"I had been developing a number of mobility aid ideas for sometime but was very concerned about talking to product development companies without any intellectual property protection and not being in a position to present a finished product. I approached HDTI looking for support and was delighted to find funding for consultancy, product development and usability testing was available, allowing me to take my ideas to the next stage."
The West Midlands has proven to be full of great product ideas from individuals and SMEs in the assisted living sector, particularly people with disabilities and long term conditions, carers, family members and healthcare professionals who have experience of healthcare issues. HDTI is keen to develop these ideas into viable products by providing initial design, prototyping and usability support, reducing the risks associated with their development and maximising the likelihood of commercial success.
Guy Smallman, HDTI's Commercial Development Director commented, "We have worked with a variety of innovative businesses and entrepreneurs working in the community healthcare sector, supporting the development of new and innovative products. Focusing on the ageing population, people with disabilities and long term conditions, we provide design, prototyping and user-centred product evaluation services to entrepreneurial companies and individuals developing new technologies in this area. We're delighted to be able to demonstrate the positive impact these funds have had and will continue to have."
HDTI is keen to hear from Midlands based inventors and SMEs who are looking to develop new products in the healthcare market.
For more information please contact Guy Smallman