Tuesday 17 June 2014
Press contact
---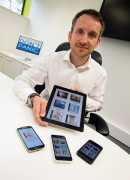 GPs across Coventry and Warwickshire are to provide patients with help on tackling anxiety, negative thinking and anger issues by downloading self-help information from an innovative smartphone app.
Coventry and Warwickshire Partnership NHS Trust has devised an app called Don't Panic which has six different titles within it focused on helping people deal with panic attacks, social anxiety, stress, worry, negative thinking (for people with depressed mood) and anger.
The app has been developed with the help of Coventry University Health Design & Technology Institute (HDTI) along with a flyer giving simple instructions on how to download the apps from the Apple Store, Google Play or BlackBerry World. In the next few months, the flyer will also be printed and distributed in public libraries.
Those who don't have a smartphone can access the material from (http://www.tryaudioselfhelp.com).
Dr Dan Barnard, Consultant Clinical Psychologist at Coventry and Warwickshire Partnership NHS Trust, recorded the apps at Warwickshire-based One Nation Studios.
"In 2010 we put together CDs for patients to listen to when they needed instant advice and to build-up their learning on how to deal with their particular issue," he said. "They are based on Cognitive-Behavioural Therapy (CBT) which is the most researched and proven psychological approach.
"The CDs proved really popular for patients instead of reading leaflets or self-help books and over 6,000 were distributed which led to the Trust thinking there was an opportunity to provide GPs with self-help resources for their patients.
"We approached MidTECH, the West Midlands NHS Innovations Hub, who then commissioned HDTI to build a simple, professional looking app to present the six audio self-help titles in an easy, accessible way.
"Five of the most common psychological areas of difficulty for people are panic, social anxiety, stress, worry and negative thinking and while anger is not considered to be a mental health problem, it presents many psychological difficulties for a lot of people.
"We have sent an information sheet to GP practices throughout Coventry and Warwickshire that GPs print off for their patients as a prescription, and we advise people to listen to the apps at least once a day for a week.
"Each app explains the theory for each subject in a non-jargon way and then presents coping strategies. We advise that it can be beneficial to write notes as well so that listeners gain the knowledge and skills they need.
"After seven days, we hope people will have learned the techniques so that when they are going about their day-to-day lives they can put the knowledge and skills into practice.
"The apps are not designed to replace face-to-face therapy but as a complimentary aid since quality advice can be accessed immediately and they can be listened to discreetly whenever the listener wants.
"The feedback from the CDs was overwhelmingly positive and we are hoping for a similar response to the apps.
"At the end of each app, there is a short survey for people to complete to rate the recording, their understanding of the subject and whether they will be trying any of the coping strategies.
HDTI, based at Puma Way at Coventry University Technology Park, provides support for product design, prototypes and usability testing to SMEs, entrepreneurs and inventors to commercialise products focused on the assisted living and community healthcare sector.
Guy Smallman, Commercial Development Director at HDTI, said downloading the apps from smartphones enabled users to immediately access the information whether they were at home, work or travelling.
"People can't plan when they are going to have an anxiety attack or get angry but being able to download expert advice straight-away will help people cope immediately and give them confidence to take control in a positive manner," he said.
MidTECH is working with Coventry and Warwickshire Partnership NHS Trust with a view to rebranding Don't Panic under licence to other NHS Trusts elsewhere in the UK.