Major international university drone racing league set up by Coventry alumnus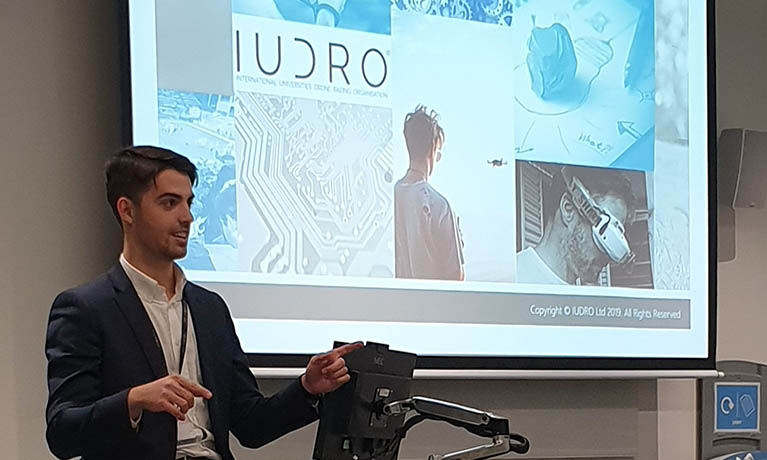 University news / Business news
---
Tuesday 12 July 2022
Press contact
---
A pioneering Coventry University alumnus who set up an organisation to oversee worldwide university drone racing has credited the university's business development organisation for its soaring growth.
Alejandro Perez-Llabata, 24, who studied aerospace systems engineering while at Coventry, developed the International University Drone Racing Organisation (known as "IUDRO") with support from Coventry University Social Enterprise CIC (CUSE) – a subsidiary which guides businesses, staff, and students in fulfilling their entrepreneurial potential.
IUDRO brings together teams from universities all over the world to design, build and race drones through different physical and virtual courses, competing to win the season as the most drone-innovative institution.
Even before he joined Coventry University, Alejandro had commercial ambitions after successfully filing a patent for a 'stratospheric multi-purpose shuttle' at the age of 16. It was the potential of unmanned technologies that drew him to drones.
This was recognised when he enquired at the university about developing his shuttle, and CUSE realised Alejandro could achieve great things if given the right support.
There were three things that truly impressed me about CUSE – their recognition of talent, giving students and alumni a platform to demonstrate their ideas, and leveraging their successes publicly.

Alejandro Perez-Llabata, CEO, IUDRO
He went on to say, "CUSE had faith in me from the beginning which gave me confidence I was in the right institution. They signed me up to the Evolve programme initially, which taught me the basics of business and provided the MBA-content foundation you wouldn't get in an engineering degree alone.
"I was offered internship interviews with Airbus and Rolls-Royce as part of my course, but a year's academic sabbatical to focus on commercial opportunities is a low-risk chance of a lifetime.
"So, after co-ordinating with the Faculty of Engineering, Environment and Computing and CUSE, I was allowed to focus solely on improving IUDRO through CUSE's Tech Incubator programme, which enabled me to work on developing it flat-out, and build relationships with other start-ups.
"After I graduated, CUSE still kept in touch and we exchange advice on both developing IUDRO, and providing the best entrepreneurial experience to students."
Alejandro was later invited to speak on a panel at World IP Day 2022 in Brussels, with the theme of 'IP and Youth: Innovating for a Better Future', about his business's success alongside fellow Coventry University graduate Ravi Ranjan (who founded vehicle traction start-up RDTS Technologies with support from CUSE). Both Alejandro and Ravi were given CUSE sponsorship to attend the event.
The development of IUDRO during Alejandro's time at Coventry University has been inspirational. He initially approached us looking for support with a working concept, and he is now running a global competitive network of engineers and computer scientists that drive innovation in the sector.

Mariama Njie-Ceesay, Social Enterprise Programme Manager at CUSE
Mariama went on to say: "Alejandro and IUDRO are a fantastic example of how CUSE can work with students that have ideas and passion, to transform them into incredible businesses, and we are looking forward to seeing what the next cohort of Coventry University students can develop with our support."
Find out more about CUSE.