Coventry University supports culture transformation organisation to scale up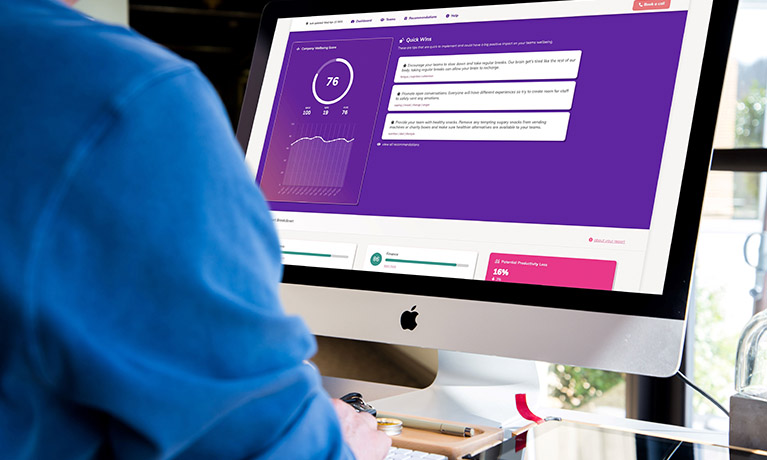 ---
Thursday 06 April 2023
Press contact
---
A business that uses data to help transform workplace cultures has gone from start-up to scale-up with support from Coventry University.
Lumien, based in Birmingham, works directly with companies to help improve employee performance, optimise recruitment, and increase retention by improving their culture and people strategies.
Part of its offering is a workplace culture tool where employees can report on how they are feeling about a range of topics using a dedicated app.
Its data analytics platform assesses this input and suggests to managers which interventions are needed, such as enhancing wellbeing programmes.
Lumien then works directly with the organisation to implement the interventions with the help of relevant tools, resources, and consultants.
It also delivers individual reports to the employees to recommend personal strategies and action plans, such as committing to taking lunch breaks and keeping a sleep diary.
Clients frequently see positive results within three to six months, with Lumien's services generating an average performance increase of £1,300 per employee, per year.
Lumien is building towards integrating AI into its platform in the next year.
Often, workplace culture can fall between the CEO and HR director's responsibility. Commonly, this means it can get neglected. Small businesses do not have the time or money to hire full-time employees to cope with this, so that's where we can support.

Christopher Golby, Director, and co-founder of Lumien
Christopher added: "We've had success working with companies all over the country, but we needed to improve our strategy and network to really kickstart our growth."
Coventry University met with Christopher and helped redevelop Lumien's value proposition to potential clients and investors, as it was initially too focused on individual staff wellbeing.
Lumien received an Research & Technology Organisation (RTO) grant worth £15,000 after getting business support through Innovate UK EDGE — an innovation and growth programme delivered by Coventry University.
Steve Lyons at Coventry University said: "By securing Lumien a grant through Innovate UK EDGE we were able to enlist the help of the Connected Places Catapult who, through a series of workshops, determined that Lumien's offering on organisational culture was of most value to potential customers.
"With a value proposition focused on improving workplace culture Lumien began to see substantial sales growth."
Further guidance from the Coventry University team led Lumien to join Innovate UK's Peer 2 Peer networking group which puts scaling businesses in touch with each other.
This ongoing support has led to Lumien being recognised as a scale-up by the ScaleUp Institute, getting them ready for their next round of funding, and on their way to achieving their revenue targets.
Coventry University's support really took us to the next level. Our new value proposition has enabled us to win more work and impress investors.

Christopher Golby, Director, and co-founder of Lumien
Christopher went on to say: "The networking group has been fantastic for us. We've developed strong relationships with several great contacts, which is invaluable when looking to grow the business.
"Without their help, I think we would have struggled to grow as fast as we have."
Steven Lyons at Coventry University added: "It's great to see how far they have come, and we are looking forward to seeing what the future holds for Lumien."
Find out more about Coventry University's business support.