Coventry University launches fast-track course in driverless vehicle technology in collaboration with HORIBA MIRA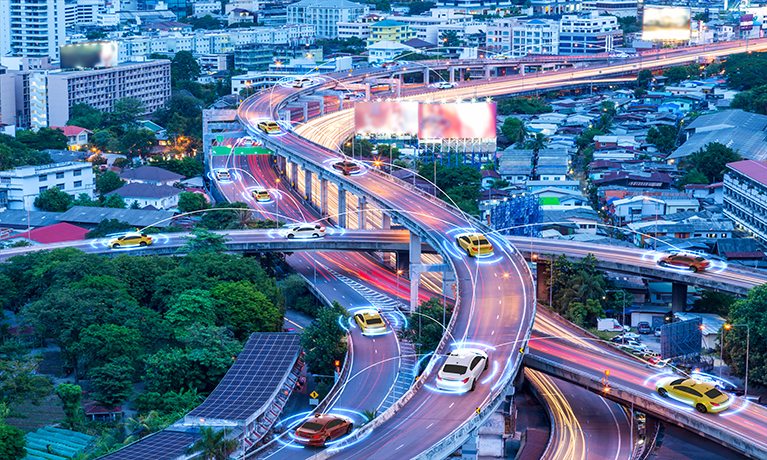 ---
Friday 28 April 2023
Press contact
---
A new fast-track course developed by Coventry University aims to augment the skills and knowledge required to keep pace with the advances made in driverless vehicle technology.
Connected Automated Vehicle Systems (CAV-Systems) is a five-day continuous professional development course designed for companies looking to enhance their employees' development as well as individuals in the industry looking to increase their knowledge.
Launched in collaboration with HORIBA MIRA, a global provider of automotive engineering, research and test services, the programme takes some of the key elements present in Coventry University's longer CAV-Systems MSc and condenses them to address a wide range of topics in smaller bite-size units.
The subjects covered will include cybersecurity, sensor perception, vehicle 'vision' and machine learning. The courses can either be taken publicly or as a closed course specifically tailored for an individual company and will be delivered at the MIRA Technology Institute.
For those taking the course, the aim is to boost their knowledge and understanding of the CAV sector and be able to produce automated driving systems (ADS) in CAV applications.
Deepak Farmah, Head of Industrial Innovation at Coventry University, said: "Self-driving vehicles are often talked about in the media as the future of transport but the technology to make this a reality is still being refined and improved.
"Currently, most self-driving vehicles are used on private land as the technology to deploy them on the UK's public roads is not reliable enough.
"If we are to fully realise the potential of self-driving vehicles, we need as many industry professionals as possible to understand the systems involved to drive and deliver the innovation.
"That's why we have developed a condensed, five-day course which aims to give those who already have some knowledge the extra guidance they need to be confident in developing an ADS.
"While we already have a longer MSc in CAV-Systems, for those in the automotive industry taking the time out to complete this course may not be practical.
"It's fantastic that we are delivering this course with the help of HORIBA MIRA, a true giant in automotive testing and a company that understands the needs of the industry."
We hope that it will go some way in helping as many people in the industry as possible understand the key concepts around autonomous vehicles and pave the way for them to be widely used in the future.

Deepak Farmah, Head of Industrial Innovation at Coventry University
The course was launched commercially after a successful pilot was undertaken with funding from Innovate UK.
For further information and to sign up to the next course which starts on Monday 19th June, please visit the registration page.