Coventry University helps environmentally friendly pet brand access new markets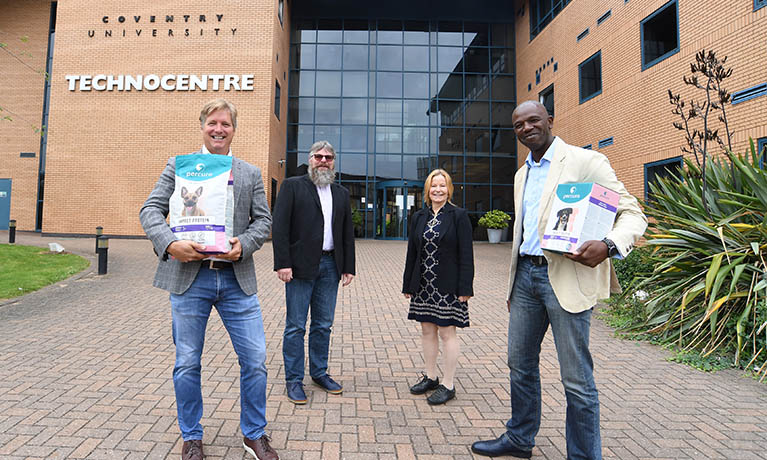 ---
Tuesday 02 November 2021
Press contact
---
Business development teams at Coventry University have helped Percuro, the producer of a low carbon pet food to secure contracts with retailers in the UK and globally just six months after getting its product to market.
Percuro Primal Pet Food Ltd recognised that dogs and cats alone consume 20 per cent of the world's animal-based sources of protein such as meat and fish. Their new pet food includes an edible insect protein that uses only a fraction of the land, water and energy to produce. All of its plant-based ingredients are 100 per cent sustainable with no hidden animal fats or derivatives, and 95 per cent are sourced within a close proximity to its manufacturing site in mainland Europe, which further limits its carbon footprint and offers a climate change positive regime for feeding pets.
The funding that Percuro was able to access through the EDRF funded 'Proof-of-Concept' programme at Coventry University, was crucial to the company being able to carry out a full feasibility study that helped establish market demand for the product through extensive consumer research among pet owners in the UK and Germany.
We came away from the 'Proof-of-Concept' research that the team at Coventry University helped us to fund with a clear market that was commercially viable. The university's support really got us going and was an important part of our process to get to where we are now.

Denise Saber, Founder of Percuro Primal Pet Food Ltd
As a result, Percuro is now selling direct to consumers in Europe via its own website and has secured supply contracts with big name UK brands: Pets at Home, Monster Waitrose, Ocado and Amazon, as well as others overseas in Italy, Singapore and the UAE.
Martin Lucy, Operations and Development Manager at Coventry University said, "Percuro are developing a novel environmentally aware product and accessing the 'Proof of Concept' ERDF funded grant enabled them to undertake the research aspect of the project to better understand the size of the commercial opportunity and the best way forward, reducing the financial risk of their project."
Find out more about the Proof-of-Concept grant programme and other business support provided by Coventry University.