Coventry University Group has extended its strategic collaboration with a leading disaster simulation software firm in Asia in a multi-million-pound deal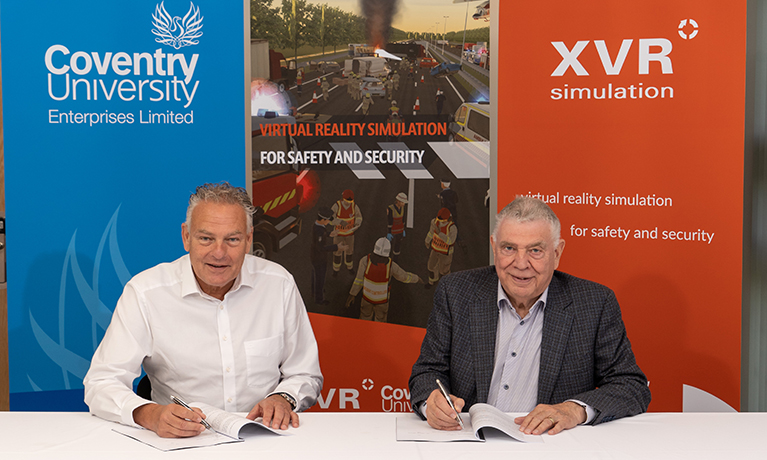 ---
Tuesday 04 October 2022
Press contact
---
Coventry University Enterprises Ltd (CUE Ltd), a commercial company within the Group, has collaborated with Dutch software developer XVR Simulation BV, a leading developer of simulation technology for education, training and assessment of safety and security professionals.
The highly advanced software is used to guide and enhance the competence, expertise, safety, and decision making of emergency response professionals, who use it to prepare for extreme incidents such as terrorist attacks, crowd surges at major events, chemical leaks, and much more.
The five-year contract has been signed by Frank Mills, Managing Director of CUE Ltd, and Joost Beerthuis, CEO of XVR Simulation BV. Coventry Enterprises (Singapore) Pte Ltd serves as the local delivery collaborator in Asia.
CUE Ltd has been delivering quality incident command training solutions for various customers across Asia, including the Singapore Civil Defence Force, Singapore Home Team Academy, Korea Seoul Metropolitan Fire Brigade, Thailand Chulabhorn Royal Academy and many more. The newly signed agreement will further expand and enhance CUE's presence in Asia.
Thanks to this latest deal, CUE will be delivering training to 35 different organisations across eight countries, with an estimated 20,000 people undertaking courses every year.
The official signing ceremony took place at The Simulation Centre on Coventry University's Technology Park. Powered by XVR Simulation BV and acknowledged as an XVR Centre of Excellence, the Simulation Centre is used to educate and train the university's own students, as well as emergency service professionals in the UK.
XVR Simulation is an advanced piece of software for virtual reality simulation for safety and security training which allows professionals to train in different disaster and emergency situations repeatedly in a safe environment.

The continuation of our collaboration with XVR provides an exciting foray in our future as we aim to build meaningful relationships with key industry experts, academics and government stakeholders in the disaster and emergency fields, further establishing both XVR and CUE's presence in Asia to become the industry leader.

Frank Mills, Managing Director of CUE
Our collaboration with CUE complements our strategy to expand the market globally, and in this case, Asia. With CUE as both our collaborator and customer (The Simulation Centre), it offers an academic credibility and confidence in our software as an effective simulation training tool.

Joost Beerthuis, CEO of XVR Simulation BV
Find out more about the services Coventry University offers to businesses.