Mechanical Engineering graduate secures Rolls Royce role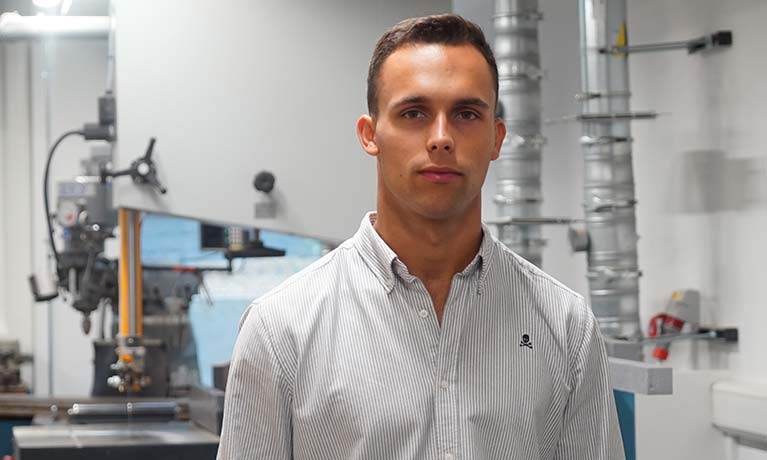 ---
Juan Miguel Prado joined Coventry University through Clearing, graduating with a first in Mechanical Engineering BEng this summer. He will start his new job with Rolls Royce in September.
Here, he shares his experiences.
On Coventry University
When I saw I had the option to add a Clearing choice to my application, I investigated Coventry University and decided to add them.
Everything I read about Coventry University on its website, the College of Engineering, Environment and Science (CEES) building, the modules and the facilities available, made me want to come here.
On his course
I chose Mechanical Engineering because it offered lots of different experiences. It really helps clarify and it makes you know what area of engineering you like. If I had studied aerospace or automotive, it would be harder to move to another sector, for example.
A contributing factor was the fact that the degree is accredited by the Institution of Mechanical Engineers.
Employability
That's one of the main factors that made me come to the UK to study — I really wanted to experience placements so I applied to many companies like Jaguar Land Rover and Lotus.
I had to apply every day, look for companies and go through application processes and all of that has its own benefits because it teaches you a lot.
My placement was with Bentley Motors as a Quality Engineer. Part of my job was to make sure that new cars were released to market without any issues, but I was also involved in decision-making as the team worked really closely with senior directors in the company, as well as other departments and test stations around the world.
I also learned both technical aspects and management skills.
On university support
In my first year, the university helped me improve my CV. It gave me some opportunities and connections with companies however, as COVID-19 came it became very hard to find a placement. I had to make an extra effort to apply to many companies and go through the application process while also studying for my exams.
On the city
I lived in London when I was younger but I'm originally from Madrid. I think living away from home teaches you a lot. It makes you open your mind and mature quicker.
I really like the diversity of Coventry. It's a city full of students of all different nationalities with great nightlife. You end up meeting a lot of different people which is really beneficial. Also being in the middle of the UK, the transport links are really good.
I would absolutely recommend it.
About his accommodation
I lived in university halls in my first year and I met a lot of people there.
There are a lot of international students, and they all really want to make friends, meet people and go out.
It's very easy to make friends and have a good university experience.
Future
I start at Rolls Royce in September and it's a similar job to the one I had at Bentley.
I decided that I wanted to work in quality again as it's a good balance between technical work, management, car testing and some administration work.
I decided to go for Rolls Royce because it is one of the best car manufacturers in the world, it will look good on my CV and the job itself was probably the best one out of all my options.
I have to relocate and look for a flat now, but I've moved around eight or nine times already and I know that, as soon as I move, I'll start meeting people. I'm nervous but excited too.
Find out more about the Mechanical Engineering BEng/MEng (Hons) course.