International Foundation Year - Accounting and Finance
Study level:

International Pathways Programme
International Foundation Year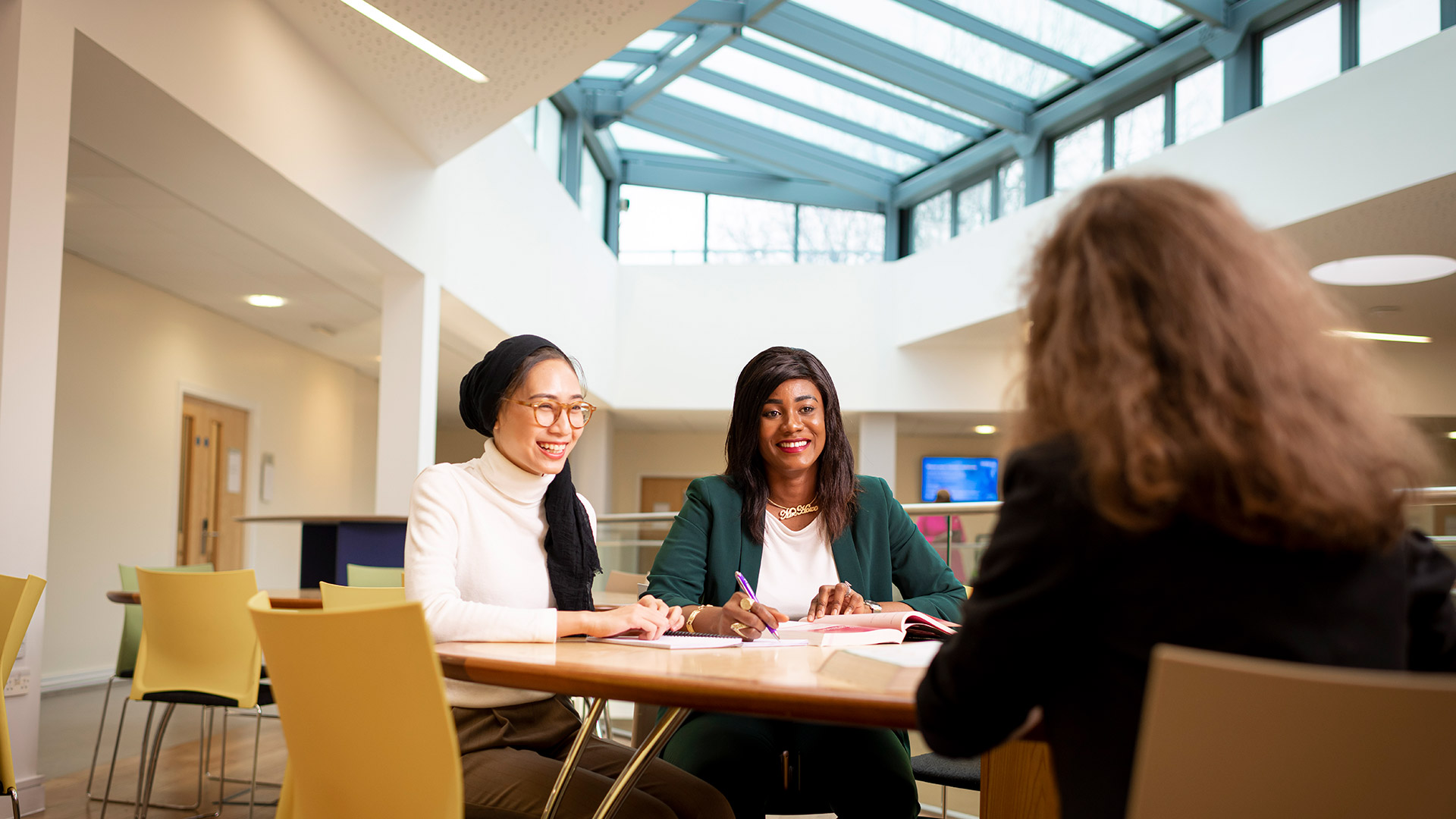 This study route is designed to introduce international students to higher education while experiencing life abroad in the UK. It aims to prepare you with a deeper understanding of academic culture that will allow you to flourish in your chosen degree studies.
Location
CU Coventry (Coventry)
CU London (Greenwich, London)
Start date
September 2023
November 2023
January 2024
March 2024
---
Course overview
It will offer you the chance to:
Develop accounting skills through teaching methods focused on hands-on, interactive learning through case studies and more.
Develop the appropriate level of academic language, study skills, and content knowledge to meet the entry requirements of your progression degree programme.
Acquire a strong, critical approach to real-world problems specific to language and education skill levels, as well as be allowed ample opportunities to reflect upon your learning.
Enhance your academic English and learning with English modules taught first to set you up for success as you go on to your accounting and finance modules later on.
Build on the fundamentals of accounting and accounting concepts, such as ethics, cost and revenues. You will be introduced to professional software3 used in the real world and learn more about specialised sectors.

Global experience
Study in the UK and gain international experience

Teaching excellence
Taught by lecturers who are experts in their field

Degree ready
Get the skills needed to progress onto a UK degree
Progression degrees
The Accounting and Finance International Foundation Year (IFY) can help support you to select a degree specialism in this field. It also aims to prepare you with the necessary toolkit to be successful while heading into your chosen degree. It will help you take a critical approach to your studies, reflect on your learning, organise your studies, and be a strong, independent learner.
On successful completion, you will be eligible to progress onto the following Coventry University or Coventry University London degrees (subject to meeting the specified entry criteria):
The academic support is really good here! The teachers are always assisting us and can provide me with any help I need. Since we are not local students, they even took us to some local markets and good restaurants in Coventry when we were settling in.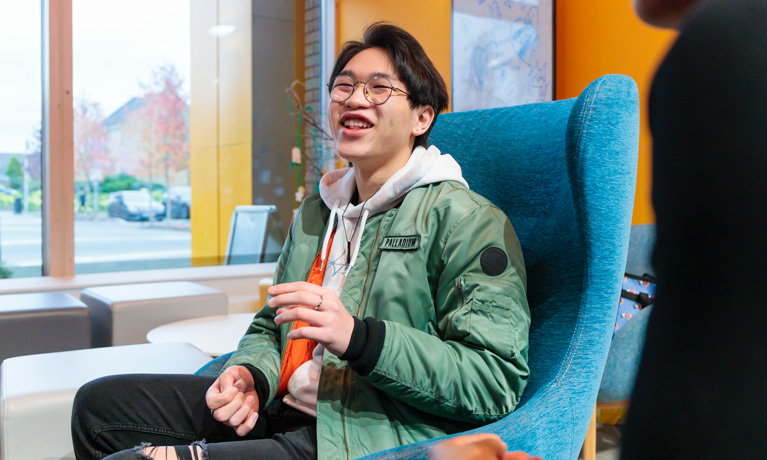 ---
What you'll study
By choosing to study the Accounting and Finance IFY, you will develop your English academic language skills through up to three diverse skill modules, depending on your IELTS entry level. You will then study three out of four subject-specialist modules*. These modules will provide a strong framework for your continued studies toward your chosen higher education degree.
Modules
Introduction to Academic Language and Skills

This module is required for students who enter at IELTS level 4.0 and 4.5.

This module aims to introduce you to life and study at UK universities. It explores some of the key academic language and skills needed for successful study and reviews teaching methods and ways to communicate with the wider university, including asking for help. It also introduces research, reporting and presentation skills, and key skills for managing successful study.

Developing your Academic Language and Skills

This module is required for students who enter at IELTS level 4.0, 4.5 and 5.0.

This module aims to provide an in-depth exploration of academic language and skills. This includes strategies for approaching academic assignments, structuring academic writing and presentations, developing a reasoned argument, incorporating supporting evidence, and summarising and proofreading. It will also explore different types of assessment tasks used in universities.

Success in Academic Language and Skills

This module is required for students who enter at IELTS level 4.0, 4.5, 5.0 and 5.5.

This module aims to review and refine your academic skills and language. You will analyse examples of academic work to identify successful approaches and strategies, deepen reading and listening skills for gathering information, and explore different ways of organising arguments and incorporating source material appropriately. You will also have the opportunity to develop critical thinking skills, an appropriate academic style, and review key information about your destination degree course.

Academic Skills for Accounting and Finance (Study 3 out of 4 subject modules*)

In this module, you will start the year by setting academic goals, this helps track development throughout the course. You'll be introduced to a range of skills that will aid you throughout the course and further study, such as critical thinking, planning and resource management and interpersonal skills.

Additionally, you will gain skills in Microsoft Office (Excel, PowerPoint, etc.), team working, communication, planning and more. We will also discuss plagiarism, referencing and professional standard skills throughout the module, so that you receive thorough academic training.

Accounting and Spreadsheets (Study 3 out of 4 subject modules*)

In this module, you will be introduced to the fundamentals of accounting and finance. You will explore and analyse different streams of accounting, such as partnership accounts, control accounts, sole trader accounts and accounting systems. We introduce professional software to you from the outset, so that by the end of the year, you are proficient in industry standard courses.

To solidify your understanding, we test your knowledge through case studies centred around spreadsheet software.

Investment and Risk (Study 3 out of 4 subject modules*)

Investment and risk are specialist sectors within financial services, yet the discipline is required in every business.

In this informative module, you will understand the impact that macro- and micro- environments have on investment and returns, as well as the nuances of ethically and socially responsible investments. Exploring modern and exciting case studies, you will learn about asset class, packaged investment products and asset allocation.

Throughout this module, we will introduce you to the notion of working autonomously, taking control of your work and gaining the confidence to make informed decisions.

Cost, Revenue and Professional Ethics (Study 3 out of 4 subject modules*)

This module focuses on the application of the fundamental concepts for accountants, including, ethics, costs and revenues. In preparation for progression onto our degree course, this module teaches you the ethical side of accounting, such as resolutions to ethical dilemmas and legal considerations when dealing with clients. In addition, you will look closely at costing methods and behaviours within the accounting profession. At this stage, you are able to analyse data and information and you will be required to complete a test to confirm your competency of this subject.
*As part of the IFY you are only required to study 3 subject modules and unable to choose. These modules are assigned to you depending on which cohort and entry point you join within the academic year.
We regularly review our course content, to make it relevant and current for the benefit of our students. For these reasons, course modules may be updated.
---
How you'll learn
This International Foundation Year will be delivered by CU, part of the Coventry University Group, for and on behalf of Coventry University. You will be taught using various academic techniques, which may include lessons and individual and group tutorials. You will also have self-study materials to follow outside of the classroom.
Each one of the modules requires the equivalent of between 225 and 300 study hours. They run over a six-week period and are taught consecutively, with a combination of assessments in each six-week block.
You will receive approximately 18 hours of teaching contact hours per week. This will be a combination of lectures (which may take place in person on-campus or live online). There will also be regular, small group or individual tutorials. The remaining study hours required for the module will be self-guided.
---
Assessment
Depending on your IELTS entry level, you may be assessed on the first three academic language and skills modules of your International Foundation Year through a combination of continuous, formative and final assessments. Assessments will be delivered at the end of module one and two.
The assessment strategy ensures that our study routes are fairly assessed and allows us to monitor your progression.
---
Degree ready
On successful completion of your modules, including the subject-specific modules, you will have had the opportunity to:
Understand approaches to learning in UK universities and expectations in your chosen subject area.
Write an extended piece of academic writing that requires elements of research and follows standard academic conventions.
Express facts, information and ideas with effective grammatical accuracy and accuracy, using an appropriate range of academic and subject specific vocabulary.
Communicate effectively in everyday situations within the University environment and more generally in English-speaking contexts.
Deliver a well-structured presentation on an academic topic.
Participate in seminar discussions on academic topics.
Access academic texts in order to select relevant information.
Differentiate between different academic genres of writing.
Comprehend extended academic listening texts and record relevant information.
Access online materials and demonstrate increased digital literacy.
Organise academic study and manage your time.
Reflect on learning.
Understand, engage with and critically evaluate knowledge relating to global issues.
Apply your knowledge and language skills to a realistic learning opportunity and assessment, at an appropriate academic level.
You will also be eligible to progress onto the Coventry University or Coventry University London degrees listed in the Overview section (subject to meeting the specified entry criteria).
---
Select your region to find detailed information about entry requirements:

You can view our full list of country specific entry requirements on our Entry requirements page.
Alternatively, visit our International hub for further advice and guidance on finding in-country agents and representatives, joining our in-country events and how to apply.
English language requirements
IELTS 4.0 entry: 4.0 overall (with no component lower than 4.0)
IELTS 4.5 entry: 4.5 overall (with no component lower than 4.0)
IELTS 5.0 entry: 5.0 overall (with no component lower than 4.5)
IELTS 5.5 entry: 5.5 overall (with no component lower than 5.0)
UKVI or SELT equivalent will be required for IELTS 4.0, 4.5 and 5.0 entry.
For more information on our approved English language tests visit our English language requirements page.
We recognise a breadth of qualifications, speak to one of our advisers today to find out how we can help you.
---
Fees and funding
2023/24 tuition fees. Fees and course duration are dependent on your IELTS entry level.
Student
Full-time
Part-time
International
IELTS 4.0 | £17,500 | 39 academic weeks
IELTS 4.5 | £16,000 | 36 academic weeks
IELTS 5.0 | £14,500 | 30 academic weeks
IELTS 5.5 | £12,500 | 24 academic weeks
Not available
For advice and guidance on tuition fees2 and student loans visit our Undergraduate Finance page and see The University's Tuition Fee and Refund Terms and Conditions.
We offer a range of International scholarships to students all over the world. For more information, visit our International Scholarships page.
Tuition fees cover the cost of your teaching, assessments, facilities and support services. There may be additional costs not covered by this fee such as accommodation and living costs, recommended reading books, stationery, printing and re-assessments should you need them.
---
During your international foundation year you'll be based at our modern CU Coventry Mile Lane campus1, located in the heart of the city. You will also have access to the wider facilities and amenities available at Coventry University3.
This includes full membership of Your Students' Union where you will receive access to support and advice as well as societies and events, and access to The Hub, which is the centre of student life at our Coventry campus.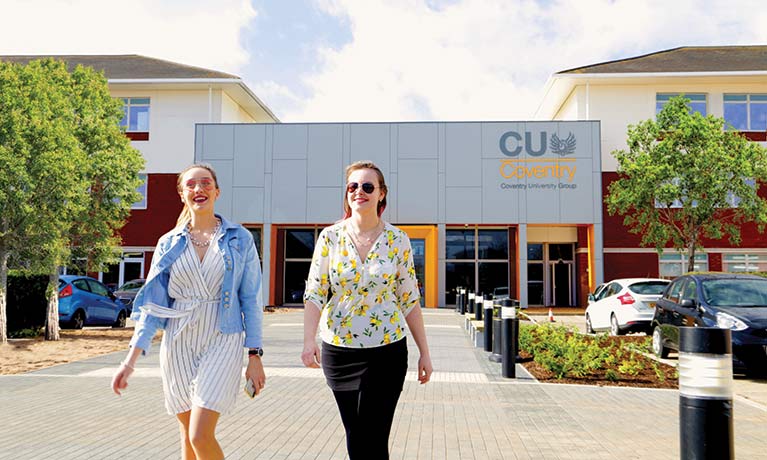 The campus is home to an on-site library with bookable 1-2-1 academic writing service and library support sessions, fully equipped seminar rooms, open access study areas, café and IT suite. Our labs contain industry-standard equipment, so that you learn using the same equipment as many industry professionals.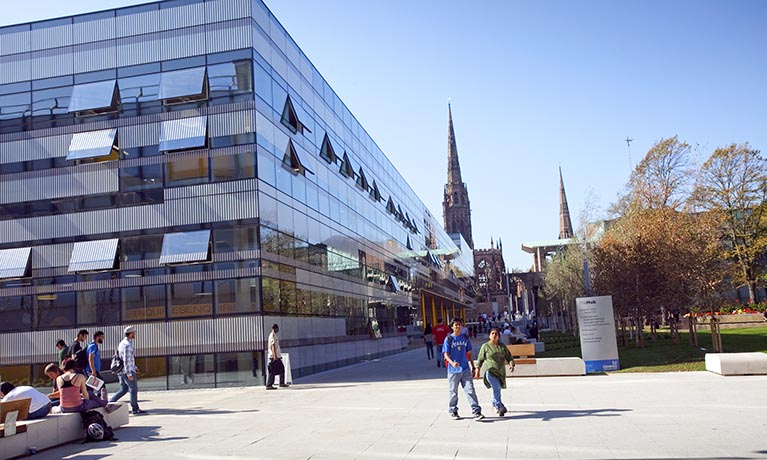 At The Hub you'll find the Health and Wellbeing Centre, the Students' Union and Square One which provide entertainment from quiz nights to live music, the Spirituality and Faith Centre, Tank Studio, Careers, Enterprise Hub and a fantastic food court.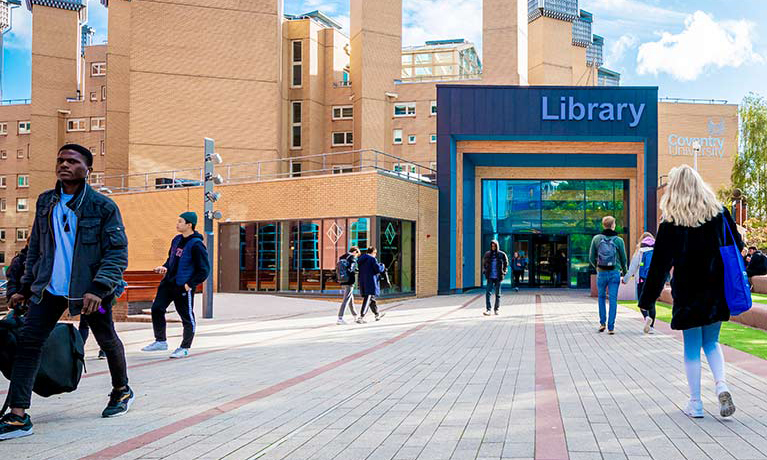 You will have full reading rights in Coventry University's Lanchester Library. The library is open 24/7, 364 days a year and has 1,400 study spaces, including group and silent areas. It also currently offers more than 550 computers and an additional 120 free-to-loan laptops.
Our contemporary North Greenwich campus1 is located in an area of London with a thriving creative community, innovative architecture and an active social scene. While you study here you will be in the heart of the Greenwich Peninsula, close to the O2 arena and a variety of cafés, shops and leisure facilities.
Easily accessible by road, rail and bus and just a 3-minute walk from North Greenwich tube station and the Jubilee line, the only thing stopping you from exploring the city is your own imagination.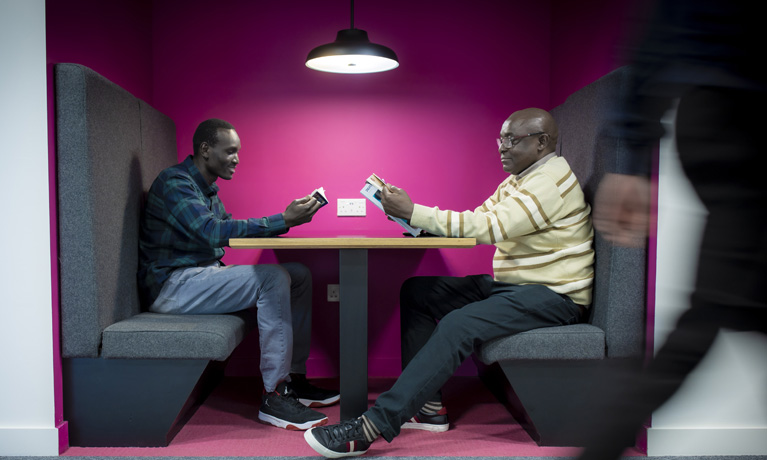 Silent study area
You will have access to silent study areas and breakout spaces, perfectly situated to help you concentrate on your studies. These areas are rich in natural light and comfortable seating.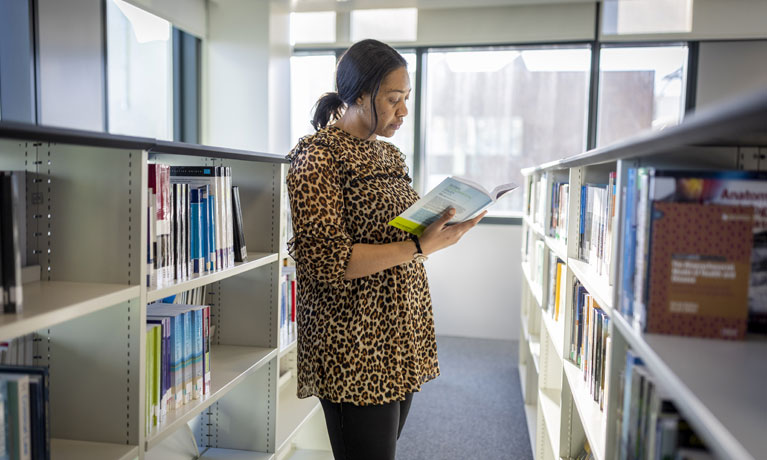 Library and IT space
The library is structured to allow access to both online and offline reading material. Along with open access IT suites, laptops can be rented out and desktops used for ease of accessing course material or other online resources.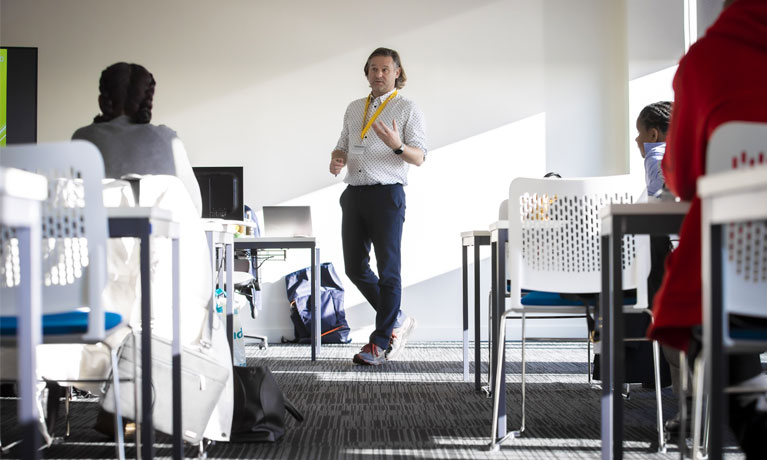 Modern classrooms
Our fully equipped classrooms are bright and contemporary, fitted with smartboards and interactive teaching capabilities.
---
Careers and opportunities
If you successfully pass the Accounting and Finance IFY, you will be guaranteed a place on a relevant degree course at Coventry University or Coventry University London (listed in the Overview section), subject to meeting the specified entry criteria.
We are here to provide high-quality education for students as well as to teach you life skills for completing your future career goals. The university's dedicated employability support, the Talent Team, can provide a wide range of support services to help you plan and prepare for your future studies and career.
---
How to apply
International students

Students should apply directly to the university via our application portal.

Apply now

For further support for international applicants applying for an undergraduate degree view our International hub.

You can also download our International guide which contains lots of useful information about our courses, accommodation and tips for travel.

---

Get in touch with us today for further advice and guidance.
Course codes
The code for your course is dependent on the location of study and your current IELTS score. See below to select the code you will need to use to apply.
Delivered at CU Coventry (Coventry), with progression onto a degree at Coventry University:
CUCIFY32 (IELTS 4.0)
CUCIFY02 (IELTS 4.5)
CUCIFY08 (IELTS 5.0)
CUCIFY09 (IELTS 5.5)
Delivered at CU London (Greenwich), with progression onto a degree at Coventry University London:
CULGIFY32 (IELTS 4.0)
CULGIFY02 (IELTS 4.5)
CULGIFY08 (IELTS 5.0)
CULGIFY09 (IELTS 5.5)
Disclaimers

1Study location

The International Foundation Year study route will be delivered by CU, part of the Coventry University Group, for and on behalf of Coventry University.

If you choose to study in Coventry for your International Foundation Year, then your learning will be based at CU Coventry. Subject to meeting requirements you will then transition to the relevant Coventry University subject faculty building for your progression degree.
If you choose to study in London for your International Foundation Year, then your learning will be based at CU London (North Greenwich). Subject to meeting requirements you will then transition to Coventry University London in the City of London for your progression degree.

2Tuition fees

The University will charge the tuition fees that are stated in the above table for the first Academic Year of study. The University will review tuition fees each year. We may increase fees each year but such increases will be no more than 5% above inflation. If you defer your course start date or have to extend your studies beyond the normal duration of the course (e.g. to repeat a year or resit examinations) the University reserves the right to charge you fees at a higher rate and/or in accordance with any legislative changes during the additional period of study.

3Facilities

Facilities are subject to availability. Due to the ongoing restrictions relating to COVID-19, some facilities (including some teaching and learning spaces) may vary from those advertised and may have reduced availability or restrictions on their use.

Student Contract

By accepting your offer of a place and enrolling with us, a Student Contract will be formed between you and the University. The 2022/23 Contract is currently being updated so please revisit this page before submitting your application. The Contract details your rights and the obligations you will be bound by during your time as a student and contains the obligations that the university will owe to you. You should read the Contract before you accept an offer of a place and before you enrol at the University.
---