17 top tips for starting university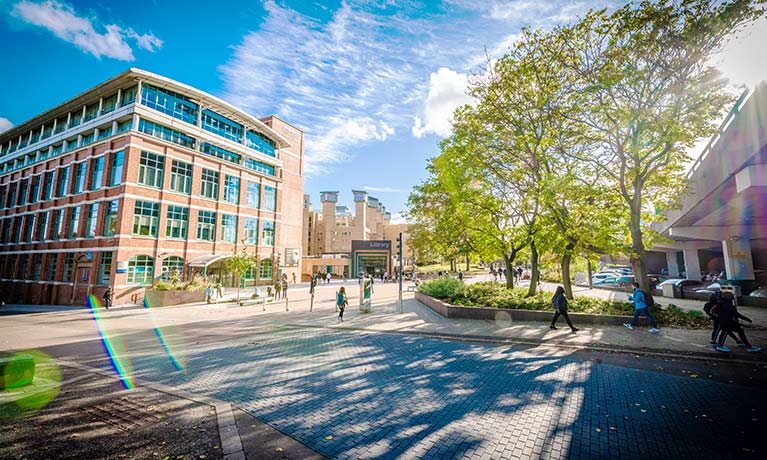 ---
I think we can all agree that starting University for the first time can be both exciting and daunting. I mean, you are committing to a new challenging and demanding life experience to improve your future. You will have many questions and you might be wondering if you will fit in, how you will adapt to studying at a different level and how to survive thrive as a new student.
So to help you to prepare for university life, here are some tips from our experienced Coventry University Recruitment & Admissions (CURA) Team (who have been there and done that) to help you to crush student life, find your niche and succeed.
We would love to be able to go back in time and give our younger selves these knowledge nuggets. It is, of course, important that you find your own exciting journey through student life and discover what works, but these tips will help you to be a successful student from day one.
Here is what they said…
Make sure you try something you've never tried before. There's no other time in your life that you can so easily access such a range of opportunities.
Robert McGowan, Group Director, Coventry University Recruitment & Admissions
Work out the best time to study. I discovered that I was more productive in the morning, so I made early study a part of my routine. This freed up my evenings for socialising and experiencing new things.
Steve Kerr, CRM & Conversion Manager
Get your TOTUM student discount card and use it! The savings add up and there are often lots of local places that accept student cards but don't necessarily advertise them – discover these places and shop smart.
Janey Scott, Senior Recruitment & Conversion Manager
Get lost! Get a bus into the city centre and navigate your way home. You'll get more comfortable in your surroundings and find some hidden gems along the way!
Poppy Houston, Recruitment & Conversion Specialist
Join a students' union society or sports club and take an active role in the organisation of it – you'll pick up some really useful and transferable organisational skills and lots of friends and new contacts.
Ian Denning, CRM & Events Manager
Have an open mind. University is all about new experiences in and out of your classes. Learn a language, join a society, and try new foods for the first time. Make the most of the whole uni experience!
Dylan Cozens, Regional Recruitment Manager
Don't worry! Everyone is in the same boat. You probably won't have packed everything you need or feel completely prepared for your first day. You'll be with loads of other new students in exactly the same position. All there to help and support each other.
Ben Tyler, Recruitment & Conversion Manager
Coventry is a compact city and cycling and walking are often the best ways to get around. Just be sure to get a good bike lock so you can lock up your beloved bike on campus on one of the 1,000 cycle parking spaces available!
Jo Cookson, Head of Conversion
Make an effort to keep in touch with friends from home, this is an important time in your friendship and can help you to feel less homesick.
Anisha Kaur Smith, Widening Participation Manager
Don't be afraid to ask for help – there's a lot of FREE support at uni, make the most of it and never feel afraid to reach out to someone.
Poppy Houston, Recruitment & Conversion Specialist
Master a few money-saving meals. Set a budget for food, make a list, shop wise & cook together to keep costs down!
Steve Kerr, CRM & Conversion Manager
Another great foodie tip is to put a supermarket gift card on your Christmas or birthday lists from friends and family. Certain supermarkets like the Co-op offer 10% discount to students.
Alan Dobson, Regional Recruitment Manager
Upskill and gain a competitive edge! There are tons of ways to improve your CV, earn some extra money and make friends. Register with FutureWorks for part-time work opportunities or become a student ambassador or course representative. You can even learn a new language with CGE's cultural linguae programme.
Scarlett Winters, Undergraduate Admissions Team Leader
Don't forget to budget. If you get loans and funding at the start of term, your bank balance might look the healthiest it has ever been. But you need to make it last. If you know how much you can spend each week you will ensure you don't get into debt and you'll ultimately have a better time. You won't be worrying about money and you can still afford to eat well at the end of term.
Stefanie Walton, Head of Student Recruitment
Back up your work. Imagine the scene. You're working late to meet a deadline and you get a dreaded blue screen of death on your new laptop. But you're OK because you saved your work and all of your research and notes in the cloud. That is what winning feels like.
Matt Willis, Data Insight and Compliance Manager
Know your limits! You might become a social butterfly and be hitting the town and socialising more than ever. So, you might need to learn how to function with a hangover or the grogginess of a late night. If you are looking forward to a boozy drink or two, drink aware.
Jane Harper, CRM Specialist
Or if alcohol isn't your thing, there will be plenty of options to choose from, and there's a good chance you will still find events for you, go clubbing, go for food or have fun with your new friends late in the night. Just remember that tomorrow might be a study day!
Kully Passi, Office Operations Service Support Manager
Make sure to build connections and network with people within your industry during your course. This can lead to job opportunities. Or even better, complete a placement year to bring you one step closer to achieving your employment goals.
Kamil Jagusiak, Customer Service Advisor