Reconstructing education through a global lens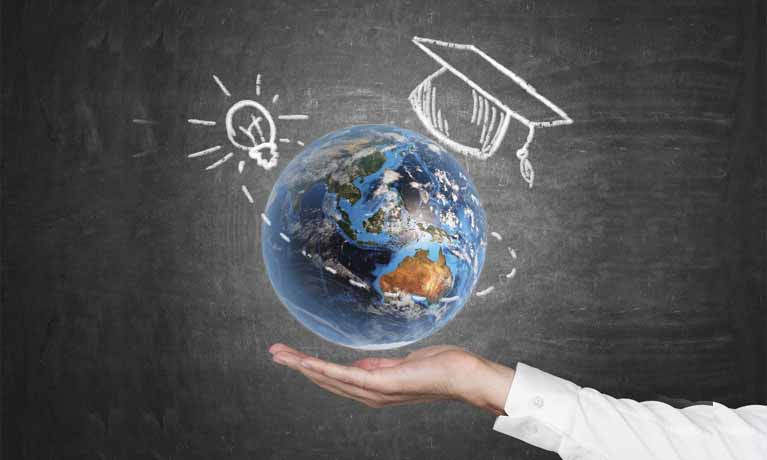 ---
Monday 02 November 2020 to Friday 06 November 2020
09:00 AM - 05:00 PM
Location
Cost
Register now
The Centre for Global Learning (GLEA) are pleased to announce a week-long series of events that showcase, discuss and share ideas on important issues related to reconstructing education through a global lens.
The event, rather than taking place as a traditional one to two day conference, will take place completely online. Taking into consideration your current commitments in the office or at home, we will be hosting short, one to one-and-a-half hour pick 'n' mix sessions so you can get involved in the topics which truly interest you.
There are a range of sessions on offer, which include:
Inclusive learning spaces in the 21st century
How language used by lecturers affects student inclusion, engagement and attainment
How school violence is related to inclusion and attainment
Transforming curriculum through internationalisation and virtual exchange
Differential engagement with maths and statistics support services
Engendering cultures of equalities in global context
Identifying success factors for inclusive learning for disabled students in the ASEAN region
Working across time and space in education
PhD panel
Football and inclusive education: a panel discussion
And more to follow!
These events will be of interest to educators in the further and higher education sector, support staff, NGOs and policymakers with an interest in inclusive and equitable global education.
To ensure you receive information about our week of GLEA sessions, please sign up to our mailing list.
Monday 2nd November
13:00 - 13:25
Showcase Welcome
Prof. Richard Dashwood, Deputy Vice Chancellor (Research) Coventry University
Prof Lynn Clouder, GLEA Director
Join us for the opening of GLEA Week 2020: Reconstructing education through a global lens. In this short talk you will be welcomed to Coventry University, home to the Research Centre for Global Learning (GLEA) and introduced to a series of events that will take place throughout the week. Please don't forget to tweet about the event and follow us @CovUni_GLEA #GLEAWeek2020
13:30 – 15:00
Keynote: How the COVID19 pandemic has affected global learning. Perspectives from around the world
Speakers: Dr Yaliwe Clarke, Dr Srila Roy, Dr Kyria Finardi and Dr Stephanie Doscher
Facilitator: Prof Katherine Wimpenny
COVID19 has presented the biggest challenges to education across the globe in our history, and may never return to what was deemed to be 'business as usual' again.
This session will discuss and share personal perspectives on how global learning has been impacted throughout 2020, and what this may mean for our new normal. The session will include short presentations from Dr Yaliwe Clarke (Interim Director of the African Gender Institute and Lecturer at the University of Cape Town, South Africa); Dr Srila Roy (Associate Professor at the University of the Witwatersrand, South Africa); Dr Kyria Finardi (Associate Professor at the Universidade Federal do Espirito Santo, Brazil); and Dr Stephanie Doscher (Director, Office of Global Learning Initiatives, Florida International University).
There will be an opportunity for questions to the panel.
Tuesday 3rd November
10.00 – 11.00
Inclusive learning spaces in the 21st Century. What do we know about individuals with specific learning difficulties in higher education?
Prof Julia Carroll
Specific learning difficulties (dyslexia) is the most common disability reported by students in higher education. However, the great majority of research on how to best support individuals with dyslexia focuses on the early school years
This presentation will provide an overview of what we know about students with dyslexia who choose to go on to higher education, both in terms of university access and academic progression, and in terms of their socio-emotional wellbeing.
11.00 - 12.00
How does the language lecturers use affect student inclusion, engagement and attainment?
Dr Sian Alsop
Disparity of attainment between students and groups of students from different backgrounds is an ongoing concern within the higher education sector, and more widely within society. This talk explores some of the institutional practices that may contribute to this disparity, focusing on the language of lectures and the language of feedback.
Common language functions will be outlined, drawing on examples from spoken lectures (e.g. summarising and storytelling) and written feedback (e.g. praise, critique and advice). The relationship between the use of such functional language and its potential impact on student inclusion, engagement and ultimately attainment will be considered. Open discussion of how to apply research findings to the academic classroom is welcome.
12.00 - 13.00
Football and Education: A panel discussion on sports dualism and talented youth footballers
A discussion panel: Sir Paul Grant (Premier League Education Adviser), Chris Adamson (Everton), Steve Raven (Project Researcher) & Prof Lynn Clouder (Research Project Lead)
The draw of playing football as a professional footballer in the Premier League for many children is 'everything they ever want to do'. Talented and gifted takes on a different meaning to that which is understood in schools. In this panel discussion we will explore the complex journey of what we have labelled as sports dualism – the simultaneous development as a footballer and gaining an education throughout a players teenage years. Premier League clubs invest heavily in Football Academies to produce footballers for their professional teams, often with children not yet turning 10 years old. Increasingly the Academy's Education Departments are performing a crucial role to maintain a sense of perspective, not every academy member will achieve their ambition of playing Premier league football.
The discussion will reveal new insights gained from our on-going Football Academies and Education research project regarding approaches being used to optimise each players learning journey for outcomes beyond playing professional football.
14:00 – 15:00
Transforming curricula through Internationalisation and Virtual Exchanges (iKudu)
Prof Katherine Wimpenny, Dr Alun DeWinter, Dr Que Anh Dang
The iKudu project has developed a contextualised South African concept of Internationalisation of the curriculum, which integrates collaborative online international learning (COIL) exchanges. Curriculum decolonisation is a core focus of the project and understood as a central aspect of curriculum transformation. At the heart of the project is staff capacity development, as the project aims to equip a range of staff who will have access to an international and local pool of knowledge, skills and expertise. In this session, members of the project team will engage in an open conversation to share project insights and learning to date, and respond to questions about the project from the audience.
The session will bring together international iKudu partners including Merle Hodges and Varkey George, as Expert Advisors to iKudu from South Africa, and Professor Jos Beelen, Visiting Professor to GLEA, and partner from The Hague University of Applied Sciences. We will also hear from academics from the faculties involved, and our colleagues from the Centre of Global Engagement, together with the research team in GLEA at Coventry University. Additionally, this session provides opportunities to consider COIL exchange as a fertile space for global citizenship education through (trans)disciplinary learning.
iKudu is funded through a KA2 Erasmus+ Cooperation for innovation and the exchange of good practices (Capacity Building in the field of Higher Education project), involving five South African universities and five European Universities.
Wednesday 4th November
10.00 – 11:15
Differential Engagement with Maths and Stats Support Services
Prof Duncan Lawson, Dr Mark Hodds, Farhana Lunat (PhD Candidate)
As a result of the increasing availability of all kinds of data and the resulting quantification in many disciplines, most UK universities now provide some type of maths and stats support service for their students. Evaluation of such services shows that students who engage with the support provided achieve, on average, better outcomes than students who do not engage, even after controlling for prior qualifications. However, although the services are freely available to all students, engagement is voluntary and not all students choose to engage. In this presentation, we will explore how engagement with the maths and stats support service at Coventry University (widely acknowledged as one of the leading international providers) varies with student demographic characteristic such as sex, ethnicity and age.
11:00 - 12.00
Key issues to exploit education out of a global crisis
Professor Daniel Burgos, GLEA Visiting Professor and Vice-chancellor for Research & Technology (UNIR Research), as well as UNESCO Chair on eLearning, at the International University of La Rioja (UNIR)
Large scale outbreaks of epidemic disease, natural disaster or serious air pollution take place in across the globe, affecting not only humans' wellbeing, but also education. Somehow, suddenly, education becomes another victim, and sustainable, effective learning and teaching are in danger. This seminar presents how to exploit education in contexts of crisis, such as emergencies, zones of conflict, wars and health pandemics, such as COVID-19.
Specifically, this work shows a number of strategies to support global learning and teaching in online settings. The seminar presents how to facilitate knowledge sharing and raising awareness about a specific crisis, to increase people's safety, including educators and learners. Further, it provides basic and practical recommendations to the various stakeholders in educational contexts, i.e. students, content providers, technology services, policy makers, school teachers, university lecturers, academic managers, and others, about flexible, personalised and effective education in the context of crisis.
12:00 – 13:00
Global Learning PGRs- Narratives of Connection
Postgraduate Researchers: Angela Thompson, Andi Rusyaidi, Dureshahwar Lughmani
Facilitator: Prof Megan Crawford
Postgraduate researchers from the Centre for Global Learning (GLEA) discuss their work with Professor Megan Crawford, and how it feels to be part of an extended doctoral community. The conversation will look at several aspects of doctoral work, including themes, research questions, methodology and structure.
14:00 – 15:00
Engendering cultures of equalities in global contexts: learning through creative activism with the GlobalGRACE Project
Prof Suzanne Clisby and Professor Mark Johnson
The Global Gender and Cultures of Equalities (GlobalGRACE) project* employs artistic interventions, curatorial research practice and public exhibitions to enable gender positive approaches to wellbeing internationally. Drawing on to two key UN global Sustainable Development Goals, Gender Equality (SDG5) and Health and Wellbeing (SDG3,) we aim to address issues of gender equality and wellbeing through creative praxis. The project brings together research partners from Bangladesh, Brazil, Mexico, the Philippines, South Africa and the United Kingdom, as well as other experts from Asia, Africa, Europe, and North America. Together, we investigate the variety of ways that people's creative practices challenge systems of privilege and engender new possibilities for more equitable ways of living and learning together.
*GlobalGRACE is a four-year programme of research and capacity strengthening funded by the UKRI's Global Challenge Research Fund (GCRF) delivered through the Arts and Humanities Research Council. GlobalGRACE is directed by co-PIs Dr Suzanne Clisby (Centre for Global Learning, Education & Attainment, Coventry University) and Professor Mark Johnson (Goldsmiths, University of London).
Thursday 5th November
10:00 – 11:00
Identifying Success Factors for Inclusive Learning for Disabled Students in the ASEAN region
Prof Zenaida Reyes (Philippine Normal University), Dr Ied Veda Sitepu (Universitas Kristen Indonesia), Prof Lynn Clouder and Marie Sams (Coventry University).
This session will introduce participants to a project which aims to identify and challenge the barriers to inclusive learning for disabled students in the ASEAN region. Underrepresentation and poor achievement of disabled people in higher education is a global challenge, including in ASEAN countries, especially Indonesia and Viet Nam, where gaps between achievement of disabled and non-disabled people are greatest (UNESCO, 2018).
The Academic of Medical Sciences GCRF funded project (led by Philippine Normal University, and Coventry University) includes partners from Indonesia, Malaysia and Viet Nam. Each University has used an appreciative inquiry approach in gathering data about their institutions, with a view of undertaking further research that will ultimately strive for change at institutional and policy level. This session will share experiences of running an appreciate inquiry event with research participants during lockdown, and will present findings on the opportunities (dreams) for change to make higher education more accessible, attainable and inclusive for disabled students, their teachers and carers.
11:00 – 12:00
Shaping global urban environments for today and tomorrow: Internationalisation of researcher development and doctoral provision in strategic research areas through a Brazil/UK collaboration
Prof Katherine Wimpenny, Professor Lucia Garcia, Professor Tania Delboni, Professor Kyria Finardi, Dr Arinola Adefila, Dr Luca Morini, Dr Virginia King, Dr Que Anh Dang
This British Council funded capacity-building project between Universidade Federal Do Espírito Santo (UFES), Brazil and Coventry University, addresses UFES's institutional and regional needs to enhance its internationalisation capabilities within priority social sciences research areas as per its Internationalisation Plan.
In this session we bring together conversations with our UFES colleagues Professor Lucia Garcia, Professor Tania Delboni and Professor Kyria Finardi, including ways in which our partnership work has led to joint writing, joint research proposals and plans for a dual award across our two institutions. We will also hear from Coventry colleagues including Dr Marta Vizcaya and Dr Richard Tomlins, with research team members from GLEA to share insights and learning from the project partnership to date.
The session will include focus on Transforming Staff Doctoral Research, funded by the University Capacity Development Programme, South Africa. We will talk about our project work with South African colleagues at Walter Sisulu and Stellenbosch University, South Africa. Dr Ferdie Gerber, Project Lead at Walter Sisulu University will join us together with Dr Marta Vizcaya Echano. We will discuss our co-creation of a hybrid dual award at doctoral level study with a focus on supporting staff completions in the field of higher education research.
13:00 – 14:00
Trading places in Higher Education: From prohibition to emancipation
Facilitator: Annette Hay
Undoubtedly over the past year or so, there has been a proliferation of university-led declarations to decolonise the curriculum in Higher Education in particular. Annette Hay, from the BME Coventry University Staff Network will lead a panel discussion on the colonial and historical context which led to the 'prohibition' of non-western education practices, theories and knowledge and she will invite the panel to discuss and explore, whether or not Higher Education is genuinely prepared for the inescapable 'emancipation' that is looming over their so called 'ivory towers'? The panel will also be asked to consider, what does this change mean in terms of future anti-racist teaching, learning and action?
15:00 – 16:00
'Meet the team' Intercultural engagement and global education
Dr Farzana Aslam, Dr Yung-Fang Chen, Dr Dimitar Angelov and GLEA Theme Research Team: Prof Katherine Wimpenny, Dr Arinola Adefila, Dr Alun DeWinter, Dr Luca Morini, Dr Que Anh Dang, Dr Virginia King
&In this open panel session the theme team and Faculty Research Associates (FRAs) will share profiles of their research practice at GLEA with a chance for theme colleagues and audience members to ask questions about their experience as FRAs in the Centre and to make new connections. Discussion about the key areas of focus for education research within the theme(s) over the coming academic year will also be shared.
Friday 6th November
10.00am - 11.00am
Working across time and space
Prof Megan Crawford and Dr Sylwia Holmes
Much work both in research and teaching can be carried out well virtually where participants are in different countries and time zones. Given that we have been working in a similar manner recently, this presentation and discussion will focus on key items that may need to be considered whilst working across time and space- issues of relationships, team building and culture.
Both Sylwia and Megan have extensive experience of working this way, and the presentation is an opportunity for colleagues to engage and discuss this way of working, and the ways we can adapt and improve. Using examples from current and past work, there will also be an opportunity to think about questions that arise, and what planning approaches work well.
13:00 – 14:00
Ensuring high quality in teacher education in Jordan
Dr Sylwia Holmes
Teachers are the main drive of good and inclusive education. But in many places, they undertake the demanding task of schooling young people without much preparation, without necessary equipment, and in overcrowded classes. As long as the latter factors are greatly dependent on the economic situation, providing teachers with appropriate and innovative training can be achieved much less costly and raise the quality of education across the whole country.
In this presentation we will introduce the first in the country pre-service teacher training programme set up at the Queen Rania Teacher Academy in Amman, Jordan and explain how we have designed monitoring and evaluating processes to ensure continued reviewing and improvement of this programme.
14:00 – 14:30
PALS-UK: Evaluating the effectiveness of a paired reading intervention using a randomised controlled trial and process evaluation.
Dr Helen Breadmore
In medicine and public health, randomised controlled trials (RCTs) with pre and post-test designs have long been the gold standard for evaluating the effectiveness of interventions. In response to calls for evidence-based teaching, these methods are increasingly applied in education.
Here, we too need to understand the effectiveness of interventions, which we can do by examining quantitative changes in attainment under ideal conditions. We also need to consider what implementation and effectiveness will look like in the real world. By combining pre- and post-test attainment outcome data with process evaluation, researchers can gain a better understanding of how and why implementation deviated from a planned delivery model. This rich qualitative information can be used to consider the active ingredients, required dosage, conditions that maximise effectiveness and the factors that lead to nonadherence to intervention. Such information can then be used to adapt and improve the intervention in future. In this talk, Dr Breadmore will discuss the application of randomised controlled trials in education with reference to an ongoing two-armed randomised controlled trial of a paired reading intervention, PALS-UK.
14:30 – 15:00
School violence: how is it related to inclusion and attainment?
Dr Carlo Tramontano
In 2016 the United Nations set up the 2030 Agenda, outlining 17 Sustainable Development Goals (SDG) associated with global challenges that need to be addressed to globally promote a better future. The SDG4 aims to ensure Quality Education for all. However, as the same UN pointed out, it will not be possible to achieve either this goal or Good Health and Wellbeing (SDG3), or Gender Equality (SDG5), or Peace and Justice (SDG6) for all without tackling school violence and bullying. And again the UN highlighted the need for further research to understand school violence and bullying, their prevalence, and the associated risk and protective factors, to design data-informed prevention strategies.
This presentation will summarise how in GLEA we are responding to this call by: a) analysing existing international large datasets from the Organisation for Economic Co-operation and Development (OECD), and from the International Association for the Evaluation of Educational Achievement (IEA); and b) designing and implementing new studies to address the existing gaps in the academic literature.
Enquiries
For enquiries please contact the Centre for Global Learning: Education and Attainment: