House of Commons praise for university's cyber security degree
University news / Business news
---
Thursday 26 March 2015
Press contact
---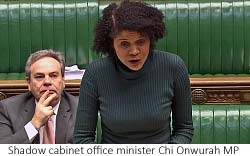 Coventry University's recently launched National MBA in Cyber Security has been highlighted in a House of Commons debate this week as a valuable development in efforts to improve the UK's online defences.
Shadow cabinet office minister Chi Onwurah MP, who chaired the launch of the new master's course in November, drew attention to the course as part of a speech on the 'vital' cyber security training that is required to meet demand for skills.
Onwurah, who is the shadow minister for digital government, cyber security and social enterprise, told the Commons:
I was privileged to launch the UK's first MBA in cyber security with Coventry University. The demand for cyber security experts is growing at 12 times the rate of the overall job market, so it is vital that we train and equip more people with cyber skills. Small firms are the victims of three quarters of all successful data breaches, and are the most likely to suffer from a lack of cyber skills.
The Labour MP was speaking in response to a statement on the government's national cyber security programme made by the Rt Hon Francis Maude MP – minister for the cabinet office – who said that "collaboration between government, industry and academia is essential" to build the cyber expertise the country needs.
The National MBA in Cyber Security, which is an online master's degree run by Coventry University's Business School, provides training to individuals and businesses to help them manage online security threats.
Students of the distance-learning qualification – which can be studied part-time – learn about the financial, legal and reputational risks related to cyber attacks, and are taught how to make informed decisions around information security management issues.
The postgraduate course also received support from Prime Minister David Cameron at the time of the launch, which took place as a cross-party House of Commons event in November.
Professor Richard Benham, who founded the National MBA in Cyber Security in collaboration with Coventry University, said:
Cyber security skills and an awareness of online threats are no longer simply desirable qualities for businesses' workforces to have – they are absolutely essential.

Our MBA course was set up to tackle the skills gap that exists in UK employers' cyber risk management, and we're delighted that it continues to attract support not only from industry, but also from parliament. For Coventry University's programmes to be mentioned in House of Commons debates at the highest level show that we're on track with our ambition to become a centre of excellence in cyber security.