Coventry University appoints BAM for £37m flagship building
Thursday 15 January 2015
Press contact
---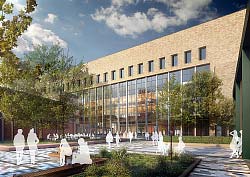 Coventry University has awarded the £37 million contract to build its flagship new Science and Health Building to BAM Construction.
BAM Construction are due to start work on the building, which will bring together the Faculty of Health and Life Science's teaching and research facilities into a 'superlab', in February.
The five-storey, 120,000 sq ft building on Much Park Street in Coventry's city centre is due for completion in 2017.
The modern multi-disciplinary building will house world-class teaching and simulation facilities with state-of-the-art equipment and laboratories.
A mock operating theatre, fully-equipped ambulance and a community house to test the latest assistive living technologies will be among the health simulation features.
A purpose-built laboratory for teaching and research in biological and analytic sciences will sit alongside a strength and conditioning room. A running track, sports therapy clinic and facilities for food and environmental sciences will also be part of the complex.
Professor Guy Daly, executive dean of Coventry University's Faculty of Health and Life Sciences, said:
We are delighted to announce that the contract to build the new Science and Health Building has been awarded to BAM. The new building is a significant development in our future as a leading modern university, providing world-class teaching, research and simulation facilities for our health and life science students.
BAM based in Shirley, Solihull, is part of BAM Construct UK, one of the country's largest construction services organisations.
The contractor built The Hub at Coventry University, a modern high-tech building which is the social centre of student campus life, and also the new Severn Trent Headquarters building which they completed in 2010.
The Hub, completed in 2011, achieved a BREEAM status of excellent. The new energy-efficient building has been designed to meet the world-leading environmental rating system for buildings.
Rod Stiles, director of BAM Construction in the Midlands, said:
There are many reasons for us to be pleased – we've been appointed to build a really significant and exciting structure, by a client we've enjoyed an excellent working relationship with before, in a city we know well and treasure. It builds on our long track record in Coventry and we'll bring a first rate team to create an outstanding learning facility that the University can be proud of.
BAM Technical Services will also be involved in the project providing temporary works and BAM Plant will provide plant, machinery and electrical services installations on site.
Construction teams will now begin moving onto the site to prepare for groundwork to commence, with archaeological excavation work already having been completed and several findings dating back to medieval times unearthed.
The construction and equipment of the building is expected to total over £60 million. The project has been awarded a £4.9 million grant by the Higher Education Funding Council for England (HEFCE).
Oxford-based AECOM are project managers for the scheme. Architects are the Birmingham office of Broadway Malyan. The Birmingham office of Buro Happold are the project's structural engineers and services. London-based Gardiner & Theobald is the quantity surveyor.
For further information, please contact Alex Roache, external press and media relations officer, Coventry University, on +44 (0)24 7765 5050 or email alex.roache@coventry.ac.uk.