Business graduate fills a gap in the dental market
Friday 09 January 2015
Press contact
---
A trip to the dentists didn't prove to be painful for a former Coventry University student – instead of a filling, he left with an idea for a new business.

Syed Shafiq-Ur-Rehman was chatting to his dentist about the disposable instruments he was using and as soon as he left the practice, he put the wheels in motion for Avant Surgicals.

The 27-year-old, who completed a BA (Hons) in International Business and an MSC in International Human Resource Management at Coventry University, has launched a business providing bespoke dental instruments and kits to private surgeries in the UK through his website www.avantsurgicals.com.

Syed has realised his business dream with help from the Innovation University Enterprise Network (i-UEN) which is part of the Institute of Applied Entrepreneurship at Coventry University. i-UEN helps West Midlands SMEs to create, develop and implement new business opportunities through consultancy and a tailored package of support.

Syed said his business enabled dentists to only buy the equipment they wanted rather than a package put together by a manufacturer.
He said:


I had gone for a check-up, clean and polish and my dentist said he threw two or three of the instruments away from the kit because he didn't use them.

Since dentists use disposable medical equipment because of hygiene reasons they want sealed products but bespoke kits were not available from suppliers.

I did my research to find out what was available in the current market place and I thought I could solve the problem to give dentists the opportunity to select their own products and make their own kits.

My supplier is from my home country in Pakistan who has been exporting to Germany for the last 30 years and has started distributing in the UK but my plan is to increase that to at least five manufacturers.

I will be providing the service online to give dentists the chance to buy two types of dental instruments – single-use and reusable dental surgical kits and general supplies.
Syed said the i-UEN had provided advice from a business mentor and business development manager which had proved extremely important in the early stages of setting up Avant Surgicals.

He added:
They have given me good advice which I have taken on board about marketing and building and developing relationships with the staff at dental surgeries that I am targeting.
Robin Underhay, of Coventry University's Institute of Applied Entrepreneurship, said Syed was providing a new approach to the dental industry, aiming to simplify their processes.

He said:
Dentists will be able to order and pay for the kit that they are going to use instead of throwing away unwanted items as well as wasting time meeting with sales agents or manufacturers.

Syed's educational background has been focused on business and with our help, he has gained valuable advice about building a portfolio of clients as well as a service which dentists can rely on."i-UEN provides a one-day masterclass or workshop followed by individual consultancy or two days of one-to-one consultancy from our network of external consultants to assist SMEs just like Syed's.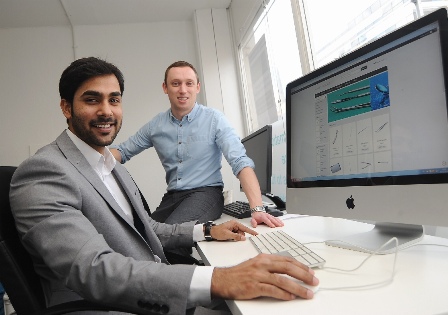 Syed Shafiq-Ur-Rehman from Avant Surgicals (left) with Ben Grocott from IAE.

For further press information, please contact Mark Farnan on +44 (0)24 7765 8245 or email mark.farnan@coventry.ac.uk.