Knowledge Exchange
Knowledge Exchange involves transferring good ideas, research results and skills from the University to business and the wider community to enable innovative new products, services and processes to be developed.
The Knowledge Exchange team at Coventry University can work with businesses in a variety of ways, from Knowledge Transfer Partnerships to Industry Funded Studentships.
Complete an enquiry form
Knowledge Transfer Partnerships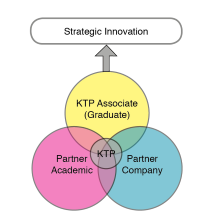 Coventry University has a long and successful history of collaborating with businesses on various knowledge transfer schemes, including Knowledge Transfer Partnerships (KTP).
The Knowledge Transfer Partnership (KTP) is a national programme, part-funded by Innovate UK, designed to help businesses improve their competitiveness and productivity through the better use of knowledge, technology and skills. This is achieved by working in partnership with a university, leading to increases in profitability and growth for the business.
Find out more on the CUBB Blog: Knowledge Transfer, a true partnership by Lorna Everall and How partnering with a university can boost your business by Helen Lau.
Coventry University hosted the 2016 KTP Associates Conference. Read more and browse photos.
---
Benefits
By working with Coventry University your business can:
Access a skilled graduate (called an Associate) to spearhead a strategic growth project
Access the University's extensive resources, including facilities, skills and expertise
Develop innovative solutions to help your business grow
Develop your business for today's market
Latest information from Innovate UK shows that, on average, the business benefits expected from a single KTP project are:
An increase of over £240,000 in annual profits before tax
The creation of two genuine new jobs
An increase in skills of existing staff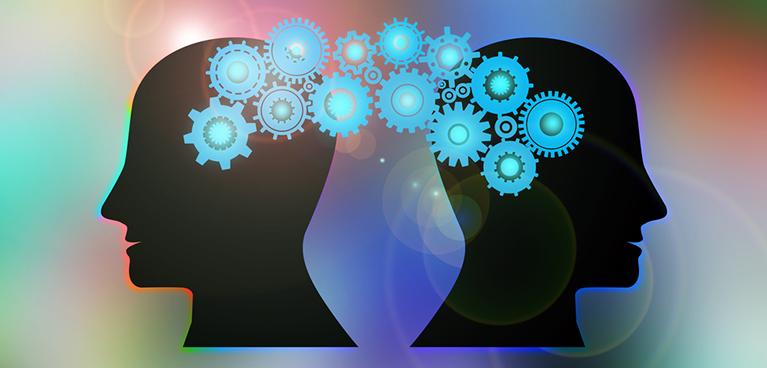 ;
Do you want to give your organisation a competitive edge?
Download our flyer and find out how we can support you.
How it works
With the help of a KTP Adviser and the support of Coventry University, you will identify an academic or researcher who has the right expertise for your business. You will then work with the University to define and agree a project that will enable you to draw on their expertise and apply it to your business. The agreed project could be for any length of time between 12 months to 3 years, depending on your business need. An Associate will then be recruited to manage the growth project. The overall aim of the KTP is to help your business make a step change in an area that you have identified as a high priority.
Facts
Coventry University is a leading provider of knowledge transfer programmes
Coventry University has been involved in over 120 knowledge transfer programmes spanning a variety of areas; including engineering, computing, design and business
The majority of companies the University works with employ their Associate on a permanent basis at the end of the programme
Your business could be eligible for R&D tax credits
KTP funding deadlines:
Submission deadlines are as follows and are not sector specific:
R5/R6: 27th January
R1/21: 14th April
R2/21: 30th June
R3/21: 29th September
R4/21: 1st December
R5/21: 2nd February
Costs
Up to 67% of the cost of KTP is met by government funding. The average annual contribution to a project for an SME would be from around £20,000. This contributes to the costs of the Knowledge Base Supervisor and Associate employment and development. Your contribution to the costs of the project not only gives you the services of your KTP Associate, but also the time and expertise of the academics or researchers working with you.
For more information, please contact knowledgetransfer@coventry.ac.uk.
Industry Funded Studentships
Through postgraduate doctoral programmes such as a PhDs, companies can work alongside the University in industry funded studentships to develop research outcomes and new research specialists are trained. The University has a flexible approach to matching models of funding and delivery with the needs of the company and the student. The aim of these projects is to meet the research need of the company whilst delivering high quality education to our students to support their learning and development.
Research Benefits
Working collaboratively through a research student can provide a simple way to begin building strategic research relationships and trialling research which is new or divergent to an organisation. The overall risk to the company as a funder remains low as the student doesn't increase the staff numbers or commit the company to longer term engagements, but does provide a way to test research ideas and theories through the student being supervised by an experienced research professional.
Research Costs and Models
Dependent on the research being carried out students will work differently in terms of location and the equipment they use. To deliver on their research milestones students will need to regularly work within the University research environment and with their research supervisory team.
With a collaborative research project it is important for the partners, and particularly any external funders, to have regular communication with the research student and supervisory team to ensure that the project is progressing in line with expectations. It is recommended that partners meet in person or virtually a minimum of once per quarter.
The cost is made up of four core components:
University Fees
Student fees are dependent on whether the student is studying fulltime or part-time. In addition, classroom only and practical research degrees incur different charges.
Stipends
Stipends are paid to students to cover their living costs. The national minimum stipends are agreed each year by all the research councils.
Travel
For the majority of research projects it is important to travel to discuss outcomes with collaborators and collate information. The extent of travel varies for each project and as such will be discussed for each project.
In-Kind Contributions
Access to equipment, supervision and support provided by Coventry University or the funding organisation.
Supported models for collaboration
Coventry University is keen to pursue collaborative research which benefits industry and wider society. As such the University will match support with external companies to fund core research benefitting both organisations.
Examples of this type of support would be:
Matching in-kind contributions from the company by providing in-kind contributions for supervision.
Identifying opportunities to source funding for student stipends.
Matching student fees and bursary costs with the company.
Exploring the use of facilities and equipment at the University and company premises to make best use of the research time and resources available.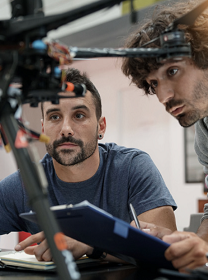 Testimonial - Prof Helen Maddock

"Inocardia is a contract research company that specialises in the development and execution of novel clinical trials to assess drug effects on the heart and cardiac muscle. Bringing in a Coventry PhD candidate to support us in progressing our research further has been extremely valuable. Using the results collected for their thesis, the candidate has been testing a range of compounds for cardio protection in the trials developed by Inocardia. Research of the highest quality is being carried out with strong commercial applications, benefitting both the company and the PhD candidate."

Professor Helen Maddock
Inocardia


Testimonial - Dr Anthony Baxendale

"The success of our co-funded PhD programme with Coventry University has led to a growing cohort of researchers developing new knowledge for the Horiba MIRA business in a range of topics pertinent to connected and automated automotive design. This research, through both industrial and academic supervision, highlighted how closely our two organisations were aligned strategically, leading to the launch of the Centre for Connected and Autonomous Automotive Research (CCAAR) in 2016, to continue to develop our collaborative activities.

CCAAR brings together experimentation and study, to provide the underpinning knowledge and research that supports the rapid growth within the global intelligent mobility sector to address future transport needs. The ground- breaking work undertaken at the centre is testament to the value of sponsoring the university's PhD researchers."

Dr Anthony Baxendale
Head of Horizon Scanning, Horiba MIRA

Innovate UK Funding
As well as Knowledge Transfer Partnerships, the University can help businesses access government funding through several other Innovate UK projects.
We can work with companies on strategic growth projects in a broad range of areas; funding for which can be applied for through Government bodies such as Innovate UK.
Applications can be accepted from a broad range of sectors, however Innovate UK funding is primarily focussed on the following four areas:
Emerging and Enabling Technologies
Health and Life Sciences
Infrastructure Systems
Manufacturing and Materials
For more information visit: Innovation Grants