Uni representatives meet HM the Queen after prestigious award
Friday 17 July 2015
Press contact
---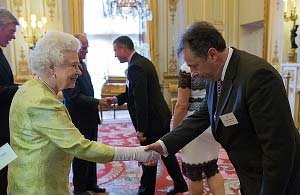 Representatives from Coventry University met Her Majesty the Queen at Buckingham Palace earlier this week as part of the celebrations around the Queen's Award which the institution received in April.
Dr David Pilsbury, deputy vice-chancellor for international development, and Frank Mills, executive chairman of Coventry University Enterprises, met HM the Queen on Tuesday ahead of an official award ceremony taking place at the University in September.
The University received a Queen's Award for Enterprise – which is decided and awarded by HM the Queen – in recognition of its international growth and success over the past six years, making it one of only a few higher education institutions in the history of the awards to be honoured.
In the awards' 50th anniversary year, Coventry University was commended in the international trade category for its 'continuous achievement' since 2009 in growing and supporting its international student population in the UK and overseas.
The University draws students from over 150 different nations – making it one of the top ten UK universities for the size of its international population – and it operates teaching programmes abroad for over 12,000 students at 14 different locations.
The award also recognises the positive contribution subsidiary company Coventry University Enterprises has made to the institution's international operations, as well as the University's research programmes.
Dr David Pilsbury said:
It was an honour to represent Coventry University at Buckingham Palace and to meet Her Majesty the Queen and other members of the royal family.

We are delighted to be the sole university recipient this year and one of only a select few universities in the awards' illustrious history to have received the accolade. It's a testament to the impressive growth in the scale and breadth of international activities at Coventry University, and also reflects their quality, and we're immensely proud of that..
The Queen's Award scheme was originally inaugurated in 1965 as the Queen's Award to Industry scheme, having been instituted by Royal Warrant following the recommendations of a committee chaired by HRH the Duke of Edinburgh.
Each award is decided by HM the Queen following recommendations from the Prime Minister's Advisory Committee. The first Queen's Awards for Enterprise were made in 2000. For further information about the awards, visit www.gov.uk/queens-awards-for-enterprise.
For further information, please contact Alex Roache, external press and media relations officer, Coventry University, on +44 (0)24 7765 5050 or email alex.roache@coventry.ac.uk.