Placement scheme sees students teaming up with Barclays to combat fraudsters
University news / Student news
---
Friday 24 October 2014
Press contact
---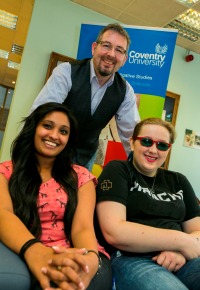 Students from Coventry University have been helping Barclays Bank in its efforts to fight fraud.

Four undergraduates from the university's Forensic Investigations BSc joined Barclays fraud operations team in Coventry on a work placement scheme in June and completed their assignment last month.

The students, now back at the university in the final year of their course, worked with the team at Barclays on a number of live cases covering various aspects of fraudulent financial activity from counterfeit cheque transactions to online scams and identity theft.

Applying analytical skills and investigative techniques learned on their course, the students worked directly with the subject matter experts at Barclays to build cases by gathering information and studying the details, supporting interviews over the phone, and on occasions assisting in the presentation of evidence obtained to the relevant law enforcement agencies for action.

The students benefitted greatly from the experience and the team at Barclays were also highly impressed with their input. The success of the placement has been welcomed by all and the university's forensic investigations teaching staff are now working with the fraud operations team at Barclays to establish a year-long industrial placement programme in the future.

Chris Haycock, senior lecturer in forensic investigations at Coventry University, said:
Getting real world work experience is a challenge for any discipline but for those fields which implicitly involve the justice system and handling of sensitive information, finding an organisation with the foresight, the courage and the belief in the value of this process is particularly difficult.

We were delighted therefore that such a prominent company like Barclays - one of the world's leading banks - showed faith in us and recognised that our students were equipped with the skills to make a positive contribution to their operations. This placement provided our students with a fantastic opportunity to gain invaluable knowledge and experience which we hope will pay dividends when they complete their studies and enter the job market.
The students themselves were equally enthusiastic. Twenty one year old Elizabeth Barry from Stratford-upon-Avon was one of those involved in the placement.

She said:
It was great to put the knowledge and skills we've learned on our course into practice on real cases with the specialists at Barclays. We were involved in making decisions that were affecting people's lives so we were under pressure to get things right but working in such a challenging environment was a really good experience. It was also extremely satisfying to know that we were helping innocent victims who had been cheated by fraudsters.
Barclays fraud operations manager Stewart Pearson has also provided invaluable insight and advice for the university's forthcoming Fraud Investigation Management MSc which is set to run from September 2015.
Stewart said:
The interns made a very positive impact on our continuing work to protect Barclays customers. They quickly acclimatised to the work environment and brought knowledge from their course and applied it directly to cases they were investigating. It was a worthwhile undertaking and a very satisfying experience for all those involved.