University successfully hosts European business leaders for key annual event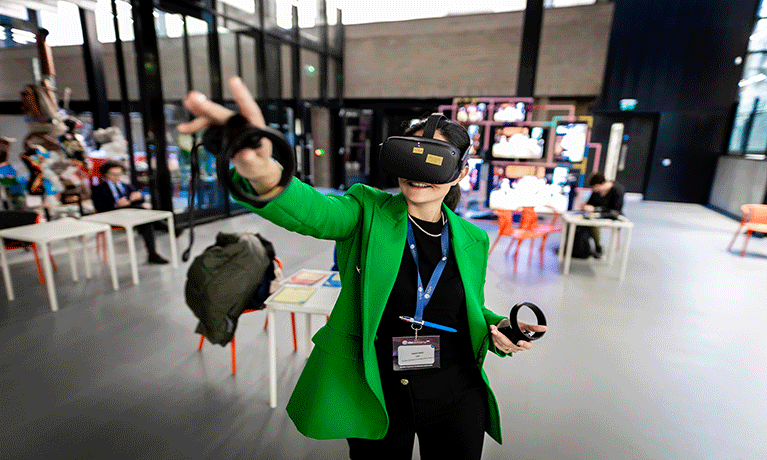 ---
Wednesday 25 October 2023
Press contact
---
Coventry University Group proudly hosted European business leaders at a two-day event - Techcamp - between 18-20 October.
The European Business and Innovation Centre Network's (EBN) Techcamp provides an annual platform for networking, collaboration, and co-learning for businesses.
The event focused on future-proofing technology investment, whilst showcasing some of the best immersive technology the UK has to offer, putting Coventry University on the map as a leader in this field.
Leading Techcamp for 2023 was Coventry University's Director of Innovation, Paul Fairburn, who had lined up academic experts and businesses to demonstrate best practice in developing new immersive technology products and services, using Augmented Reality (AR) and Virtual Reality (VR).
109 people from more than 26 different countries took part, including technology experts, industry leaders, successful start-up founders, award-winning academics and artists - taking the stage to share their knowledge, methodologies, and the latest industry developments with the audience.
The event featured keynote presentations, deep dives and insightful conversations from businesses and organisations including Coventry City Council, Vodafone, Digital Catapult, The National Transport Design Centre, Conigital Group, Horiba Mira, CLARTÉ, Laval Virtual, Sim Skills, RiVR, Glued Marketing, Risk Evolves, Hollywood Gaming, and more.
Delegates also visited the university's Simulation Centre, the UK's most advanced interactive people training and development centre, where they experienced how the technology is used to deliver on-the-job skills training in real-time environments.
Guests attended an exclusive real-time motion capture theatre performance at the university's flagship Delia Derbyshire Building, which hosts state-of-the-art creative technologies, including immersive studios and games suites.
The theatre performance featured expert motion capture actor, Maggie Bain, who is currently starring in 'Dracula: Mina's Reckoning' by the National Theatre of Scotland and Aberdeen Performing Arts.
The session was led by Malcolm Barnes from HOLLYWOOD GAMING LIMITED, who have been involved in many extended reality (XR) projects and works closely with Coventry University's Arts & Humanities department.
Adding to the event experience, university researchers demonstrated a 3D driving simulator at the National Transport Design Centre, which is used for the safe testing of driving conditions. Attendees also took part in a VR workshop led by Vodafone.
We were thrilled to host Techcamp 2023. The event was a fantastic opportunity to not only showcase our cutting-edge simulation and immersive technology solutions, but to further collaborate and strengthen relationships with experts and business leaders globally.

Paul Fairburn, Coventry University's Director of Innovation
Take a look at all of the fantastic business news taking place at the university.