Marketing Management BA (Hons) top-up
Study level:

Undergraduate
Top-up courses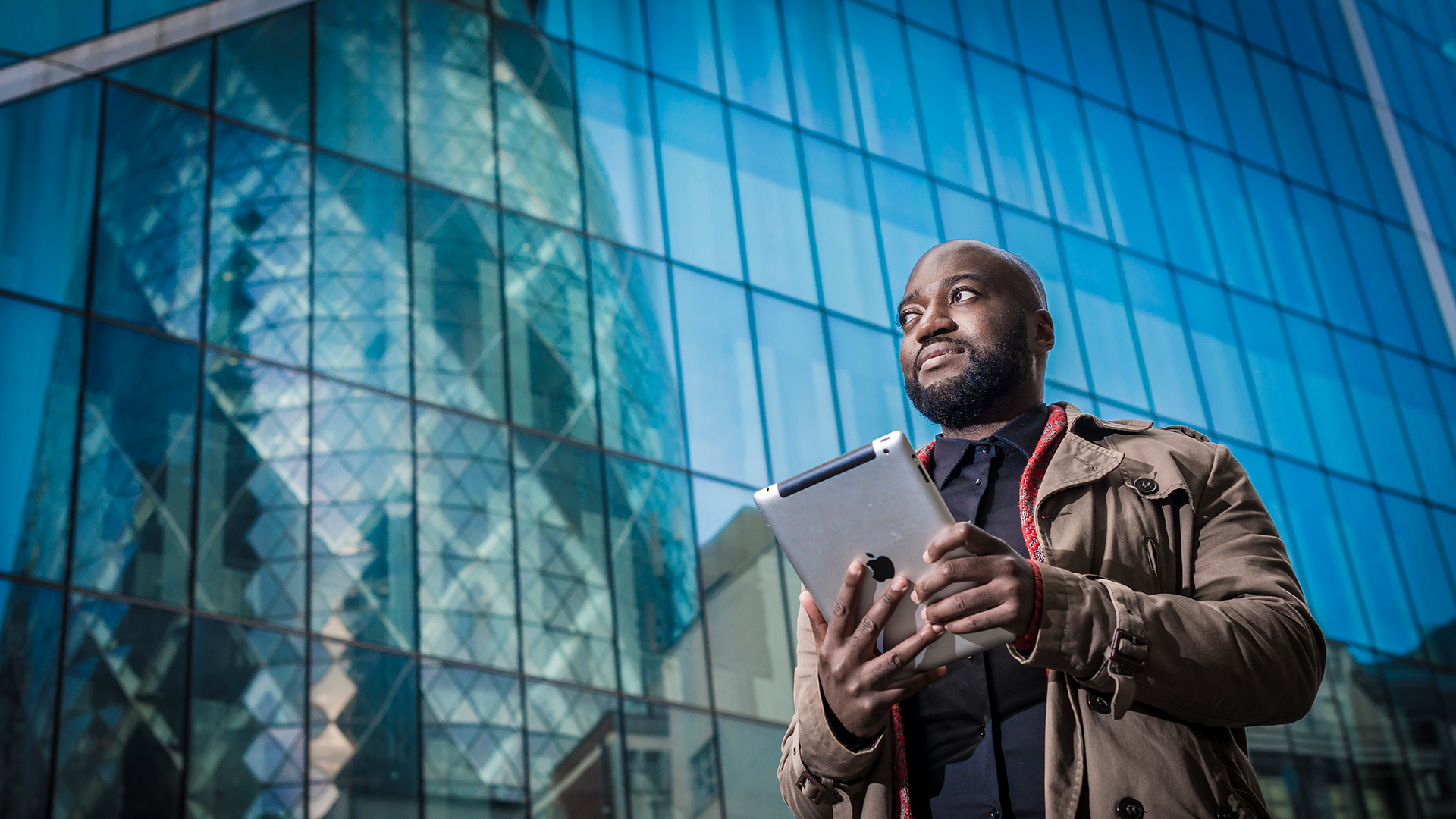 Our Marketing Management BA (Hons) top-up course has been designed to give you a clear pathway into marketing and management careers, and to develop you into a professional marketing manager ready for the future.
Location
Coventry University London (City of London)
Study mode
Full-time
Part-time
Duration
1 year full-time
2 years part-time (UK only)
Start date
September 2023
January 2024
---
Course overview
Gain the knowledge and managerial skills to succeed in a global marketing environment that is currently undergoing a series of fundamental and far-reaching social and technological changes.
Develop the specialist knowledge and innovative patterns of thinking needed to enhance your career prospects.
Develop critical knowledge and competencies in strategic marketing management, PR and communications and digital marketing.
Benefit from our teaching staff's extensive industry experience (staff may be subject to change).

Global ready
An international outlook, with global opportunities

Teaching excellence
Taught by lecturers who are experts in their field

Employability
Career ready graduates, with the skills to succeed
Why you should study this course
Real-world experience
The hands-on nature of this course alongside the opportunity to undertake a work placement or internship2, aims to provide you with work-ready skills which should help you transition more quickly and easily into your professional career.
London location
London is one of the world's leading centres for marketing, media communications and public relations. Many of the world's leading professional marketing communications agencies and strategic consultancies have a major base in London. You will also find a diverse range of exciting businesses, from innovative start-ups to huge multi-nationals. From our campus in the City of London, you will have opportunities to immerse yourself in this world, and to network with marketers (subject to availability). You will also be encouraged to create your own learning opportunities.
Industry insight
You will be taught by experienced and inspirational tutors, many of whom come with industry experience in both academic and professional contexts. Many possess strong backgrounds in areas such as business, marketing, digital marketing, analytics, research and PR and have extensive networks of marketing contacts, many based nearby, which they can use to offer students opportunities to mix with professional marketers from a range of industries. Please note that staff are subject to change.
International learning experience
This course is considered from a world perspective, with the aim of preparing you for your career prospects upon successful completion and is designed to help you to understand international marketing management issues. It aims to reflect international business practices, cultures and legal frameworks, so you should develop confidence dealing with diverse people and organisations around the world.
Prepare for your future
You should complete your course with a clear idea of the career options open to you in marketing, whether in-house with a business, within an agency environment, or as an entrepreneur. If you're interested in starting your own business, you could get business start-up advice and support from our Enterprise Hub.
Our strong global business connections provide students with access to real-life work experience, so you can put your skills into practice and make connections in the world of work2.
Lecturers use the latest happenings, news or events about renowned global companies to further explain the theories behind what they are teaching. Some of the lecturers have worked for world-class companies, and use their real experience and interactions to create a better learning environment.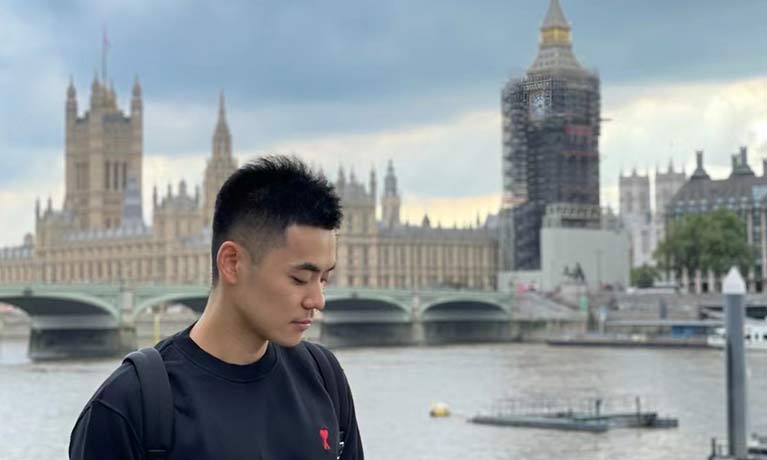 ---
What you'll study
The Marketing Management BA (Hons) top-up course relates academic studies to practical experience through a wide range of teaching and learning approaches, including the opportunities to work on real-life business challenges with business professionals, and via educational trips and experiential activities2.
This one-year course is designed to emphasise the latest marketing practices used by successful organisations as they compete in increasingly complex, digital and global markets. You will explore how to apply new marketing techniques and interpret knowledge, with the chance to assess what is best practice to help find solutions to a wide range of marketing management challenges.
Studying in the heart of the City of London, you should find major centres for internationally important organisations in close proximity. We help you build on opportunities with the aim of developing your knowledge, understanding and critical-thinking skills. You will focus on problem-solving solutions in areas required at the corporate and operational marketing levels that aim to help you with your career prospects with global organisations, upon successful completion. In addition, the course aims to help you to improve communication, interpersonal and life-long learning skills.
This academic year is designed to help you expand your understanding of, and exposure to, the professional world of marketing and strategic marketing management. You will also look at the international and cultural contexts of marketing, providing the opportunity to enhance your global perspective. At the same time, you will have opportunities to develop your business skills and practice management judgement.
At the start of the year, you will focus on management perspectives which will encourage you to develop the intellectual and professional attributes needed for strategic analysis. This foundation should help you across the year as you explore how to make balanced choices between alternative strategies, including the opportunity to assess the challenges of developing strategic plans. You will also be introduced to the concepts of implementing marketing strategies using marketing programmes and campaign plans, and have the chance to consider the relevance of traditional and innovative marketing techniques using data analytics and digital marketing tools.
You should build understanding and skills during your course, which should consolidate this knowledge through an emphasis on application by creating solutions to real-life business problems. You will look into the wider context of marketing issues and have the opportunity to create comprehensive marketing strategies using a range of channels and market sectors. Additionally, you will undertake a Marketing Simulation; a mandatory project where you will have the chance to apply mainstream concepts and theories, and explore current developments.
These subjects are designed to assist and help you in becoming a marketing professional with a diverse range of skills and competencies, upon successful completion.
All modules listed below are mandatory:
Modules
Strategic Management - 20 credits

In today's business environment having a clear understanding of how strategy is formulated and how it shapes the direction and activities of an organisation is more vital than ever. This module introduces you to concepts, theories and frameworks that will aid your understanding of strategic management and decision-making and its value to organisations. The module will equip you with the knowledge, skills, and competencies to interpret and develop strategic management actions to assist your organisation in the creation and capture of value. You should develop an understanding of the impact of contemporary issues on the development and implementation of strategic management.

Marketing and Digital Strategy - 20 credits

The aim of this module is to support you to develop the skills needed in the new digital landscape to implement engaging marketing strategies. This module critically examines how data is collected, managed and interpreted with the intent of providing decision-makers with reliable information to take their next marketing decision. You will examine the role of digital marketing metrics within an organisation and apply a range of measurement techniques, which can enable organisations to achieve marketing insights and strategic decision-making. You will also have the opportunity to critically appraise how measurement techniques, aligned with business objectives, can establish and determine the effectiveness of marketing activities.

Strategic Marketing Management - 20 credits

This module provides an overview of the decision-making processes of managers to build competitive advantage compared to their competitors. You will examine the developments that are directly impacting strategic marketing decisions. The module aims to create a comprehensive, research-based guide for future managers to develop, implement and evaluate marketing strategies. You will be presented with major tools involved in planning and controlling marketing of brands. You will be able to critically evaluate marketing planning and adopt an integrative approach to marketing planning. The module will teach you to appraise a brand's target market and optimise its value proposition to drive the brand to its desired strategic direction.

Contemporary Issues in Global Marketing - 20 credits

This module uses an applied teaching approach to encourage you to think like a future global marketing manager. It should equip you with critical and analytical abilities to evaluate current global marketing issues and formulate solutions to deal with these contemporary challenges. The competencies, skills and knowledge acquired in the module are all aimed at producing skilled, knowledgeable, critical, analytical, career ready and dynamic global marketing managers.

Strategic PR and Communication - 20 credits

This module aims to prepare you to understand and plan a PR and Communication strategy that will be beneficial to any future employer, business, or self-employment practice. Drawing on strategic concepts and theories underlying the development of plans and controls for long-term strategic purposes, you will study the skills required to research, design PR and Communications strategy across all platforms, digital and offline.

Marketing Simulation - 20 credits

The marketing simulation will enable you to learn about new methods, processes, and technologies relevant to marketing and prepare you for your future role as a marketing professional. By undertaking the simulation, you will have an opportunity to acquire new skills in a safe learning environment. The simulation uses a variety of feedback to enhance your learning. Working both independently and in a team helps you to develop new skills in marketing. All these skills could be a significant part of the 'real business experience' for students who are studying at Coventry University London and will be beneficial for your future career in marketing.
Please note that we regularly review our course content, to make it relevant and current for the benefit of our students. For these reasons, course modules may be updated.
What the course director says
This course offers an excellent path to advance your marketing and management knowledge for a great career start and emphasises the development of intellectual and practical skills. The emphasis is on application coupled with critical thinking to a real case or company – either using a simulation or case study. This will enable you to experience a more profound and deeper learning.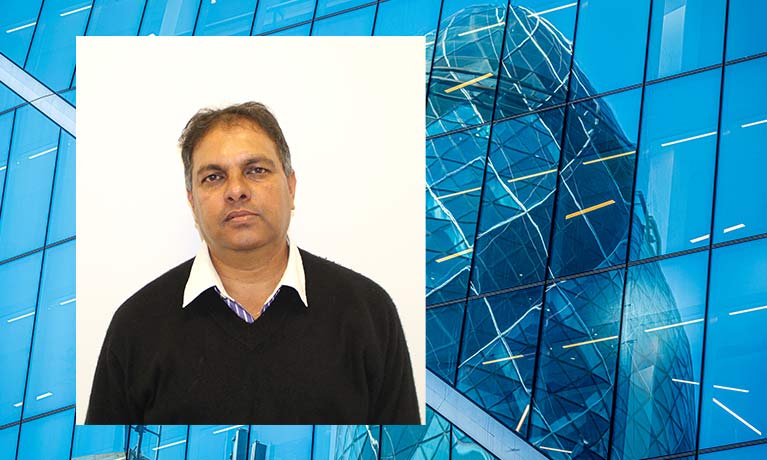 ---
How you'll learn
The Marketing Management BA (Hons) top-up course relates academic studies to practical experience through a wide range of teaching and learning approaches, including the opportunities to work on real-life business challenges with business professionals, and via educational trips and experiential activities2.
Although you will spend time in lectures and seminars, this course takes a workplace-oriented, contemporary and practical approach to learning. You could be involved in workshops, debates, case studies, simulation projects, simulations, business plans, reports, and online collaborations. There is an emphasis on group work, which aims to help you to build your teamwork skills.
As we are committed to providing an experience which aims to closely mirror real business life, you will be assessed purely through coursework relevant to the industry. All of your assessments aim to be career-relevant, reflecting the kind of work you would do within the workplace. This means that there are no exams, but your tutors will take an employer's view of the way you perform your individual and group assignments. Being assessed in this way should help you to respond to the demands of future employers, such as the need for strong teamwork and inspiring leadership. This will also help provide you with the opportunity to enhance self-awareness when appraising your own performance.
This course can be offered on a part-time basis. Whilst we would like to give you all the information about our part-time offering here, it is tailored for each course each year depending on the number of part-time applicants. Therefore, the part-time teaching arrangements vary. Please contact registry.london@coventry.ac.uk for more information about studying this course part-time.
---
Teaching contact hours
You will typically receive around 9 hours of contact teaching per week. The contact hours may be made up of a combination of face-to-face teaching, individual and group sessions, and online classes. You will also be expected to spend between 25-30 hours a week conducting independent study.
The contact hours may be made up of a combination of face-to-face teaching, individual and group tutorials, and online classes and tutorials.
As an innovative and enterprising institution, the University may seek to utilise emerging technologies within the student experience. For all courses (whether on-campus, blended, or distance learning), the University may deliver certain contact hours and assessments via online technologies and methods.
---
Assessment
Every assessment aims to encourage you to demonstrate theoretical understanding and an ability to apply this knowledge so that you should be able to develop practical marketing plans, write professional reports, structure logical arguments, collect and analyse data and make compelling presentations. This should help you to learn to face constructive challenges and to be open to feedback from your tutors and peers.
The Coventry University Group assessment strategy ensures that our courses are fairly assessed and allows us to monitor student progression towards achieving the intended learning outcomes. Assessments may include individual assignments and group work elements.
---
International experience opportunities
This course is set in a global context and you will explore marketing case studies from around the world. Your tutors may share practical experiences of their work or research in other countries. There may be opportunities for field trips with visits to businesses, institutions, exhibitions or other events2.
Throughout the course, you may study as part of a diverse cohort of students from around the world. This means you may benefit from the perspectives and insights other students may bring.
Coventry University Group aims to give you the global opportunities needed to become a truly global graduate, enhancing your employability on a global scale. Choose from language classes, studying or working abroad, international field trips, summer schools, leadership development or work experience2.
---
Entry requirements
Typical offer for 2023/24 entry.
| Requirement | What we're looking for |
| --- | --- |
| High National Diploma (HND) | HND or successful completion of 2 years appropriate academic study in Higher Education. |
| GCSE requirement | Minimum 5 GCSEs at 9-4 (A*-C or equivalent) including English Language and Mathematics |
For guidance please contact registry.london@coventry.ac.uk.
Careful monitoring of applications to ensure that applicants are suited to the course takes place. Relevant work experience may also be taken into account. Where necessary, applicants are interviewed (remotely if applicable), especially those who do not appear to meet standard admissions criteria. Where deemed appropriate, a written exercise is administered to establish suitability.
Are you eligible for the Fair Access Scheme?
We believe every student should have the opportunity to dream big, reach their potential and succeed, regardless of their background. Find out more about our Fair Access Scheme.
Select your region to find detailed information about entry requirements:
You can view our full list of country specific entry requirements on our Entry requirements page.
Alternatively, visit our International hub for further advice and guidance on finding in-country agents and representatives, joining our in-country events and how to apply.
Please note: the part-time option is only available to international applicants who already have permission to live and study in the UK.
English language requirements
Applicants must possess a minimum IELTS of 6.5 overall with no component lower than 6.0.
If you don't meet the English language requirements, you can achieve the level you need by successfully completing a pre-sessional English programme before you start your course.
---
Fees and funding
2023/24 Tuition fees
Student
Full-time
Part-time
UK, Ireland*, Channel Islands or Isle of Man
£9,250 per year
Request fee information
EU
£9,250 per year with EU support bursary**
£16,800 per year without EU support bursary**
Not available
International
£16,800 per year
Request fee information
For advice and guidance on tuition fees3 and student loans visit our Fees and Finance page.
We offer a range of International scholarships to students all over the world. For more information, visit our International Scholarships page.
The following are additional costs not included in the tuition fees:
Additional overseas field trips or visits: £400+ per trip.  
Any costs associated with securing, attending or completing a placement (whether in the UK or abroad) 
*Irish student fees
The rights of Irish residents to study in the UK are preserved under the Common Travel Area arrangement. If you are an Irish student and meet the residency criteria, you can study in England, pay the same level of tuition fees as English students and utilise the Tuition Fee Loan.
**EU support bursary
Following the UK's exit from the European Union, we are offering financial support to all eligible EU students who wish to study an undergraduate or a postgraduate degree with us full-time. This bursary will be used to offset the cost of your tuition fees to bring them in-line with that of UK students. Students studying a Degree with a Foundation Year with us are not eligible for the bursary.
How do you know if you need to pay UK or international tuition fees?

We carry out an initial fee status assessment based on the information you provide in your application. Your fee status determines your tuition fees, and what financial support and scholarships may be available to you. The rules about who pays UK (home) or international (overseas) fees for higher education courses in England are set by the government's Department for Education. The regulations identify all the different categories of student who can insist on paying the home rate. The regulations can be difficult to understand, so the UK Council for International Student Affairs (UKCISA) has provided fee status guidance to help you identify whether you are eligible to pay the home or overseas rate.

If you meet all the criteria required by any one category, including any residence requirements, your institution must charge you the home rate. You only need to find one category that you fit into.
---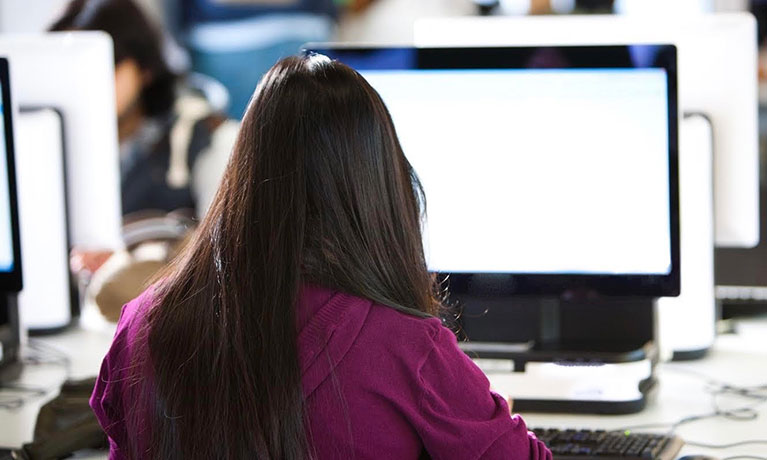 Mac Suite
We have a fully equipped Mac suite for digital and creative work. Here you'll learn how to use the latest industry standard software such as Oribi, Mix Panel and Google Analytics, which will enable you to learn how to plan, design and analyse marketing campaigns.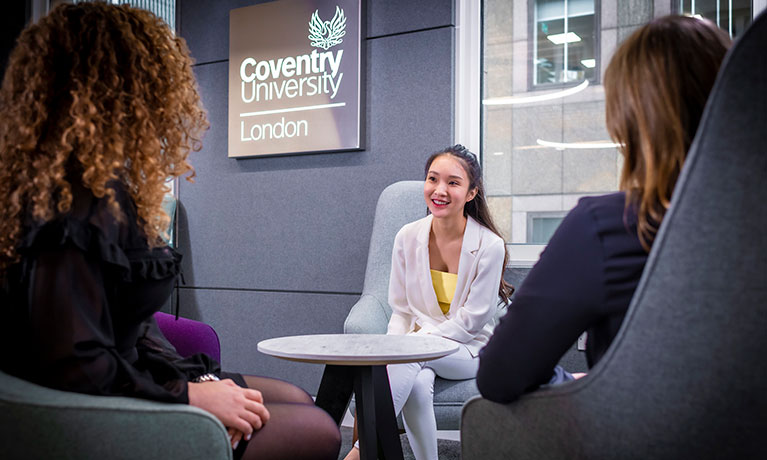 Enterprise Hub
Our Enterprise Hub supports student entrepreneurs by providing extensive industry knowledge and guidance to help develop ideas into viable ventures. It is a dedicated space for enterprising students and professionals to solve problems, network professionally and collaborate on projects.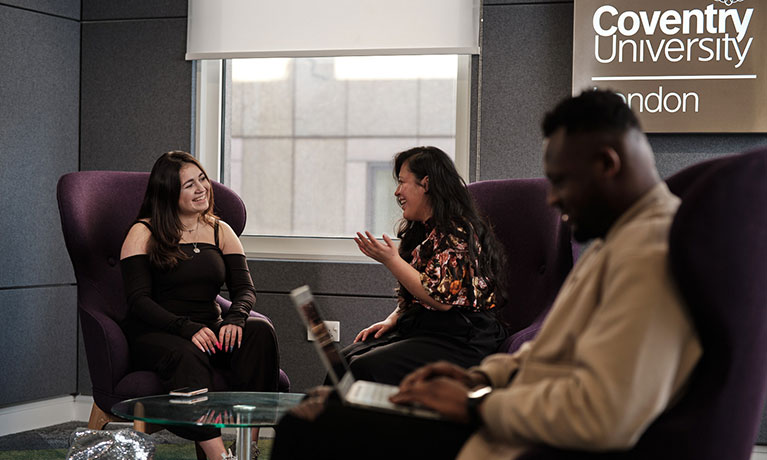 Talent Team
For employability advice, our Talent Team are your go-to. They can assist you in applying for work placements, graduate level jobs and offer skills development workshops. The Talent Team also organise networking events to enable you to meet potential employers and industry contacts.
---
Careers and opportunities
On successful completion, you will be able to:
Understand and apply marketing-related models, concepts and approaches, and articulate the dimensions of marketing management
Understand the legal, ethical and multi-cultural dimensions of global marketing management
Appreciate the opportunities and challenges presented by the digital arena
Demonstrate a high level of numerical and digital literacy
Critically evaluate evidence collected from a variety of sources
Apply rational and analytical approaches to problem-solving, especially digital solutions
Present information and pitches effectively to a variety of audiences
Manage different stakeholder expectations within diverse organisations
Apply ethical principles while demonstrating social, cultural and global awareness
Work well independently, taking responsibility for your own actions, whilst engaging constructively in teamwork.
Our one-year Marketing Management BA (Hons) top-up course is designed to be a future-forward, commercially relevant and digitally aware course. Upon successful completion, it can help to equip you for an exciting marketing management career, and one with a global platform. You will have the opportunity to develop your marketing knowledge, skills and practice to a high-level, suitable for making strategic decisions.
During the course, you will be encouraged to perfect the skills and knowledge that aim to help you to gain employment upon graduation in a wide range of marketing jobs, and you will have access to careers advice and support to help you apply for opportunities when you complete your studies.
Upon successful completion, you will have strong employer appeal thanks to the practical, international and London-based nature of your studies, as well as your ability to develop innovative solutions to real business problems. You will have a huge array of career options. Marketing careers can also develop into more general leadership roles, so our focus on strategy and evidence-based decision-making could serve you well in building a broader career upon graduation.
When you graduate, you might have the option to choose to join the in-house marketing department of a global brand (in any sector or industry), a public-sector organisation or a charity. You might choose to go into marketing or management or leadership, and the skills you should learn will also prepare you for self-employment, if that's what you want.
Alternatively, you might decide to apply for a post in a marketing agency, working in branding, advertising, public relations, graphic design, digital, media-buying, trend forecasting or market research, amongst the many specialisms in the marketing field.
Where our graduates work
A wide range of options will be open to you when you graduate. You might choose to take up a role in marketing, or you could apply your skills to a different business function – such as sales, product development or the supply chain. You could also go into a linked field, such as journalism or consultancy, or you could start your own business or agency.
You might take up a role with a private company, or in the public sector or for a not-for-profit organisation such as a charity. You might join a specialist agency which provides particular services to businesses, perhaps as a strategist, a creative or an account handler. Types of agencies include branding, advertising, PR, market research, SEO, media buying, design, digital, video production, social media, and more.
Further study
Upon successful completion of our Marketing Management top-up course, you may wish to continue to further your studies at postgraduate level. You can do that right here at Coventry University London, with our International Marketing MBA. You could continue to build on what you have learnt, further exploring the current theories around strategy, leadership and finance, as well as specialist knowledge in marketing management and techniques. You'll have plenty of opportunities to gain exposure to the world of marketing in practice, applying your learning in order to sharpen your practical skills and be career-ready by the time you graduate.
We also offer alternative postgraduate degrees if you decide to take a slightly different route. You can explore all of your options using our postgraduate course search tool. You may be entitled to an alumni discount on your fees if you decide to extend your time with us by progressing from undergraduate to postgraduate study.
Hear from our students
Our students are at the heart of everything we do here at Coventry University London. Hear about Hitanshu, Shaikh, Amrin, Hani and Philippine's experiences of studying with us in the City of London.
---
How to apply
UK students

Full-time students applying to start in September should apply for this course through UCAS. Part-time students should apply directly to the university. Read our application pages to find out your next steps to apply.

How to apply

---

For further support or more information about your course get in touch with us today.

International students

International codes:
LONU044

Full-time students applying to start in September 2023 should apply directly to the university.

How to apply

For further support for international applicants applying for an undergraduate degree view our International hub.
Disclaimers

Coventry University together with Coventry University London Campus, CU Coventry, CU London, CU Scarborough and Coventry University Online come together to form part of the Coventry University Group (the "University") with all degrees awarded by Coventry University.

1Accreditations

The majority of our courses have been formally recognised by professional bodies, which means the courses have been reviewed and tested to ensure they reach a set standard. In some instances, studying on an accredited course can give you additional benefits such as exemptions from professional exams (subject to availability, fees may apply). Accreditations, partnerships, exemptions and memberships shall be renewed in accordance with the relevant bodies' standard review process and subject to the university maintaining the same high standards of course delivery.

2UK and international opportunities

Please note that we are unable to guarantee any UK or International opportunities (whether required or optional) such as internships, work experience, field trips, conferences, placements or study abroad opportunities and that all such opportunities may be subject to additional costs (which could include, but is not limited to, equipment, materials, bench fees, studio or facilities hire, travel, accommodation and visas), competitive application, availability and/or meeting any applicable travel COVID and visa requirements. To ensure that you fully understand the visa requirements, please contact the International Office.

3Tuition fees

The University will charge the tuition fees that are stated in the above table for the first Academic Year of study. The University will review tuition fees each year. For UK (home) students, if Parliament permit an increase in tuition fees, the University may increase fees for each subsequent year of study in line with any such changes. Note that any increase is expected to be in line with inflation.

For International Students, we may increase fees each year but such increases will be no more than 5% above inflation. If you defer your course start date or have to extend your studies beyond the normal duration of the course (e.g. to repeat a year or resit examinations) the University reserves the right to charge you fees at a higher rate and/or in accordance with any legislative changes during the additional period of study.

4Facilities

Due to COVID-19, some facilities (including some teaching and learning spaces) and some non-academic offerings (particularly in relation to international experiences), may vary from those advertised and may have reduced availability or restrictions on their use.

Student Contract

By accepting your offer of a place and enrolling with us, a Student Contract will be formed between you and the university. A copy of the 2023/24 contract can be found here. The Contract details your rights and the obligations you will be bound by during your time as a student and contains the obligations that the university will owe to you. You should read the Contract before you accept an offer of a place and before you enrol at the university.
Coventry University London (City of London)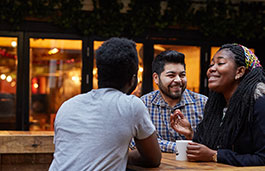 International Hospitality and Tourism Management BA (Hons)
Coventry University London (City of London)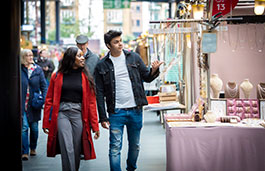 Global Events Management BSc (Hons)
Coventry University London (City of London)
International Hospitality and Tourism Management MSc
---