Dr Richard A Courtney
Principal Lecturer in Entrepreneurship
Email: richard.courtney@coventry.ac.uk
As Principal Lecturer in Entrepreneurship Richard leads the Entrepreneurship subject team within the Department of Management and Human Resources. Previous to this he worked in the School of Business at Leicester University where he was the Director of Student Experience. He has held research grants from the ESRC and AHRC and has published on Englishness; Public Sociology; Heritage Management; Economic Geography; and Entrepreneurship.
His current research interests lie in Entrepreneurial Learning and Cultural Entrepreneurship. Richard has presented at a number of International conferences, including the European Sociological Association Bi Annual Conference; the British Sociological Association Annual Conferences; the Regional Studies Association Conferences; and the International Sociological Association's World Congress (Abstract). Richard's PhD thesis, entitled 'This is England: Class; Culture; and Ethnicity Across Non-Metropolitan Spaces' can be found here. He is a Fellow of the Higher Education Academy. Links to his published work can be found on ResearchGate.
Qualifications
PGCert in Academic Practice in Higher Education; Leicester; 2014
PhD (Sociology); Leicester; 2009
MSc Social Research (Distinction); Leicester; 2004
BSc Sociology (1st Hons); Leicester; 2003
Professional and Industry Memberships
European Sociological Association
British Sociological Association
Research and Consultancy
Richard has provided consultancy and advice on Heritage Management through funded research to English Heritage; the National Trust; the London Science Museum; and the Heritage Lottery Fund. He has worked on Learning and Teaching consultancy for the QAA and OCN London.
Publications and Scholarship Activities
Courtney, R. A., (2017), Network Governance in the Heritage Ecology, Journal of Management & Governance, pp1-17,
Bashforth, M. M. Benson., T. Boon., L. Brigham., R. Brigham., K. Brookfield., P. Brown., D. Callaghan., J.P. Calvin., R. Courtney., K. Cremin., P. Furness., H. Graham., A. Hale., P. Hodgkiss., J. Lawson, R. Madgin., P. Manners., D. Robinson., J. Stanley., M. Swan., J. Timothy and R. Turner. (2016) 'Socialising Heritage / Socialising Legacy', in Facer, K and K. Pahl (eds) Connected Communities Legacies. Bristol: Policy Press.
Quinn, M., and Courtney, R. A., (2016), The Public Sector as an Entrepreneur? In Liddle, J., (ed) (2016), Contemporary Issues in Entrepreneurship Research Volume 6.
Courtney, R. A., (2013), The Contentedness of a Contentless Englishness, In: Context – the magazine of the Institute of Historic Building Conservation, No 137.
Courtney, R. A., (2012) 'Public Sociology, Critical Sociology, and The Sociological Enterprise', In: Love, K., (2012) (Ed), Studies in Qualitative Methodology Vol 12: Ethics in Social Research, Bingley: Emerald Publishing.
Vorley, T., Mould, O., and Courtney, R. A., (2012) 'My Network is Not Working: Conceptualising the latent and dysfunctional dimensions of the network paradigm'. In: Economic Geography, Vol 88, No 1. Pp 77-96.
Courtney, R. A., (2011) 'This is Our Island: Multiple class heritage or ethnic solidarities?' In: Smith, L., Shackel, P., and Campbell, G., (eds) (2011), Heritage, Labour and the working classes. London: Routledge.
Public Sociology - http://www.public-sociology-lab.de/author/richardcourtney/
Englishness - http://staffblogs.le.ac.uk/management/author/rcourtney/
Conference and presentations
2017 - Entrepreneurial Learning through Micro Tyco – Chartered Association of Business Schools Annual Learning, Teaching, and Student Experience Conference – Bristol, UK

2016 – Enterprising the HE Curriculum – Global Entrepreneurial Leaders' Summit with Wildhearts – London, UK

2015 – Sociology and the Custodianship of the Social – European Sociological Association Bi-Annual Conference – Prague, Czech Republic

2014 – Ethics teaching for Level 3 Arts and Social Sciences – QAA Annual Access Diploma Conference – Leeds, UK

2014 – Heritage in the Age of Austerity – International Sociological Association World Congress – Yokohama, Japan

2014 – The Use of Culture and Heritage in the Development of a Second Tier City – Regional Studies Association European Conference – Izmir, Turkey

2014 – Changing Universities, Changing Sociology: Where does Sociology figure in the Third Mission? – British Sociological Association Annual Conference – Leeds, UK

2013 – Public Sociology and Community Heritage in the UK: A Third Stream example for Sociological Research? – European Sociological Association Bi-Annual Conference – Turin, Italy
Recently held grants
School of Business, University of Leicester – DDF Seed fund for 'Cultural Value of Vinyl' research application development.

Co-investigator on an ESRC seminar series entitled: 'New Institutional Imperatives: The Third Mission & the Contemporary University'

Co-Investigator on an AHRC Research Development Award, entitled: 'Building Shared Heritages: Cultural Diversity in Leicester'

Co-Investigator on an AHRC Community Heritage Follow-up Grant, entitled: 'Building and Enriching Shared Heritages: A Toolkit for Community Organizations'

Co-Investigator on an AHRC Development Grant, entitled: 'How should decisions about heritage be made?': Co-designing a research project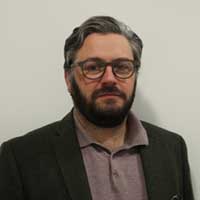 Teaching Areas
Entrepreneurship in a Global Context
Entrepreneurship – Creating a Business Opportunity
Entrepreneurship – Developing the Business Plan
Dissertations