Chris Ansell
Senior Lecturer
Email: chris.ansell@coventry.ac.uk
Chris Ansell joined Coventry University London in September 2016 following an extensive career in Finance over 25 years, spanning Investor Relations, Buy-side Equity Analysis, Entrepreneurial Finance and Investment Management in both the UK and USA. Specialising in Valuation in Portfolio Theory, he brings to the classroom his deep knowledge as Investor Relations Manager in BT plc, both in London and the US and as senior Equity Analyst at Nomura, where he was responsible for covering European and North American Telecommunications and Technology companies. He also had lead responsibility for designing the proprietary valuation model for Nomura.
An experienced lecturer, Chris specialises in teaching Corporate Finance, Valuation, Portfolio Management, Investment Management, Financial Derivatives, Investment Banking, and Entrepreneurial Finance at both undergraduate and postgraduate levels.
Chris is Course Director for our MSc in Global Finance.
Qualifications
Chris has a MA in Physics and Electronics from Cambridge University, and MSc in Telecommunications and Information Systems from Essex University. He also has an MBA from Cranfield, holds the Investment Management Certificate and became a Chartered Financial Analyst in 2002.
Professional and Industry Memberships
Chris is a Charted Financial Analyst, a Member of the Institute of Engineering and Technology, and a Chartered Engineer, an Associate Fellow of the HEA, and Visiting Fellow at Cranfield University.
Research and Consultancy
Chris has an active interest in equity valuation, and corporate value creation, and the relative out performance of small companies. He is co-authoring a new edition of a leading textbook on Corporate Financial Strategy. Chris also engages in financial and strategic consulting for a a range of clients, including M&A due diligence for MNCs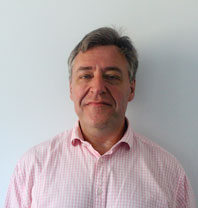 Teaching Areas
Financial Enterprise and Social Responsibility
Valuation of Equities and Fixed Income
Corporate Finance