Personal Development
Essential Development
We have a suite of courses for all our new staff to ensure you are up to speed with all the important information necessary for your role at Coventry University.
All staff need to complete our Coventry Essentials online mandatory training within 4 weeks of starting at the university. Shortly after your start date you will be sent a link to the courses you need to complete, with instructions on how to access them.
New starters are required to attend the mandatory University Induction. In addition to this, if you are an academic member of staff then you will also need to attend Academic Induction.
It is also recommended that you attend Development & Performance review training so that you understand the process here at Coventry University and can set objectives for the year ahead.
As a new member of staff there may be other development opportunities you need to consider and you can find these on the course booking system.
As a manager you may also like to consider our suite of Management and Leadership Development opportunities.
I.T Development
Whether you are new to a specific software package or just want to improve your existing skills we have a selection of I.T. courses to help you develop in your role. These courses include training on Excel, Word, PowerPoint and Access.
Health & Wellbeing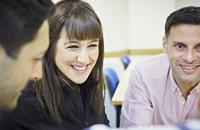 As part of your role you may require specific Health & Safety training and your manager will be able to advise you on this. The types of courses offered include Health & Safety Essentials, Health & Safety for Managers, Good Manual Handling Techniques and Personal safety. There are also other Health & Safety courses which may be suitable for your role.
In addition we offer Mindfulness, Personal Resilience and Stress Awareness for Managers.
Personal Skills
We have a selection of training and development opportunities to help you develop and improve your skills and abilities. Topics include Coaching, Customer Service, Managing and Preparing Effective Meetings, Presentation Skills, Project Management, Agenda Preparation and Minute Writing and Time Management.