Public Health and Community Studies with Foundation Year BA (Hons)
Study level:

Undergraduate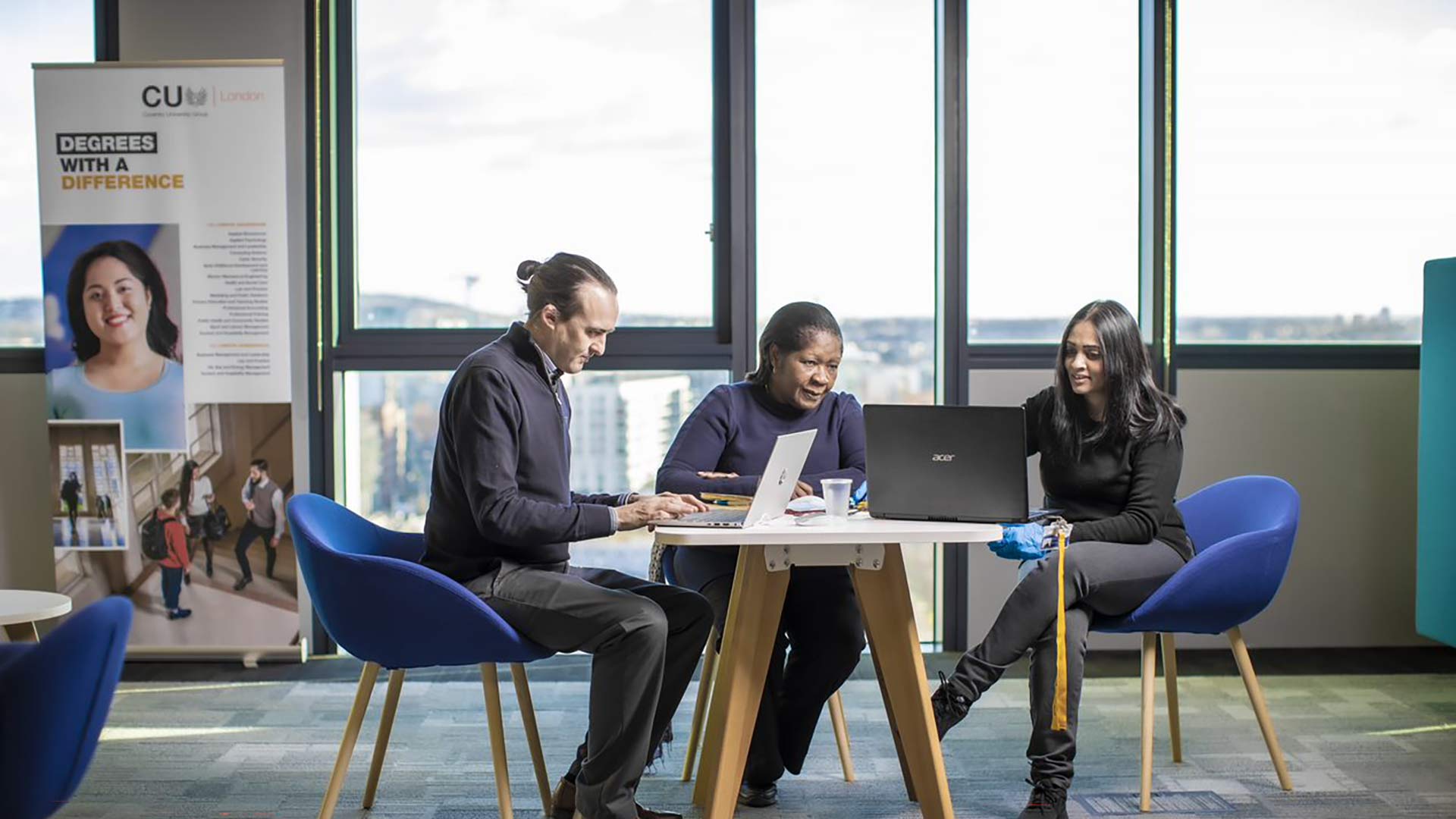 The Public Health & Community Studies degree has been designed to equip you with the knowledge and skills required to excel in a multidisciplinary community environment.
Location
CU London (Dagenham, London)
Study mode
Full-time
Sandwich
Duration
4 years full-time
5 years sandwich
Start date
September 2023
November 2023
January 2024
March 2024
April 2024
June 2024
The information on this page is for 2022-23 entry and should be used as guidance for 2023-24 entry. Please keep checking back on this course page to see our latest updates.
---
Course overview
The Public Health and Community Studies with Foundation Year BA (Hons) course aims to provide you with a solid grounding for building a career in health-related disciplines.
The strength of the course lies in preparing students, who are unable to follow the more traditional route onto a degree course in public health and community studies.
Public health is considered the science and art of promoting and protecting health and wellbeing, preventing ill-health and prolonging life through the organised efforts of society.
Students who successfully complete their foundation year will then progress onto the Public Health and Community Studies BA (Hons).
The Public Health and Community Studies (Hons) degree part of the course has been designed to equip you with the knowledge, understanding and skills required to excel in a multidisciplinary community environment and to effectively support a variety of agencies, communities and individuals in promoting health and wellbeing.
With increased attention from government on the improvement of population health, this is an excellent time to study the underlying factors that contribute to ill health and how you as a practitioner can work to promote health and wellbeing as well as tackling the social inequalities within the localities you serve.
Why CU London
We offer a style of education which is flexible and designed to fit around your life, allowing you to benefit from a modern, forward-thinking higher education institution, reinforced by the quality and reputation of Coventry University. Wherever possible, we aim to provide career-focused courses, coupled with placement opportunities2 to help prepare you for the world of work. We are dedicated to making higher education accessible and enjoyable to everyone, so we keep our fees low and made it a policy to cover one module at a time, so you have the opportunity to study topics in-depth and give assignments your full attention before moving onto the next.
How can we help?
Chat with an advisor now or leave a message and we'll get back to you as soon as we can.
Chat now
Leave a message
---
What you'll study
The foundation year aims to provide the skills and knowledge relevant for progression onto a degree in health, social work or social care in the statutory, voluntary or private sectors. It sets a foundation for your journey to employment, creating great opportunities in health promotion and health development sectors through addressing health inequalities and tackling the damaging effects of smoking, alcohol, drugs and poor nutrition, in line with contemporary government initiatives.
The Public Health and Community Studies (Hons) degree part of your course aims to teach the skills and knowledge relevant for progression into statutory, voluntary or private sectors. Opportunities can be found in areas that address the wider determinants of health - such as education, housing and transport – by developing public approaches to promote health.
Throughout the course you will address health inequalities, including tackling the damaging effects of smoking, alcohol, drugs and poor nutrition as well as analysing government initiatives.
Modules
Academic Skills for Health and Social Care

The module is aimed at creating a culture of careful learning and self-reflection, where you will be encouraged to recognise the strengths and weaknesses and take ownership of your development. You will be introduced to a range of skills that will aid you throughout the programme and further study, such as time management, cultural awareness, resource management and interpersonal skills.

Working in the Health and Social Care Sector

This introduction begins with exploration of health and social care services, roles and responsibilities of people working in this sector. You will understand the key influences that affect the provision and delivery of these services in UK contemporary society.

This module also explores the role of multi-agency/disciplinary working, using real life situations to highlight the strengths and limitations of partnership working. A key part of working in health and social care is being able to assess the holistic needs of a service user and plan for their care using the care planning cycle. Concepts such as personalisation, empowerment, the Care Value Base, effective communication, equality and diversity, legislation, safeguarding and ethics will also be covered.

Life Processes for Healthcare

This module provides you with knowledge of the life processes in the body. In this exciting module, you will have the opportunity to undertake practical activities which require you to take measurements of the cardio-vascular system, the respiratory system and body temperature using non-invasive techniques.

You will even investigate normal responses to routine variations in body functioning. Knowledge and understanding of the needs of service users, types of illness and disease is developed by exploring some of the more common disorders, their causes, symptoms and effects. Factors influencing changes in patterns of health and disease in a community are investigated and how the prevention of ill-health can reduce the occurrence of disease. Approaches and models used to achieve positive health in individuals are explored.

Social Care Perspectives

A sociological module, this topic focuses on developing your critical awareness of the impact social factors has on the life chances of individuals and groups in society. You will complete analysis of demographic changes, patterns of behaviour and lifestyle highlights of social groups. The inequalities in life chances of social groups has been a major focus of governmental, national and local initiatives following the release of the Black Report in 1980. You will begin to understand how social care compliments and supports the wider healthcare agenda. You will study the concepts of relative and absolute poverty and the impact of this within society. There will also be an opportunity to investigate domestic violence and depravation.
The second year is designed to explore the core fundamentals of modern public health. Throughout the year, the programme aims to develop skills in decision making and information management, providing you with a solid foundation for further exploration in years three and four.
Students who successfully complete year two are eligible for a Higher National Certificate (HNC) in Public Health and Community Studies.
Modules
Communication Skills and Inclusive Practice

Community and Change

Contemporary and Public Health

Lifespan Development and Identity
In your third year, you will refine key analytical skills as you examine the ways in which social factors and institutions are constructed and represented and their implications on everyday life.
Students who complete year three are eligible for a Higher National Diploma (HND) in Public Health and Community Studies.
Modules
Social Divisions and Social Groups

Mental Health and Wellbeing

Introduction to Social Science Research Methods

Lifestyle Trends, Health and Behaviour Change
There's no better way to find out what you love doing than trying it out for yourself, which is why a work placement2 can often be beneficial. Work placements usually occur before your final year of study. They're a great way to help you explore your potential career path and gain valuable work experience, whilst developing transferable skills for the future.
Modules
UK Work Placement – 0 credits

This module2 provides you with an opportunity to reflect upon and gain experience for an approved placement undertaken during your programme. A placement should usually be at least 26 weeks or equivalent; however, each placement will be considered on its own merits, having regard to the ability to achieve the learning outcomes.

International Study/Work Placement – 0 credits

This module2 provides you with an opportunity to reflect upon and gain experience for an approved international study/work placement undertaken during your programme. A work/study placement should usually be at least 26 weeks or equivalent; however, each placement will be considered on its own merits, having regard to the ability to achieve the learning outcomes.
The final year of Public Health and Community Studies BA (Hons) aims to enhance your existing knowledge, giving you a broad overview of research methods and processes that are used to study health or social factors in communities. This year examines the skills, behaviours and techniques of effective management and the role of leadership in relation to business themes. Upon successful completion of this final year, you will be equipped with the skills and knowledge needed to become a successful leader, with the ability to identify the core processes and mechanisms that underpin innovation.
Modules
Leadership and Management in Public Health

Promoting Healthy Communities

Social Policy and Welfare Provision

Research Project
We regularly review our course content, to make it relevant and current for the benefit of our students. For these reasons, course modules may be updated.
---
How you'll learn
Your initial foundation year is focused on applied learning geared to high intensity teaching and study throughout the course. The delivery of course content is a blend of lectures, tutorials and online mediums.
After your foundation year, you will have the option to do either another three years full-time or another four-year sandwich course where you undertake a work placement or study year in a related field2.
Our teaching methods for the degree courses are varied depending on which course/modules you take, offering a number of teaching styles to suit the needs of our students, so in addition to lectures, we also utilise a blended learning approach, including online aspects, workshops and group work. We also operate an open-door policy, with additional availability via email and our current online learning platform, Aula.
Progression through the modules develops knowledge and skills, including communication (written and oral), study skills, research methods, project management, presentation and career development. We will also encourage you to consider your employability and/or entrepreneurial development.
Unlike traditional institutions, there are no end of year exams. Instead, learning is assessed through coursework and phase tests, which is more reflective of our learning model.
---
Teaching contact hours
The number of full-time contact hours may vary from semester to semester, however, on average, it is likely to be around 20 contact hours per week each year (excluding placement year). Additionally, you will be expected to undertake up to 30 hours of self-directed study, depending on the demands of individual modules.
As an innovative and enterprising institution, CU may seek to utilise emerging technologies within the student experience. For all courses (whether on-campus, blended, or distance learning), CU Coventry may deliver certain contact hours and assessments via online technologies and methods.
In response to the COVID-19 pandemic, we are prepared for courses due to start in or after the 2022/2023 academic year to be delivered in a variety of forms. The form of delivery will be determined in accordance with Government and Public Health guidance. Whether on campus or online, our key priority is staff and student safety.
---
Assessment
During your foundation year, the learning outcomes of modules, assignments and projects will be clearly stated. Your work will be marked according to how well you achieve these learning outcomes and your final feedback will refer to each outcome, as well as providing an overall percentage grade.
Assessment methods vary and include, practical class and project performance, written practical reports, project thesis, oral presentations, tutorial tasks and assessments which take place at the end of each six-week block. This course will be assessed using a variety of methods which will vary depending upon the degree selected or the module.
Course breakdown:
Coursework (all years)
Phased tests (foundation year one)
Assessments (year two onwards)
The Coventry University Group assessment strategy ensures that our courses are fairly assessed and allows us to monitor student progression towards achieving the intended learning outcomes.
---
Fees and funding
| Student | Full-time | Part-time |
| --- | --- | --- |
| UK | £7,950 | Not available |
| EU | Not available | Not available |
This course with foundation year is not currently available to international students. If you do not meet the entry requirements to directly join year 1 of the degree, please take a look at our International Pathways Programme for additional options.
If you choose to do a work placement2, you should consider travel and living costs to cover this. There is also a tuition fee3 of £1,250 that will cover your academic support throughout your placement year.
For advice and guidance on tuition fees and student loans visit our Undergraduate Finance page and see the university's Tuition Fee and Refund Terms and Conditions.
Tuition fees cover the cost of your teaching, assessments, facilities and support services. There may be additional costs not covered by this fee such as accommodation and living costs, recommended reading books, stationery, printing and re-assessments should you need them.
The following are additional costs not included in the tuition fees:
Any optional overseas field trips or visits: £400+ per trip.
Any costs associated with securing, attending or completing a placement (whether in the UK or abroad)
How do you know if you need to pay UK or international tuition fees?

We carry out an initial fee status assessment based on the information you provide in your application. Your fee status determines your tuition fees, and what financial support and scholarships may be available to you. The rules about who pays UK (home) or international (overseas) fees for higher education courses in England are set by the government's Department for Education. The regulations identify all the different categories of student who can insist on paying the home rate. The regulations can be difficult to understand, so the UK Council for International Student Affairs (UKCISA) has provided fee status guidance to help you identify whether you are eligible to pay the home or overseas rate.

If you meet all the criteria required by any one category, including any residence requirements, your institution must charge you the home rate. You only need to find one category that you fit into.
---
---
Careers and opportunities
With a growing demand for skilled health professionals, graduates of the Public Health and Community Studies (Hons) degree have an expansive list of career paths to explore.
On successful completion of the Public Health and Community Studies (Hons) degree, students will able to:
Demonstrate understanding and knowledge of the theoretical, analytical and practical aspects of legislation, strategies and policies within a changing environment, to meet stakeholder interests.
Critically appraise theories related to the development of a health promotion strategy, considering social determinants that could influence the effectiveness.
Develop appropriate research and analysis techniques, alongside the ability to undertake reliable market research activities.
Operate, lead and collaborate in a team to solve problems of a practical (experimental) nature and to provide appropriate solutions.
Apply appropriate presentation and evaluation tools to establish the significance of research data produced.
With the majority of graduates going directly into a public health profession, others have chosen to study further in the field, with several students undertaking a master's degree in subjects such as Public Health and Nutrition, International Business Management and Social Policy.
Where our graduates work
There are a variety of career paths from this degree programme. Graduates have gone on to work successfully in leading companies such as the Royal Derby Hospital and Coventry University.
---
How to apply
UK students

Full-time UK undergraduate students apply through UCAS. Otherwise, you will need to apply to CU directly. Read our application pages to find out your next steps to apply.

---

If you'd like further support or more information about your course get in touch with us today.
Disclaimers

Coventry University together with Coventry University London Campus, CU Coventry, CU London, CU Scarborough and Coventry University Online come together to form part of the Coventry University Group (the "University") with all degrees awarded by Coventry University.

1Accreditations

The majority of our courses have been formally recognised by professional bodies, which means the courses have been reviewed and tested to ensure they reach a set standard. In some instances, studying on an accredited course can give you additional benefits such as exemptions from professional exams (subject to availability, fees may apply). Accreditations, partnerships, exemptions and memberships shall be renewed in accordance with the relevant bodies' standard review process and subject to the university maintaining the same high standards of course delivery.

2UK and international opportunities

Please note that we are unable to guarantee any UK or International opportunities (whether required or optional) such as internships, work experience, field trips, conferences, placements or study abroad opportunities and that all such opportunities may be subject to additional costs (which could include, but is not limited to, equipment, materials, bench fees, studio or facilities hire, travel, accommodation and visas), competitive application, availability and/or meeting any applicable travel COVID and visa requirements. To ensure that you fully understand the visa requirements, please contact the International Office.

3Tuition fees

The University will charge the tuition fees that are stated in the above table for the first Academic Year of study. The University will review tuition fees each year. For Home Students, if Parliament permit an increase in tuition fees, the University may increase fees for each subsequent year of study in line with any such changes. Note that any increase is expected to be in line with inflation.

For International Students, we may increase fees each year but such increases will be no more than 5% above inflation. If you defer your course start date or have to extend your studies beyond the normal duration of the course (e.g. to repeat a year or resit examinations) the University reserves the right to charge you fees at a higher rate and/or in accordance with any legislative changes during the additional period of study.

4Facilities

Due to COVID-19, some facilities (including some teaching and learning spaces) and some non-academic offerings (particularly in relation to international experiences), may vary from those advertised and may have reduced availability or restrictions on their use.

Student Contract

By accepting your offer of a place and enrolling with us, a Student Contract will be formed between you and the university. A copy of the 2023/24 contract can be found here. The Contract details your rights and the obligations you will be bound by during your time as a student and contains the obligations that the university will owe to you. You should read the Contract before you accept an offer of a place and before you enrol at the university.
---
---