International Fashion Management and Marketing BA (Hons)
Study level:

Undergraduate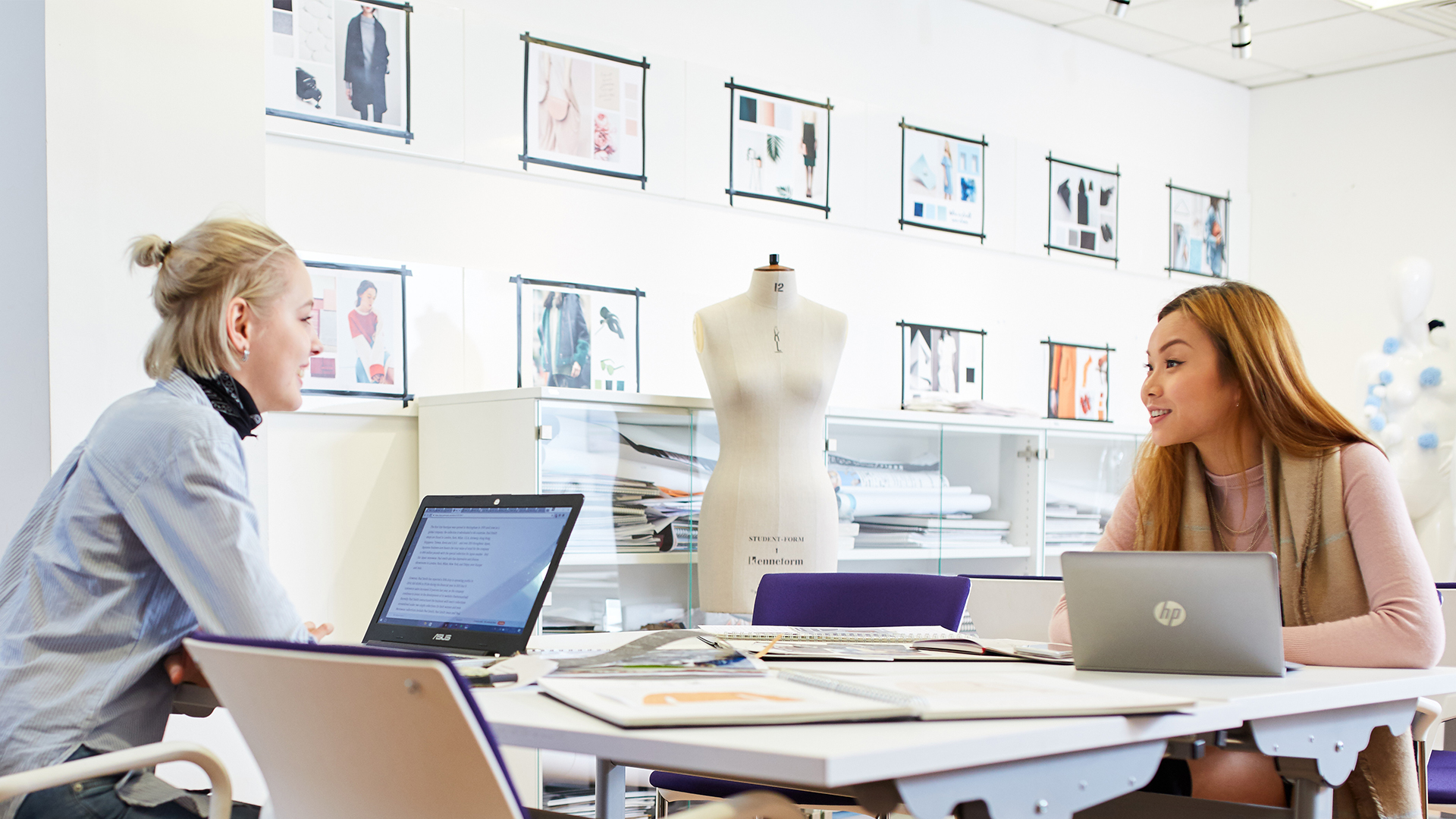 On this course, you'll live and breathe fashion. Surrounded by London's vibrant streets, and taught by industry experts, you'll learn to create global success for different types of fashion label.
Location
Coventry University London (City of London)
Study mode
Full-time
Part-time
Sandwich
Duration
3 years full-time
4 years sandwich
6 years part-time
2.5 years full-time (accelerated option) - January
Start date
September 2023
The information on this page is for 2022-23 entry and should be used as guidance for 2023-24 entry. Please keep checking back on this course page to see our latest updates.
---
Course overview
London is one of the most important global fashion capitals of the world. Studying International Fashion Management and Marketing at Coventry University London, opens up many different paths to understanding this dynamic subject, as well as developing a career path tailored to your skills and passions.
Understand the different roles in the fashion industry from trend analysis and prediction through to the co-creation and management of innovation, design, manufacture and retail of products, as well as the role of communicating to a global consumer.

Learn about the role that fashion brands play not only in world economies (and in particular emerging markets) but also the importance of applying ethics and sustainability in a global fashion industry.

Develop fashion specific practical skills in leadership, management and teamwork, in addition to devising entrepreneurial and innovative solutions to fashion business problems.

Global ready
An international outlook, with global opportunities

Teaching excellence
Taught by lecturers who are experts in their field

Employability
Career ready graduates, with the skills to succeed
Why you should study this course
London location
Fashion is part of London's heartbeat, so where better to immerse yourself in this industry? Our campus is perched between uber-cool Shoreditch and London's financial district. You should find that you are ideally placed to discover emerging independent labels and established global brands, as well as fashion consultancies and global trend laboratories. Soak up inspiration from the V&A, the Fashion and Textile Museum and London Fashion Week, and explore invention and reinvention in London's amazing street markets – such as Camden, Spitalfields, Portobello Road and Brick Lane.
Industry insight
You'll be taught by experienced and enthusiastic tutors, some of whom have a strong industry background in fashion, whether in PR, sustainability, production, consultancy, management, marketing, or research (please note that staff are subject to change). Your tutors will aim to use their personal contacts to develop internship opportunities and to bring in guest speakers, clients for live projects, and speed networking events (subject to availability). Past students have met with fashion stylists, product designers and developers, fabric researchers, photographers, and a co-ordinator of London Fashion Week.
Global learning experience
This course considers fashion from a world perspective, preparing you for a career which understands global issues and could be based anywhere in the world. Our London campus is home to students from around the world. We draw on this to provide additional perspectives that can enhance everyone's learning on the course. We encourage you to share experiences and insights from your home countries. This can help you to explore different contexts, and compare and contrast fashion scenes across the world with fashion in the UK or the Western world. It also means our university community mirrors aspects of London as a truly global city, and as a home to people from across the world.
Real world experience
While your studies will help to build a solid academic grounding, this is a very practical course designed to offer you excellent preparation for employment or self-employment in fashion management and/or marketing. With London on your doorstep, you may have many opportunities to get involved with names, brands, events and ideas, as part of the curriculum and responding to your own independent interests. Our campus has its own exclusive fashion studio, photography suite and Mac suite, offering a versatile space for lectures, group work, networking, technology and other resources.
Prepare for your future
You'll be encouraged to gain practical experience by working part-time in fashion, undertaking client projects and doing internships. You'll get valuable insights into career development from guest speakers in industry (subject to availability). Soft skills are emphasised, so you'll build your confidence, your entrepreneurial skills, and your ability to present yourself and your ideas.Your tutors will be happy to check job applications and CVs, and our Talent Team can help to support you to find career openings, along with other support and services they provide. Should you wish to start your own business, we offer business start-up advice and support through our Enterprise Hub.
Immerse yourself in Coventry University London's global community and emerge as a talented, career-ready graduate with an international outlook.
---
What you'll study
Study themes
Your main study themes are:
Internationalisation – Deepen your understanding of the local-yet-global nature of fashion, and how to manage key globalisation issues such as the supply chain, ethics and sustainability.
Innovation – Explore the extent to which fashion is about 'the new', against a backdrop of changing technologies, materials and consumers trends, and how to keep a fashion brand relevant.
Brand – Understand key principles of brands and how they engage with both businesses and consumers. Consider how to manage brands for long-term success within the context of short-term trends.
Strategy – Learn to take a strategic and sustainable approach to business: fashion concepts need the investment of time, skill and capital to transform them into enduring business successes. 
Your first year will plunge you into a wide range of subjects designed to help you expand your understanding of, and exposure to, the professional world of fashion. Exploring the history of fashion should provide you with a solid foundation for your studies, and act as a lens through which you can view the contemporary fashion business. You'll also be required to look at the international and cultural contexts of fashion and start to develop your business and management skills.
Modules
Professional and Academic Skills (20 credits)

This is an introduction to the skills you require to make a successful transition from previous education/employment into your degree course and future career. These include searching, sorting, analysing and presenting relevant information and data using Coventry University London systems, reading and writing critically, developing learning strategies, self-management, team working skills, communication, and basic data analysis and use of spreadsheets.

Assessment: coursework

The History and the Future of Fashion (20 credits)

This is an introduction to the fundamental historical theories, frameworks and models relating to clothing, the fashion industry as it emerged in the 20th Century and how it might evolve in the future. The module aims to develop your contextual knowledge of fashion and how these key concepts are used to underpin and inform the structure and future developments of the fashion industry. The module looks at aspects such as product development, to media and communication and buyer behaviour.

Assessment: coursework

Introduction to Contemporary Fashion Marketing (20 credits)

This module aims to introduce you to a broad range of contemporary issues in fashion marketing. It looks at core marketing theory and explores how this is applied in the fashion industry today. With the arrival of social media, the world of fashion consumers is ever more conn ected and instant, and fashion marketers have to be ready to meet consumers on their terms. This has led to companies needing to respond to constantly changing needs in a quickly evolving marketplace. This is true when dealing with other companies and customers, where consumer profiling and Segmentation, Targeting and Positioning (STP) are essential to effective omni-channel marketing strategies.

Assessment: coursework

International Business Cultures (20 credits)

Intercultural awareness skills are generally recognised as a valuable asset in the world of work. Employers value them because they provide students with useful transferable competencies to work more effectively in the current globalised economy. This module aims to introduce you to the concept of local cultures, highlighting the differences between Eastern and Western cultures and business practices. Particular attention will be paid to intra-cultural communication, and the expectations and challenges that are presented in business and social relationships.

Assessment: coursework

Contemporary Digital Landscapes (20 credits)

This module aims to develop your understanding and insight into the world of digital engagement for organisations. You should gain an understanding of the digital marketing place, along with the strategies, resources and capabilities organisations need to participate in this space. This module explores these critical issues, together with key techniques through real-world case studies, live projects with external organisations, marketing and business simulations, and field trips so you can witness marketing in action.

Assessment: coursework

Business and Management Essentials for Future Fashion Management (20 credits)

This module aims to introduce you to the fashion system by analysing the macro- and micro- business environment through which a fashion organisation operates. The module covers topics from a multidisciplinary approach and looks at the various types of management and leadership theories that have helped to construct the modern workplace. Alongside this, key management concepts, frameworks and theories such as the Value Chain, 5 Forces and corporate culture are examined and applied to the fashion world through a global lens.

Assessment: coursework
This year, you'll be required to look at the operational side of the industry. How does a garment or accessory make the leap from a creative concept to the consumer's wardrobe? How does distribution work, and why are ethics and sustainability important along the way? You'll have the opportunity to explore why consumers interact with fashion and why they favour certain styles and brands, and then consider how to engage with different audiences using a range of marketing tactics.
Modules
Consumer Behaviour (20 credits)

This module aims to provide you with an insight into how consumers make buying decisions and how the world around us influences those decisions. You learn about how psychological and social factors influence an individual's decision-making process. The module will also explore how consumers learn about different brands, influenced through their attitudes, and how they persuade and motivate themselves to buy certain brands.

Assessment: coursework

Personal Branding and Promotion in International Fashion (20 credits)

We designed this module so you can identify your interest in an area of the industry, guiding you into developing your skills and branding your professional image and portfolio. This should help you to engage with the industry more smoothly and making a good impression with potential employers before they attend job interviews. The aims are to give you the opportunity to research and identify methods for your creative personal promotion and branding, so you can develop your own professional image at early stage of your fashion career and practise building a personal professional identity.

Assessment: coursework

Introduction to Fashion Operations (20 credits)

The aim of this module is to show you how market segmentation will control an operations strategy, or how the capabilities of a company can frame the way a business will target its audience. This module looks at the importance of business structures and the market segment in which a fashion organisation operates, and demonstrates how you can apply theory to activities that affect the performance of such companies.

Assessment: coursework

Project Management for Events (20 credits)

This module aims to give you the appropriate knowledge and skills to initiate, plan, implement and evaluate an event. At the end of this module, you should be able to evaluate and apply project management techniques to scenarios faced by event managers when planning and delivering events in your future study and/or career paths.

Assessment: coursework

Sustainable Fashion Supply Chain (20 credits)

The module aims to give you a strong understanding of the impact of design and supply chain choices upon business structures and vice versa. You also study key industry production processes and the documentation required for effective supply chain management. These will help you to address the changing business landscape of the future and prepare you to respond effectively to global changes in the forthcoming decades.

Assessment: coursework

Digital Communication and Marketing in Fashion (20 credits)

The aim of this module is to guide you to learn and practise marketing and communication online. You will become familiar with networking and digital campaign launches, as well as online marketing strategies which are commonly used by fashion brands. The aims are to provide an opportunity for you to research, develop creative thinking on contemporary promotion, become familiar with tools for digital communication, and learn to use social media channels effectively and professionally for promotional purposes.

Assessment: coursework
While we would like to give you all the information about our placement/study abroad offering here, it is often tailored for each course every year and depending on the length of placement or study abroad opportunities that are secured. Therefore, the placement and study abroad arrangements vary per course and per student. Please contact our Talent Team at talentteam@coventry.ac.uk for more information about going on a placement or study abroad year.
Modules
UK Work placement

Study/ Work Placement Abroad Year
Your third year should draw together all you've learned about the fashion industry during Year 1 and Year 2, and the course will aim to challenge you to be more independent and strategic in your approach to fashion business. You'll be asked to explore what's new, whether that's ideas for products/ brands or for starting your own business.
Modules
Research Methods for the Creative and Services Industries (20 credits)

The aim of this module is to expose you to research methodologies in an academic and professional way, so you are prepared to conduct rigorous and meaningful research projects in your final term. It considers the research process from its inception and the need for you to understand research methodologies and critically review the literature. You will then develop an appropriate research design, qualitative and quantitative research methods, and understand the importance of ethics and risk in research delivery. The module covers techniques of collecting and analysing data and addresses issues in collecting data and interpreting and communicating these findings to interested parties.

Assessment: coursework

Innovation and Global Entrepreneurship (20 credits)

The module is designed to inform you about entrepreneurship through identifying opportunities in the current marketplace, and to formulate a rational business plan that exploits those opportunities. The module will enable you to practise market research, networking, financial planning, project management and marketing strategies. The aims are to provide an opportunity for you to research, engage with the industry, develop creative thinking on entrepreneurship strategies, become familiar with tools for business planning, and use all available channels effectively and professionally for research and communication.

Assessment: coursework

International Strategic Brand Marketing (20 credits)

This module aims to prepare you to plan a brand marketing strategy that will be beneficial to any future fashion-related employer, business or self-employment practice. Drawing on strategic marketing concepts and theories underlying the development of plans and controls for long-term strategic purposes, you will study the skills required to design, implement and administer an international brand marketing strategy.

Assessment: coursework

Creativity and Innovation (20 credits)

The module challenges your cognitive thinking. It aims to unleash your creativity through engaging you into the debates of how innovation and creativity continue to transform the business models in the 21st century. The module orientates you with the practical approaches to enhance creative thinking and develop new product ideas whilst working in team. You will develop a critical insight into the emerging themes in the domain of innovation namely disruptive innovation and duel transformation, and on experiential marketing and branding using the theories of neuroscience.

Assessment: coursework

Optional

You will have the option to select one of the modules:

Internship Project (40 credits)

The aim is to provide you with an opportunity to undertake a substantive piece of research. This will integrate your research skills development and extend your knowledge and experience to a specialist area of interest on a topic relevant to the context of the internship employer. This project will need to be approved by your supervisor.

You will do a piece of original research and use your exploration of analysis of particular experiences, field-specific problematics, events, practices and institutions relevant to your subject. You will continue to collect work and reflect on the relations, interpretations and context of your current academic and intellectual development and practice. You should reflect critically on your experience of working with an employer for your personal and professional development, similar to if you are a new manager entering the workplace.

or:

Dissertation (40 credits)

The aim is to provide you with an opportunity to undertake a substantive piece of research. This will integrate and develop your research skills and extend your knowledge and experience to a specialist area. You can choose a dissertation topic from what you are studying or a practical problem in marketing, fashion, hospitality, tourism and events and related fields. Alternatively, it may relate it to your current/past work experience. You may be able to use the research topic that was developed in Research Skills module. You need to think carefully about the exact focus of the dissertation topic.

Subject to passing internal assessment criteria.
We regularly review our course content, to make it relevant and current for the benefit of our students. For these reasons, course modules may be updated.
Global business connections
Our strong global business connections provide students with access to real-life work experience, so you can put your skills into practice and make connections in the world of work.
---
How you'll learn
We've designed a course which aims to be professional and practical. It is taught by tutors who have solid industry backgrounds, and we aim to engage you with the vibrant industry context in London.
You will have approximately six hours of directed learning each week. However, we also expect you to complete a significant amount of self-guided study. Working independently or with your fellow students, you should learn to treat every exposure to fashion as an opportunity for critical analysis which can inform your work.
Your tutors will aim to use their personal contacts to develop internship opportunities and to bring in guest speakers, clients for live projects, and speed networking events (subject to availability).
The university may deliver certain contact hours and assessments via emerging online technologies and methods across all courses. In response to the COVID-19 pandemic, we are prepared for courses due to start in or after the 2020/2021 academic year to be delivered in a variety of forms. The form of delivery will be determined in accordance with Government and Public Health guidance. Whether on campus or online, our key priority is staff and student safety.
Due to the ongoing restrictions relating to COVID-19, some facilities (including some teaching and learning spaces) and some non-academic offerings (particularly in relation to international experiences), may vary from those advertised and may have reduced availability or restrictions on their use.
---
Assessment
You are assessed through several non-examination methods throughout the course, including:
group and individual presentations or pitches (in-person, online or pre-recorded)
project-based work
business research reports about brands or issues within the industry
reflective reports on your performance or experience
portfolios of creative and academic work
and a final-term dissertation or business report.
---
Job ready
On successful completion, you should be able to:
explain the different roles in fashion, from trend analysis to design, manufacture, wholesale and retail
contextualise the historical, cultural and commercial aspects of global fashion
understand the role fashion plays in world economies, especially emerging markets
identify key drivers of change and growth in fashion
articulate the importance of ethics and sustainability
understand the extremes of fashion, from local markets and pop-up shops to luxury global fashion brands and designers' shows
communicate with audiences in the fast-growing, consumer-centric global market
compare and contrast the nature of fashion in online and offline businesses
demonstrate your understanding of the complex nature of strategic decision-making across international fashion organisations
interpret and apply business, marketing and management concepts, models and techniques to problems in an international fashion context
communicate and conduct business using industry terminology and language relating to fashion, business and marketing across a range of global fashion cultures and contexts.
---
International experience opportunities
This course is set in an international context, so global considerations underpin important aspects of your learning.
Firstly, this includes exploring key global issues such as cultural diversity, sustainability and ethics.
Secondly, you could have the opportunity to travel abroad to observe and engage with fashion businesses and events. Plus, there's an opportunity to add in a 'sandwich' year, either for a work-experience internship (which could be in the UK or overseas) or to study at a university abroad. These could take you to Europe or to other parts of the world.
Thirdly, you'll work alongside an international cohort who can bring fascinating insights on fashion and business from their home countries.
Please note that we are unable to guarantee any placement or study abroad opportunities and that any such opportunities referred to on this webpage may be subject to additional costs (e.g. travel, visas and accommodation etc.), competitive application, availability and/or meeting any applicable visa requirements. To ensure that you fully understand the requirements in this regard, please contact the International Office for further details if you are an International student.
---
Entry requirements
Typical offer for 2023/24 entry.
| Requirement | What we're looking for |
| --- | --- |
| A level | BBB |
| GCSE | Minimum 5 GCSEs at 4 / C or above including English and Mathematics |
| BTEC | DDM |
| IB Diploma | 27 points |
| Access to HE | The Access to HE Diploma to include 30 Level 3 credits at Merit. Plus GCSE English and Mathematics at grade 4 / C or above. |
We recognise a breadth of qualifications, speak to one of our advisers today to find out how we can help you.
Are you eligible for the Fair Access Scheme?
We believe every student should have the opportunity to dream big, reach their potential and succeed, regardless of their background. Find out more about our Fair Access Scheme.
Select your region to find detailed information about entry requirements:
You can view our full list of country specific entry requirements on our Entry requirements page.
If you do not have the typical entry requirements, you may want to consider studying this course with an international foundation year. Upon successful completion our International Foundation Year - Business will provide you with the knowledge and skills you need to progress onto this undergraduate degree.
Alternatively, visit our International hub for further advice and guidance on finding in-country agents and representatives, joining our in-country events and how to apply.
English language requirements
IELTS: 6.0 overall, with no component lower than 5.5
If you don't meet the English language requirements, you can achieve the level you need by successfully completing a pre-sessional English programme before you start your course.
---
Fees and funding
2023/24 Tuition fees
| Student | Full-time | Part-time |
| --- | --- | --- |
| UK | £9,250 per year | Not available |
| International | £16,800 per year | Not available |
If you choose to study this course with a professional placement or study abroad year, you will need to pay a tuition fee of £1,250 to cover your academic support.
For advice and guidance on tuition fees3 and student loans visit our Fees and Finance page.
We offer a range of International scholarships to students all over the world. For more information, visit our International Scholarships page.
The following are additional costs not included in the tuition fees:
Additional overseas field trips or visits: £400+ per trip.  
Any costs associated with securing, attending or completing a placement (whether in the UK or abroad) 
How do you know if you need to pay UK or international tuition fees?

We carry out an initial fee status assessment based on the information you provide in your application. Your fee status determines your tuition fees, and what financial support and scholarships may be available to you. The rules about who pays UK (home) or international (overseas) fees for higher education courses in England are set by the government's Department for Education. The regulations identify all the different categories of student who can insist on paying the home rate. The regulations can be difficult to understand, so the UK Council for International Student Affairs (UKCISA) has provided fee status guidance to help you identify whether you are eligible to pay the home or overseas rate.

If you meet all the criteria required by any one category, including any residence requirements, your institution must charge you the home rate. You only need to find one category that you fit into.
---
Facilities
Our Fashion students have access to great facilities which allow you to harness your creativity, experimentation and design skills.
Fashion studios
Our Fashion Studio has been designed to facilitate your creativity, experimentation and portfolio-building skills. This contemporary space contains a teaching area, as well as large cutting tables that are ideal for working on creative group projects.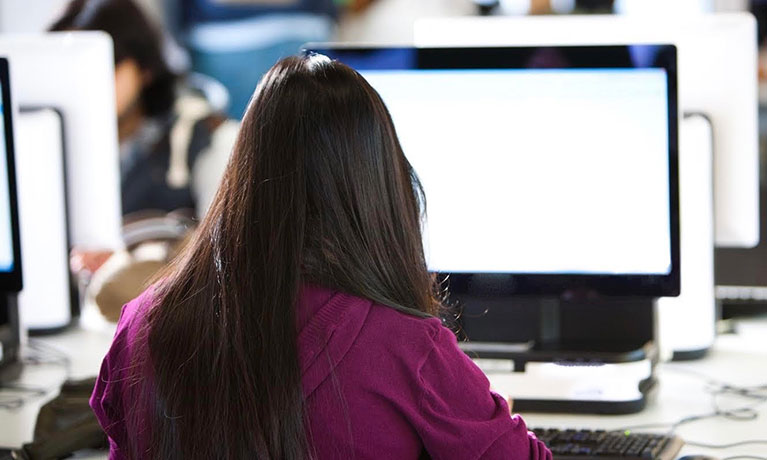 Mac suite
Fashion students can make use of our Mac Suite, which provides full access to Adobe Creative Cloud programmes to help you complete digital and creative work. Here, you could create assets to support digital marketing and social media campaigns, as well as complete video and design-led assignments.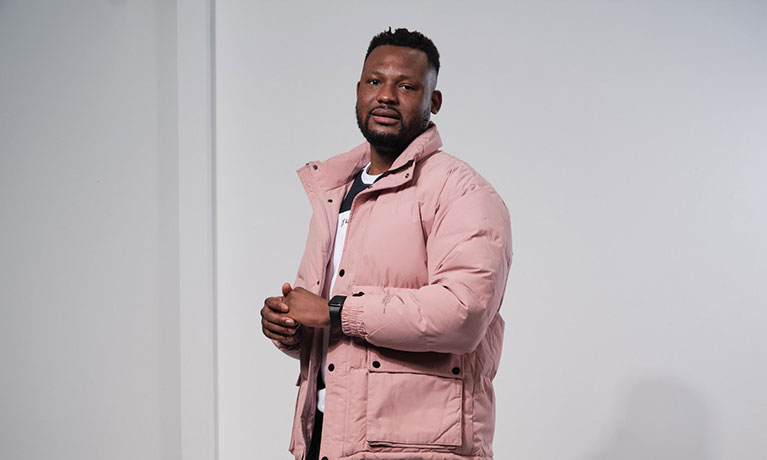 Photography and visual merchandising suite
Our combined Photography and Visual Merchandising Suite is designed for practical workshops and styling sessions. Here, you could learn to design global retail and visual merchandising strategies, and shoot photos for use in campaign-building projects.
---
Careers and opportunities
This course is geared towards the marketing and management of fashion brands, rather than fashion design or production. When you graduate, you should be ideally placed to begin a career in junior marketing and management related roles. You might choose instead to go into merchandising, the supply chain, sustainable fashion, brand management or consultancy. You could also build a fashion career in a specialist area of the creative professional marketing services sector, either on the agency-side or on the client-side. Areas such as PR, digital marketing, advertising, creative direction, account management and trend forecasting could also be popular careers for you.
Your skills should be transferable across wide industry sectors, so you won't be limited to fashion if you'd like to branch out. For example, among a range of posts, you could consider management or marketing positions in retail, cosmetics, hair fashion, events management, health and leisure.
"Stepping out of this university makes you feel like a true professional"
Our students are at the heart of everything we do here at Coventry University London. Hear about Hitanshu, Shaikh, Amrin, Hani and Philippine's experiences of studying with us in the City of London.
---
How to apply
UK students

Full-time students applying to start in September should apply for this course through UCAS. Part-time students should apply directly to the university. Read our application pages to find out your next steps to apply.

How to apply

---

For further support or more information about your course get in touch with us today.

International students

International codes:
LONU048

Full-time students applying to start in September 2023 should apply directly to the university.

How to apply

For further support for international applicants applying for an undergraduate degree view our International hub.
Disclaimers

Coventry University together with Coventry University London Campus, CU Coventry, CU London, CU Scarborough and Coventry University Online come together to form part of the Coventry University Group (the "University") with all degrees awarded by Coventry University.

1Accreditations

The majority of our courses have been formally recognised by professional bodies, which means the courses have been reviewed and tested to ensure they reach a set standard. In some instances, studying on an accredited course can give you additional benefits such as exemptions from professional exams (subject to availability, fees may apply). Accreditations, partnerships, exemptions and memberships shall be renewed in accordance with the relevant bodies' standard review process and subject to the university maintaining the same high standards of course delivery.

2UK and international opportunities

Please note that we are unable to guarantee any UK or International opportunities (whether required or optional) such as internships, work experience, field trips, conferences, placements or study abroad opportunities and that all such opportunities may be subject to additional costs (which could include, but is not limited to, equipment, materials, bench fees, studio or facilities hire, travel, accommodation and visas), competitive application, availability and/or meeting any applicable travel COVID and visa requirements. To ensure that you fully understand the visa requirements, please contact the International Office.

3Tuition fees

The University will charge the tuition fees that are stated in the above table for the first Academic Year of study. The University will review tuition fees each year. For Home Students, if Parliament permit an increase in tuition fees, the University may increase fees for each subsequent year of study in line with any such changes. Note that any increase is expected to be in line with inflation.

For International Students, we may increase fees each year but such increases will be no more than 5% above inflation. If you defer your course start date or have to extend your studies beyond the normal duration of the course (e.g. to repeat a year or resit examinations) the University reserves the right to charge you fees at a higher rate and/or in accordance with any legislative changes during the additional period of study.

4Facilities

Due to COVID-19, some facilities (including some teaching and learning spaces) and some non-academic offerings (particularly in relation to international experiences), may vary from those advertised and may have reduced availability or restrictions on their use.

Student Contract

By accepting your offer of a place and enrolling with us, a Student Contract will be formed between you and the university. The 2023/24 Contract is currently being updated so please revisit this page before submitting your application. The Contract details your rights and the obligations you will be bound by during your time as a student and contains the obligations that the university will owe to you. You should read the Contract before you accept an offer of a place and before you enrol at the university.
---
---