Courses Designed To Suit You
At CU Coventry we have designed our courses to suit you. With flexible study options and multiple intakes throughout the year we have you in mind. All of our courses are taught by academics and industry professionals, they are also awarded and accredited by Coventry University. Take a look below at the different study options available.
Degrees
Our courses run in six-week blocks and we offer up to six of these each calendar year. You will study a maximum of four blocks per year.
4 blocks will lead to a Foundation Year or a HNC (120 credits at level 4)
8 blocks will lead to a HND (240 credits at levels 4 and 5)
12 blocks will lead to an Honours Degree (360 credits at levels 4, 5 and 6).
This means that you will be able to pace your progress. Each learning block will require the equivalent of 300 hours of your time. Normally, 120 of these will be in class (or a mixture of in class and online) and the rest is completed away from the class. All study is guided so you'll always have support.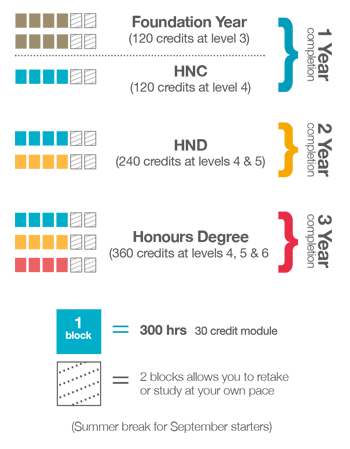 Progression Routes
Our Foundation Year courses offer an introduction to your chosen subject and are an ideal route to higher level qualifications if you did not achieve your desired grades or wanted to change subject area.
On the other hand if you do not have the necessary level 3 qualifications required to enter higher education our Access to HE courses could provide you with the underpinning knowledge and skills needed to progress to a degree.
We understand that busy adults may have commitments and it can be hard to work around these – for example if you have children at school or a part-time job in the evening – so we run our Access to HE programmes during the day, Monday to Thursday 10am–2pm with additional time for tutorials if you wish.
The Access course takes one year to complete and there are two intakes each year; September and January. Upon successful completion of your Access to HE course you will be guaranteed onto a select few degree programmes with us. Please check the individual study pages for more information.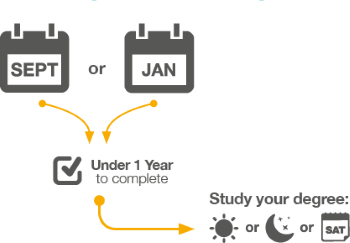 As a full-time student a standard learning block will include 18 hours of teaching each week in groups of no more than 50. Depending on the course you have chosen, you'll attend morning or afternoon sessions.
You will also need to attend one two-hour individual or small group tutorial each week. Tutorials are designed to ensure that you have understood the week's learning and that you are ready for the next.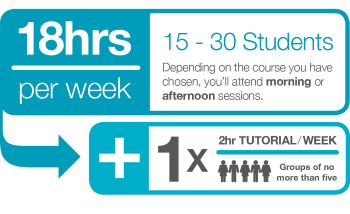 If you work during the week you may find it convenient to study for your degree or professional qualification on a part-time basis. The majority of our degree courses are delivered all day on Saturday in addition to online learning.
Part-time students can study up to four modules a year meaning you can pace your progress to suit your lifestyle. Each module is made up of 6 week blocks which equates to one module.