Sports Scholarships: giving you the support to excel
CU Coventry Sports Scholarships can help you reach your sporting and academic goals. This scheme offers you a support network, enabling you to balance the dual demands of performance sport and academic study.
CU Coventry Sports Scholarships are worth up to £1400 and provide a tailored range of support services including:
pre-season screening
physiotherapy
sports psychology
sports nutrition
strength and conditioning
gym membership
performance analysis
lifestyle support
performance workshops
promotional clothing
flexible study
My uni boxing coach put me forward for the scholarship in my first year. I used to pay for a nutritionist and a strength and conditioning coach – that's now free. It's a weight-training sport, so strength and conditioning are hugely important. I get two sessions a week and I have a mentor too. It's motivating to have someone who understands both sides, sport and study.

Jessica Barry, Digital & Technology Solutions 2021
I heard about the scholarship from my basketball coach and a Coventry rep in Bulgaria. I feel honoured to be part of this programme because being a 'sports scholar' outside your own country is a huge privilege. The amount of online support provided has been very helpful and encouraging, especially during the pandemic. Your mentors keep in touch with you often; there are core training and mobility stretching classes weekly with our motivational and kind coaches.

Being a scholar gives me extra motivation not just to be a better athlete but also to achieve more in life.

Valentina Ilieva, Counselling & Integrative Practice, 2021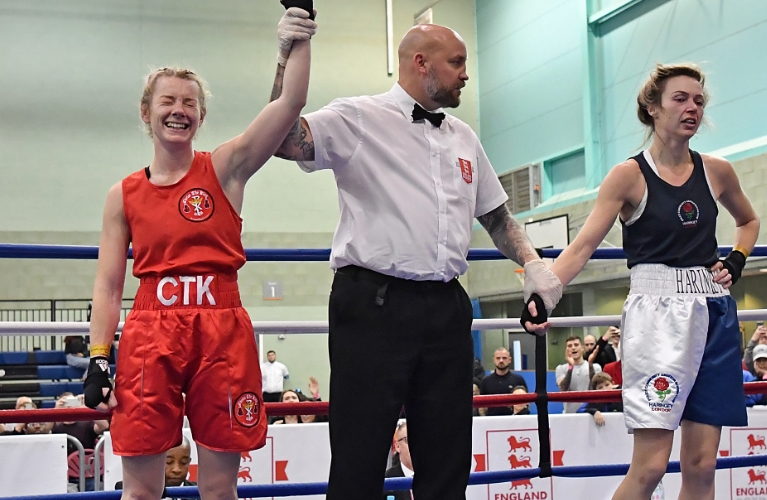 Jessica Barry (Christ The King, red) v Colleen Roach (Haringey, blue). Credit: Andy Chubb, England Boxing
Who can apply for a Sports Scholarship?
Students enrolled on any Foundation Year course or undergraduate Degree programme, on a part-time or full-time mode are eligible to apply for a Sports Scholarship. This includes students from the UK, from overseas and those students that have moved on to Year Two and Year Three who were not previously eligible but whose performance has improved sufficiently for them to apply.
To be considered for one of these scholarships, you must:
be able to demonstrate excellence in your chosen sporting activity at a national or international level.
be willing and able to represent the Coventry University Group at a high level in that sport.
be competing in a sport which is part of the BUCS Sport, Olympic Sports or Paralympic Sports programmes. You may be an undergraduate, from the UK, the EU, or overseas, and studying in any year of your course.
be enrolled on a course at CU Coventry.
Applications for 2023/24