Clearing 2019
Clearing places available on this course
Limited places are available on some of our courses* with the following tariffs: HNC= 32pts, HND= 40pts, degree= 48pts (*excludes Nursing/Design courses). Contact us to discuss your options:
---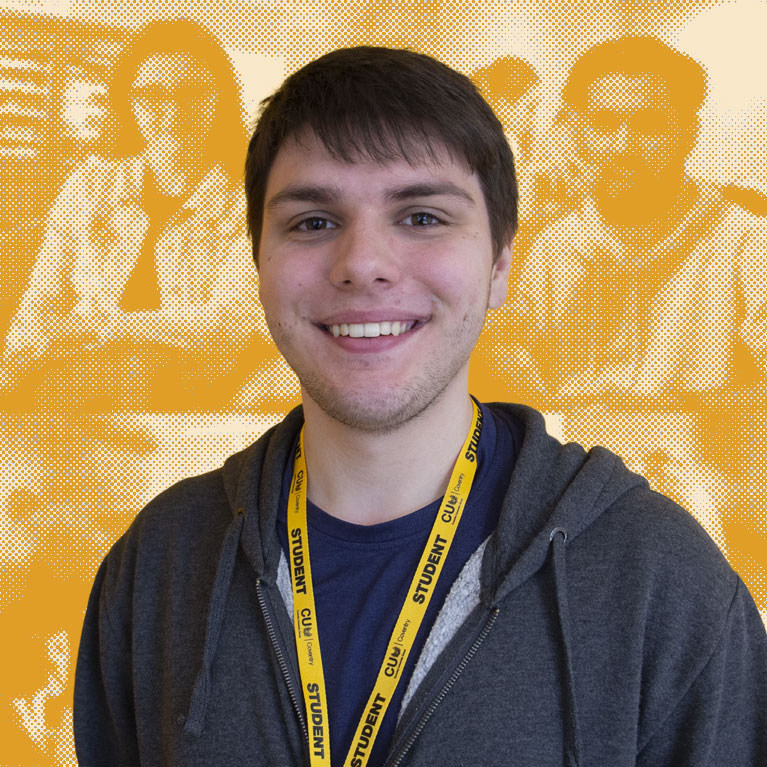 Rise above
I can always ask questions and get feedback. It's the friendly environment that enhances my learning and makes it a true blessing to be at CU Coventry.
Jamie Umblijs, Management & Leadership BA (Hons)
Course code:
M250 - BA
052M - HND
152M - HNC
Study options:
3 year - Degree
2 year - HND
1 year - HNC
Location:
Starting:
September 2019
November 2019
January 2020
March 2020
April 2020
June 2020
Fees:
---
Get in touch
For questions regarding study and admissions please contact us:
Filled with intrigue and complexities, law is a fascinating and exciting subject area that is an essential component of every organisation and affects all of our everyday lives. Studying law can lead you to a variety of exciting career options, including a legal executive, barrister or solicitor.
Success in this field demands discipline, strategic thinking, in depth knowledge of legislation and the ability to adapt to different scenarios. Legal knowledge is key to success in this career, so our course focuses on theory and best practices, alongside quintessential practical learning such as making succinct legal arguments.
Why CU Coventry
We offer a style of education which is flexible and designed to fit around your life, allowing you to benefit from a modern, forward-thinking higher education institution, reinforced by the quality and reputation of Coventry University. We aim to provide career-focused courses, wherever possible, coupled with placement opportunities to help prepare you for the world of work. We are dedicated to making higher education accessible and enjoyable to everyone, so we keep our fees low and made it a policy to cover one module at a time, allowing you to become a specialist in each topic before moving onto the next.
Employability
Dedicated Careers & Employability department who will assist you in finding employment
Top Quality Courses
Taught by industry professionals, awarded by Coventry University
No End of Year Exams
Our modern teaching techniques mean no last-minute cramming and less stress
Professional Recognition
Specific courses contain additional industry recognised qualifications from awarding bodies
Accreditation and Professional Recognition
This course is recognised by the following bodies:
The Chartered Institute of Legal Executives (CILEx)
We have designed our BA (Hons) Law & Practice degree to align with content from CILEx Professional Legal Qualifications. Embedding qualifications means you can apply for exemptions from CILEx with the appropriate fee for the Professional Diploma in Law and Practice (CILEx Level 3) qualifications (10 modules) and two Level 6 modules (Equity and Trusts and EU Law) with no extra study. In addition, the CILEx Fellowship qualification will enable you to convert to and acquire the Solicitor's qualification. However, it is important that you contact the Solicitors Regulation Authority (SRA) to get further details as this is at their discretion.
What our students say
While undertaking my degree, the Careers & Employability team assisted me with getting a placement related to my degree. This really helped me build up my CV.
This course aims to provide a thorough understanding of the practise of law in the modern world.
Focusing strongly on EU law, employment law and criminal law, this course covers a broad range of topics, from engaging critically with how employment law has evolved, through to contractual and tortious liability. Further, you develop mooting, advocacy and presentation skills throughout this programme, building a solid foundation for you to become a competent and knowledgeable practitioner of law.
Modules
Overview
This first year is designed to provide you with a comprehensive understanding of the legal system and public law. You will be introduced to the legal framework, including elements of the civil and criminal systems and contract law. Throughout the year, you'll develop skills in decision making and research methods, providing you with a solid foundation for further exploration in years two and three. Students who complete year one are eligible for a Higher National Certificate (HNC) in Law & Practice.
Modules
An introductory module, you will cover the creation of new laws, the role of the judiciary and the details of the government and its functions. You may also get the opportunity to take an educational trip; in the past these have included visits to the Old Bailey in London and a Magistrates' Court.

This unit introduces the fundamentals of contract law, exploring core subjects such as what a legally binding contract consists of, applied terms, exclusion clauses, how contracts can be discharged and more.

A popular module focusing on what constitutes a crime. We'll cover a range of crimes including murder, manslaughter, theft and dishonesty offences. You will get the chance to develop mooting skills by discussing and debating previous cases, while looking at defences such as insanity and intoxication.

In this module, you will learn essential practical components of criminal law. You learn the key skills required during the offences process, such as how to run a case, how to advise a client, initial guidance at a police station (after arrest), sentencing and appeals.
Overview
This year focuses on the civil justice system and property law aspects of English Law. The aim is to provide an elevated level of legal knowledge, ready for progression on to year three. Students who complete year two are eligible for a Higher National Diploma (HND) in Law & Practice.
Modules
This module looks at how the English law of torts governs relationships between individuals and businesses. You will cover cases that unfairly cause someone to suffer loss or harm, including liabilities, damages and diverse ways of claiming compensation. We will also explore business disputes relating to money and possible outcomes.

You will cover the process of going through the court system, from what evidence is needed to proceed a claim to what can you expect from the defendant. Your skills will be put to the test in exciting practical assessments, where you will make closing applications to the court in our mock law court.

This module introduces law relating to land, property, ownership and tenancy. You will develop a sound understanding of the principles of the centrality of land law to society, in an economic system based on the concept of private ownership. You will investigate how land law operates to regulate relationships between owners of property rights.

In family law, no two cases are the same. You will consider marriage and divorce, financial settlements, custody of children, domestic abuse and more. Refining your mooting skills, you get to debate on the legal points around the facts of a case, using case laws and statutes to win your argument.
Overview
An optional placement or sandwich year gives you the chance to gain further insight into the industry or career you are seeking to follow, enabling you to apply your theoretical knowledge to the workplace. You can also choose to take an optional year abroad between years two and three. If you decide to take advantage of a placement year this version of the degree will help you acquire valuable work experience and gain an understanding of what employers seek in graduates. It is your responsibility to find a placement with an employer within your chosen sector. The careers and employability department, alongside the course team, will support you throughout your placement year.
Overview
In the final year, you will build upon and develop the areas studied in years one and two, exploringEU law, employment law and equity and trusts liability. The skills and knowledge that you refine during your final year will help to prepare you for further professional development. Students who complete year three are awarded a BA (Hons) degree in Law & Practice.
Modules
Due to its ever-changing nature, this is an exciting module. You will critically analyse the EU's impact on the UK's legal system and the aims and policies of the European Union.

This module explores law relating to employment including the rights and responsibilities of the employee and the employer, dismissal, redundancy and discrimination. You'll explore a number of case studies and refine your writing skills with written assessments.

This module explores the legal definition of trusts, how they operate, the power of the trustees, responsibilities and more. Using your ability to think independently, you will cross reference modules in years one and two to gain competency in the legislation relating to equity and trusts.

In the final module, you will learn to conduct interviews and best practices, identifying legal problems, customer support and system management from the client's perspective. At this level, you will also evaluate the principles of client care and consider how effective client relationships contribute to the development of a successful legal practice.
15th
Coventry University is ranked 15th in the UK in the Guardian University Guide 2020. CU Coventry is part of the Coventry University Group.
Facilities
Located on our new Mile Lane campus, you will have access to our Library & Learning Services (LLS), fully equipped seminar rooms and impressive IT suites. Plus, you can take advantage of reading rights in Coventry University's Lanchester Library, make use of sport centre facilities and receive full membership to Coventry University Students' Union (CUSU).
Staff
This course has been developed and is taught by practising professionals and industry experts. Our academics bring a wealth of expertise to the classroom with many continuing to undertake research and other projects alongside teaching, meaning our students gain a well-rounded and relevant teaching experience.
Practical Experience
Throughout your studies, you will find that the course is underpinned with practical elements. Previous trips for students include Coventry Magistrates' Court, The Royal Courts of Justice, London, The Central Criminal Court (Old Bailey), London, Houses of Parliament, London, European Parliament, Council of Europe and European Court of Human Rights, Strasbourg.
Placements
At CU Coventry, we put a strong focus on getting our graduates ready to enter the job market. This can be done in a variety of ways—one key element is work placements. With this degree, you are given the opportunity to undertake short and long-term placements in between your second and third year.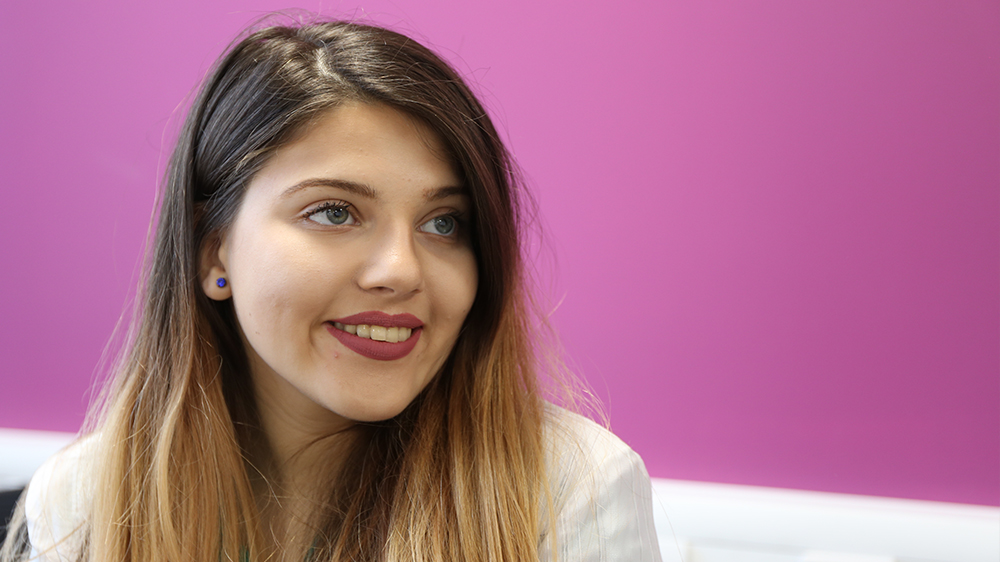 Andreea - Becoming A Barrister
Andreea has taken advantage of our Foundation Law & Practice to progress onto the degree. As an international student, she has been able to fit into CU Coventry by sharing her different experiences with her classmates.
Discover Andreea's Story
Upon completion of this course, you will receive a qualification awarded by Coventry University.
You will receive support with applying for short and long-term placements, to gain the experience employers desire, with our in-house Careers & Employability department.
In order to make higher education accessible to as many people as possible, we keep our tuition fees competitively priced.
Small tutorial group sessions ensure that you receive the mentoring help and support you need.
We deliver one module at a time during each block. This means you can dedicate your time to specialise in each subject without the distraction of numerous modules and multiple deadlines.
All teaching and learning activities across the course are designed to develop academic and non-academic writing skills, research skills, presentational skills, advocacy skills, practical administrative skills and employability skills.
Your main study themes are:
The English Legal System: An understanding of the classifications of law into public/private, domestic/European/international and civil/criminal. Key concepts of criminal law and its application to real life scenarios.
Internationalisation: Comparative study of other legal systems, such as the European Union or legal systems in other jurisdictions which are also based on English common law.
Client Care and Practice: Conducting interviews and best practices, identifying legal problems, customer support and system management and law from the clients' perspective.
Research Methods: Internet based law research resources, such as Westlaw, LexisNexis and LawTel. Presentation of work through digital media is built into session plans.
There are two main taught options for this course. It is available as a full-time three year programme or an optional four-year sandwich course where you undertake a work placement or study year in a related field. Alternatively, part-time study is also available and with our Saturday University programme, this course can be completed in as little as three years. Our teaching methods are varied, offering a number of teaching styles to suit the needs of all our students, so in addition to lectures, we also utilise a blended learning approach, including online aspects, workshops and group work.
We also operate an open-door policy, with additional availability via email and our online learning platform, Moodle.
Progression through the modules develops knowledge and skills, including communication (written and oral), study skills, research methods, project management, presentation and career development. We will also encourage you to consider your employability and/or entrepreneurial development.
Unlike traditional institutions, there are no end of year exams. Instead, learning is assessed through coursework and phase tests, which is more reflective of our learning model.
The learning outcomes of modules, assignments and projects will be clearly stated. Your work will be marked according to how well you achieve these learning outcomes and your final feedback will refer to each outcome, as well as providing an overall percentage grade.
Assessment methods vary and include, practical class and project performance, written practical reports, project thesis, oral presentations, tutorial tasks and assessments which take place at the end of each six-week block.
Course Breakdown (approximate):
50% Coursework and Written Assessments
20% Phase Tests
30% Practical Work/Presentations
On completion, you will be able to:
Demonstrate understanding and knowledge of the theoretical, analytical and practical aspects of legislation and processes.
Be proficient in collating and evaluating evidence, with enhanced advocacy and advisory skills.
Develop appropriate analysis techniques, alongside the ability to undertake reliable and thorough research of case law, law commissions and more.
Apply appropriate presentation skills to confidently establish the significance of data produced.
Full-time students are expected to attend CU Coventry every day of the week.
The majority of this will be face to face teaching, with the addition of individual and group tutorials and independent/online learning, as well as enhancement activities on Wednesdays.
Classes run daily and students are allocated to either:
Morning - 9am-1pm or
Afternoon - 2pm-6pm
Both morning and afternoon sessions have the addition of Enhancement Wednesdays when students can choose individualised learning activities between 9.30am-1.30pm to support their study, providing time in the afternoon to engage in clubs and societies.
Part-time students receive 8 hours of teaching each week.
Outside of this, there will also be independent study and online support.
Teaching will normally take place Saturday - 9am-6pm
Please note our part-time offering is subject to numbers.
We hold tutorials in small groups every week. These sessions are mandatory and ensure you receive detailed feedback about your work, go into depth on specific topics and have any of your burning questions answered.
Groups are kept at an average of 25-50 students per class. This way, students can take advantage of small numbers to increase contact time with lecturers.
What our students say
While undertaking my degree, the Careers & Employability team assisted me with getting a placement related to my degree. This really helped me build up my CV.
Clearing places available on this course
See if you have enough points (UCAS tariff 2019)
Don't know your points total? Work it out
Additional requirements may apply
What our students say
While undertaking my degree, the Careers & Employability team assisted me with getting a placement related to my degree. This really helped me build up my CV.
Tuition Fees
We pride ourselves on offering competitive tuition fees which we review on an annual basis. Course fees are calculated on the basis of what it costs to teach each course and we aim for total financial transparency.
Fees & Funding
Full-time (UK/EU)
For the academic year 2019/20, each six-week block will cost £1,587.50. A full academic year is made up of four of these blocks, so this means that a normal full-time year is £6,350. This covers some of your learning materials, access to the CU Coventry Library and Learning Services, all your classes and online tutorials.
Part-time (UK/EU)
The part-time course fee is dependent on how many modules you choose to study in an academic year. Each stage of the qualification (HNC/HND/Degree) will require you to complete four academic blocks. You can study up to four blocks in one academic year or study at a slower pace (usually three academic blocks per year). Please note if you do study at a slower pace you will need to re-enrol to complete your studies in the next academic year.
For the academic year 2019/20, each block for part-time students will cost £1,587.50. Therefore, the total fee per stage of your qualification if completed in the academic year 2019/20 is £6,350.
Funding
As a full-time or part-time student resident in the UK or EU, you can apply for a loan to cover the cost of your tuition fees at CU Coventry from Student Finance England.
International
For the academic year 2019/20, each six-week block will cost £2,312.50. A full academic year is made up of four of these blocks, so this means that a normal full-time year is £9,250. This covers some of your learning materials, access to the CU Coventry Library & Learning Services, all your classes and online tutorials.
What our students say
While undertaking my degree, the Careers & Employability team assisted me with getting a placement related to my degree. This really helped me build up my CV.
Career prospects
With an ever-growing demand for legal professionals in all industries, graduates of a law course have an expansive list of career paths to explore.
Many students graduate and find careers in the law sector, while others continue onto further study by undertaking professional qualifications or a master's degree in specialised subjects such as International Law.
97%
of our students were in work or further study six months after they left university.
Destination of Leavers from Higher Education (DLHE) 2016
Where our graduates work
Graduates have gone onto further study in law, business and CILEx at institutions across the UK and internationally. Graduates from CU Coventry's Law & Practice Degree course have gone on to work successfully in leading, global companies such as, DWF LLP, Uber and Central England Law Centre.
What our students say
While undertaking my degree, the Careers & Employability team assisted me with getting a placement related to my degree. This really helped me build up my CV.
Disclaimer
The University will charge the tuition fees that are stated on the course webpage and in the prospectus for the first year of study. The University will review tuition fees each year. For UK and EU students, if Parliament permit an increase in tuition fees, the University may increase fees for each subsequent year of study in line with any such changes. Note that any increase for UK and EU Students is expected to be in line with inflation. For international students, the University may increase fees for each subsequent year of study but such increases will be no more than 5% above inflation.