Dr Socrates Karidis
Associate Pro-Vice-Chancellor and Deputy CEO
Email: socrates.karidis@coventry.ac.uk
Dr. Karidis holds a PhD in Economics from Clark University (Massachusetts, USA). He joined the Faculty of Economics at Bentley University in Boston in 1998 where he spent eight years as a Lecturer, Assistant Professor and Director of the Economics and Finance Learning Centre. Upon his relocation to Greece he was offered a position at Business College Athens and went on to become Programme Leader and Head of the Business Department.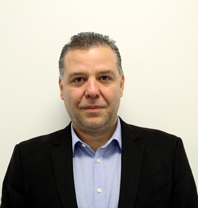 In 2013, Socrates joined the School of Accounting, Finance and Economics at Leeds Beckett University and later that year he moved to the Department of Accounting and Finance at the University of Bedfordshire Business School with the responsibility to develop Economics as a new subject area. Following the successful development and launch of a number of Economics courses, Socrates became Head of Department for Law and Finance and served on a number of Faculty and University level committees including the Business School's Executive Group and the University's Strategic Planning Group. During his tenure, the Department saw significant success in a number of areas including, retention and progression, curriculum development, NSS as well as league table rankings.
Socrates has published in the areas of Foreign Direct Investment, economically induced migration, and Institutional Trust whilst he has also analysed the provision scheme of private and public transfers in the United States. He is currently investigating the effect of austerity policies on crime and the role of shadow economy across the EU. He has participated in a number of academic conferences, workshops and other events as presenter, discussant or panel member and has a number of PhD completions and examinations.
Socrates joined Coventry University London in 2017 and was appointed Associate Pro-Vice Chancellor and Deputy Chief Executive Officer in May 2018.