Global Business Management BA (Hons)
Study level:

Undergraduate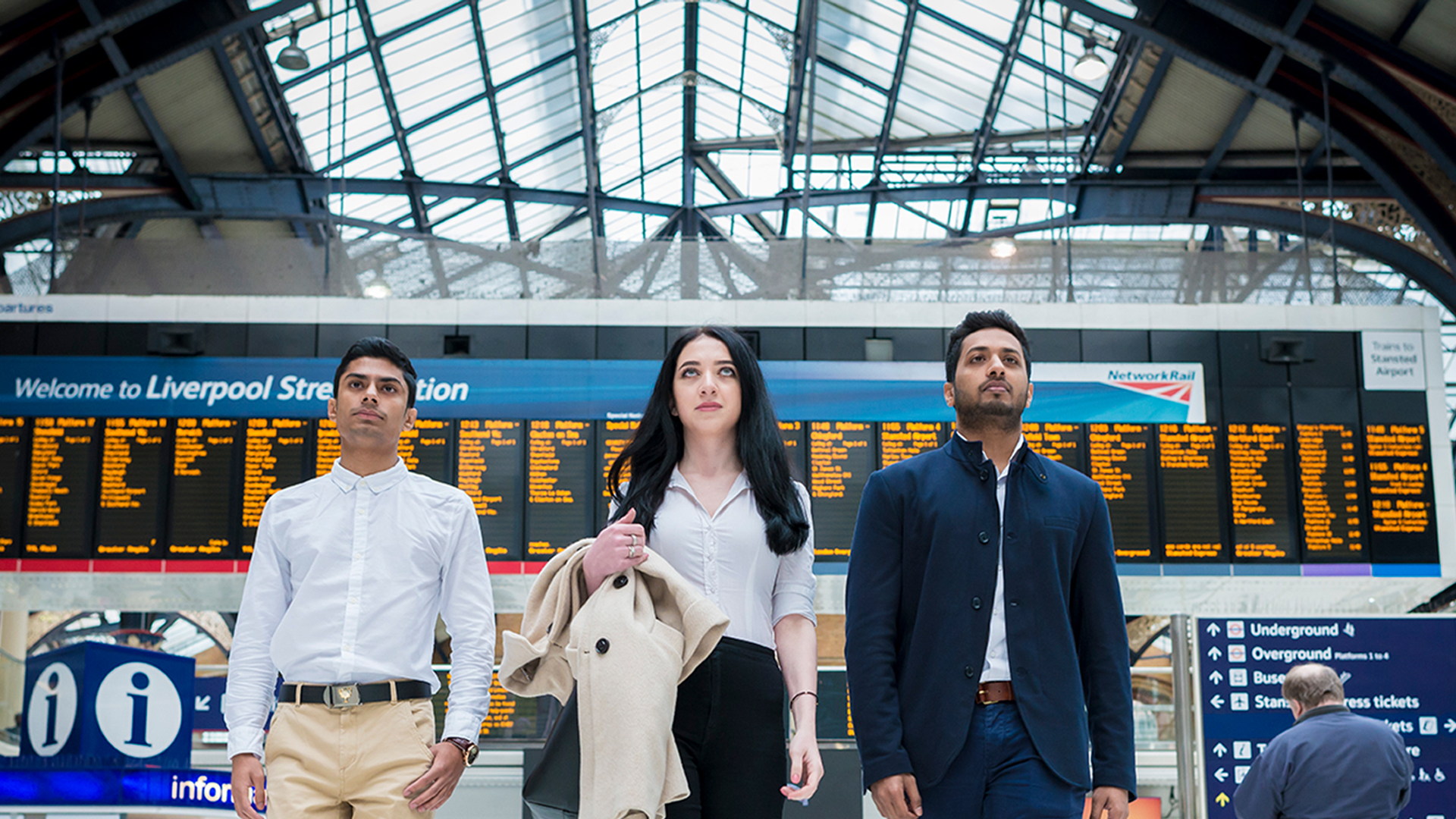 Study with us and develop the strategic and analytical skills you'll need to begin building a career in management or leadership on the global stage.
Location
Coventry University London (City of London)
Duration
3 years full-time
---
Course overview
We aim to give you a broad introduction to business. You have the opportunity to explore various business functions such as operations, marketing, accounting, human resource management and entrepreneurship.
This course aims to give you simulated real business experience in the heart of the City of London.
We use real-world case studies in the classroom, along with live projects and simulations.
Your learning can also be complemented by field trips and opportunities for work placements.(Subject to availability and eligibility).
You will be taught core modules using teaching materials from around the world to give you a solid grounding in the key business areas within a global management context.

Global ready
An international outlook, with global opportunities

Teaching excellence
Taught by lecturers who are experts in their field

Employability
Career ready graduates, with the skills to succeed
Why you should study this course
This course combines the advantages of Coventry University London's specialist expertise in this field, with its employability-focused approach to learning and teaching, and its location.
It is:
taught from a campus in the City of London, one of the world's premier business locations
taught by experienced academics
a course with a high level of student satisfaction
a truly multi-cultural global experience with students coming from over 50 countries
aligned with Quality Assurance Agency for Higher Education's (QAA) subject benchmark for Business and Management. It is also aligned with the QAA's guidance for Enterprise and Entrepreneurship Education.
and has:
internship opportunities with City of London-based organisations
guest speakers
opportunities for students to travel to, and collaborate with, overseas universities
business start-up advice and support during the course if you wish to start your own business
flexible study options. You can study this course full-time over three years, or four years if you add a placement year in industry. We also have a two and a half-year accelerated option (available for January intake only), and a part-time option. There are three intakes in September, January and May. The course also allows you to join directly to Year 2, but you need to have completed a level 4 qualification first.
The course is designed to:
offer you a high-quality and highly flexible degree programme in global business management.
allow a wide range of students from diverse backgrounds across the globe to access and progress.
offer you a degree qualification that is academically robust and vocationally relevant
allow you to develop both personally and professionally in your future careers within a global context.
develop you into a career-ready, globally aware graduate with management, communication, numerical and information technology skills.
develop you as a graduate who is able to reflect and learn from your experience and relate this experience to theory.
develop you, as a graduate, to have a critical and reflective understanding of business and its relationship within the wider global business environment.
I chose to study here because of the curriculum, the teaching and academic results, and the employability rating. I also had friends who studied here, and they gave me their honest feedback and opinions. The university also offers a flexible timetable, a great location and the opportunity to start some great friendships.

I definitely recommend the course, largely because of the teaching quality. I think the tutors are great here. They're always willing to help you when you need it, and they have open office hours which gives you the chance to meet them to go through any issues you have.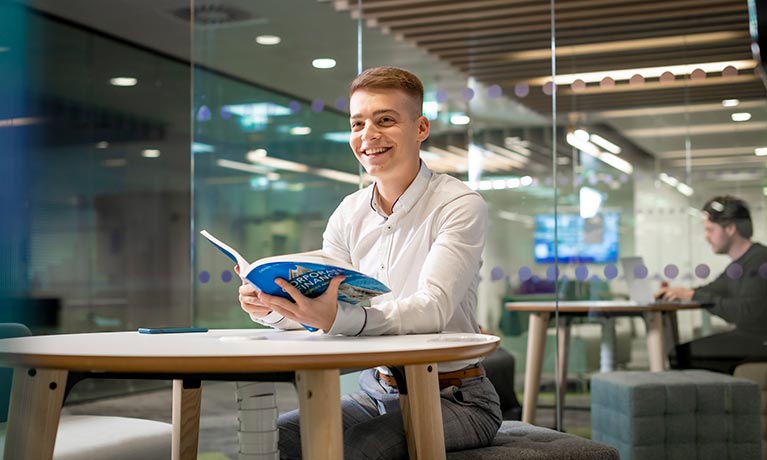 ---
In the first year you will consider the global nature of business, including the issues which impact on strategy and how organisations – and their people – behave and can be managed. Finance and marketing form two of your practical business disciplines, and you'll be encouraged to develop skills enabling you to access, gather, interpret, present and communicate business information. You'll also have the opportunity to develop your own professional skills and explore entrepreneurship, a key theme of this course.
Modules
Working in Global Diverse Teams (20 credits)

This module aims to introduce you to management within globally diverse organisations. You learn about different cultural perspectives on the behaviour of individuals and teams within different business contexts so you can work more effectively in the globalised economy.

Assessment: coursework

Data Skills for Business (20 credits)

The aim of this module is to equip you with analytical and numerical skills that are relevant to professional and academic practice, as well as your future career development. You are introduced to the role data plays in managerial decision making and how to handle it, including: summarising, describing and interpreting data, and communicating results with the help of meaningful data visualisation and use of industry-standard software.

Assessment: coursework

Business Accounting (20 credits)

This module is split into two and is designed to introduce you to the language, concepts and tools commonly used in management accounting. In the first half of the module you learn about management accounting concepts which you apply to basic principles, concepts, and techniques of management accounting to routine organizational scenarios. The second half introduces you to planning and performance analysis tools used by management accountants including budgets, standard costing system and performance monitoring and reporting.

Assessment: coursework

The Economic Environment of Business (20 credits)

This module aims to provide you with a broad understanding of the competitive global context in which firms operate and make decisions and to explain the impact of economic policies on the behaviour of individuals, firms and institutions. It focuses on the basic principles of economics, looking at microeconomic and macroeconomic environments.

Assessment: exam, coursework

Principles of Marketing (20 credits)

This shows you the elements of the marketing mix and how a marketer integrates its effort to satisfy customer needs. It looks at segmentation, targeting and positioning so you can learn about relevant marketing tools and their applications. The module will also explain the importance of understanding customer information and how to collect different marketing information to think like future business managers.

Assessment: coursework

Introduction to Entrepreneurship (20 credits)

This module is designed to give you introductory understanding of the nature of operations management in the service and the hospitality industries. It emphasises business awareness, proactive and logical thinking, and research and analysis to help hospitality managers make appropriate and practical customer experience management decisions on a local and global scale. This approach will help you to understand how hospitality operations works, as you may experience front-line and customer-facing jobs in your working life.

Assessment: coursework
In the second year, you will explore how to create local and international opportunities for your future ventures through gathering information, critically evaluating options, and planning carefully. Tensions can exist between entrepreneurial leadership styles and you can explore these and more measured, traditional approaches to business opportunities. In all cases, you'll learn to develop and recommend viable solutions to business opportunities and challenges..
Modules
Entrepreneurship in a Global Context (20 credits)

This module will go into detail of the relevant themes on selected areas you studied in Year 1. At this stage, you should understand the nature of entrepreneurship and associated research of a potential business idea. For example, you will intensify the way you conduct micro and macro research, and learn specific methods for using this data to support your ideas. You also learn how to organise, prepare, plan launch a successful start-up by creating a feasibility study.

Assessment: coursework

Leading and Managing People (20 credits)

This module aims to build on the study and practices of management and leadership you have experienced so far in the course. You will be encouraged to use theoretical models and frameworks to help you understand communication in a range of global business environments. It draws on the link between management styles, effective leadership and change management.

Assessment: coursework

Digital Marketing (20 credits)

This module aims to provide you with the knowledge of contemporary digital marketing theories and concepts from a strategic point of view that will enable you to engage better with the digital generation. You can gain the core skills and knowledge to help you to navigate your way through the ever-changing world of digital marketing and focus on factors that will make a positive impact on organisational results.

Assessment: coursework

Management Accounting (20 credits)

This module builds upon the foundations laid in the first-year studies, principally from Level 4 Business Accounting. It aims to give you the ability to select and apply appropriate management accounting techniques for decision making planning, control and performance evaluation purposes. The usefulness of these techniques to modern business organisations is critically examined. Emphasis is also placed on interpreting management accounting outputs as well as evaluating management accounting techniques. You will also be expected to understand the management processes of planning, control and decision-making.

Assessment: coursework

International Trade (20 credits)

This module shows you current issues involved in world trade and the challenges and benefits faced when trading in a variety of international markets. You learn why international trade is important for nations, and examine how it effects production, profit and the economy. You will become familiar with the skills required to research and assess international markets and understand the factors that affect them. In learning how global markets work, you will assess and recommend the most cost effective means of exporting and importing, and the strategies for establishing business links worldwide through international trade.

Assessment: coursework

Operations Management (20 credits)

One important aim of this module is for you to gain an understanding of the limitations of Management Accounting techniques. It teaches you what they try to do and how they do it. You are introduced to the behavioural aspects of Managerial Accounting in areas such as 'budget games'. You will learn to think independently and critically so you can evaluate a corporation's performance by using major theoretical concepts and accounting tools.

Assessment: coursework
Instead of going straight into your final year, you have the option to apply to do an additional year either on a work placement or studying abroad. Both choices are likely to have a positive impact on your personal and professional development. Our Talent Team can help students to find a work placement in the UK, or you may arrange your own placement overseas.
While we would like to give you all the information about our placement/study abroad offering here, it is often tailored for each course every year and depending on the length of placement or study abroad opportunities that are secured. Therefore, the placement and study abroad arrangements vary per course and per student. Please contact registry.london@coventry.ac.uk for more information about going on a placement or study abroad year.
Modules
UK Work Placement

Study / Work Placement Abroad
In the final year, you will have the opportunity develop your strategic capabilities while also polishing the vital skills you may need for job applications and interviewing. You will focus on project management and research skills, which may be useful not only throughout your career but will also be particularly helpful as you undertake your 11-week final major project. (A choice of an internship, a dissertation, Entrepreneurship Business plan or a software-based business simulation.)
Modules
International Business Strategy (20 credits)

This module aims to give you the knowledge, skills, and competencies you need to interpret and develop a business strategy for creating and capturing value. Through this process, you develop an understanding of the impact of contemporary issues on the development and implementation of international strategy.

Assessment: coursework

Project Management - blended learning (20 credits)

We have designed this module to introduce you to the principles, tools and techniques of project management. It gives you an introduction to the importance of project management, organisational structure and strategy, project selection and prioritisation. It focuses on projects involving significant changes, including projects related to new products, and services, which will affect the lives of people both within and outside the organisation.

Assessment: coursework

Business Research Skills (20 credits)

This module aims to provide you with an understanding of business research methodology and a range of research skills. This will help you to understand the features of research ethics in the discipline of business and management, and you can confidently integrate a university risk assessment within your research proposal. As a result, you will have developed a comprehensive research proposal on a subject of their choice that could be developed into an original independent research project.

Assessment: coursework

Managing a Global Workforce (20 credits)

This module begins with defining the scope and functions of Human Resource Management and how you can apply this knowledge in your own work context. You learn how to critically understand key HRM processes, including recruitment and selection, employee participation and engagement, training and development, performance and reward management and reward. You are encouraged to critically assess the applicability of HRM across varying cultures and investigate the various factors that influence the application of HRM strategies in a global context.

Assessment: coursework

Fina-term project (40 credits)

One from the following:

You will undertake a significant piece of written work in a topic appropriate to the field of business management or the broader economic landscape. The aim is to provide you with an opportunity to do a substantive piece of research, integrating your research skills development, knowledge and experience to a specialist area of interest on a topic that relevant to the Internship employer and approved by your supervisor.

The aim of this module is to give you an opportunity to undertake a significant piece of written work in a topic appropriate to your field of study. You will have an opportunity to do a substantive piece of research, integrating research skills development and extending your knowledge and experience to a specialist area.

Entrepreneurship Business Plan

The aim of this module is for you to write a business plan on the basis of your knowledge you acquired during your Year 2 of study (in particular in the 5002LON Entrepreneurship in a Global Context module). By the time you start this module, you will have learned the fundamental elements of entrepreneurship that are essential to pass.

Global Business Simulation

This is an action-based learning module where you have opportunities to act as business manager in a simulated business environment. You will make business decisions and see the results (real time) in a highly competitive environment over several rounds of play representing business years. This gives you real business experience on your learning journey and introduces you to an environment where you actively engage in deep learning through anticipating outcomes and observing the consequences of your business choices. The module helps you to reflect and refine your knowledge by actively engaging in group business review facilitated by the supervising academic/instructor.

Assessment: coursework
---
How you'll learn
The contact hours may be made up of a combination of face-to-face teaching, individual and group tutorials, and online classes and tutorials.
We designed the teaching and learning for this course to give you a strong academic knowledge of key theories and concepts to help you understand and appreciate current and relevant research in this subject area. You also have the opportunity to apply the theories and concepts to current practice through real-life scenarios, case studies and a variety of class activities. The course will also give you the opportunity to develop and demonstrate your essential analytical skills and respond to employer-related problems by making a set of clearly evaluated recommendations.
---
Assessment
Assessment in the course is designed to give you the opportunity to develop and demonstrate analytical and learn employability skills. Examples of types of assessments are case studies, presentations, management reports, portfolios, pitch, and videos.
---
Job ready
On successful completion of this course, you will:
understand and apply core business functions and processes in the global context.
develop knowledge, skills and experience necessary to manage people, physical and financial resources.
evaluate and provide data in order to make informed business management decisions and manage complex strategic and management issues of global and local businesses.
be equipped with investigative and analytical skills in order to examine impact of risk on global companies.
develop international management competencies required to operate in multicultural environment and diverse community.
be able to appraise, critically analyse and apply contemporary theories to real-world scenarios
be able to analyse specific global business situations in to identify areas of good practice and use creative solutions.
The Global Business Management BA (Hons) provides a solid grounding in the key business areas such as strategy, marketing, HRM, finance and entrepreneurship, within a global context. The course gives students a good balance of theory and practice through life examples, case studies, practical activities and international collaborative projects. The course is also designed to help students develop employability skills such as teamwork, leadership, problem-solving and presentation skills.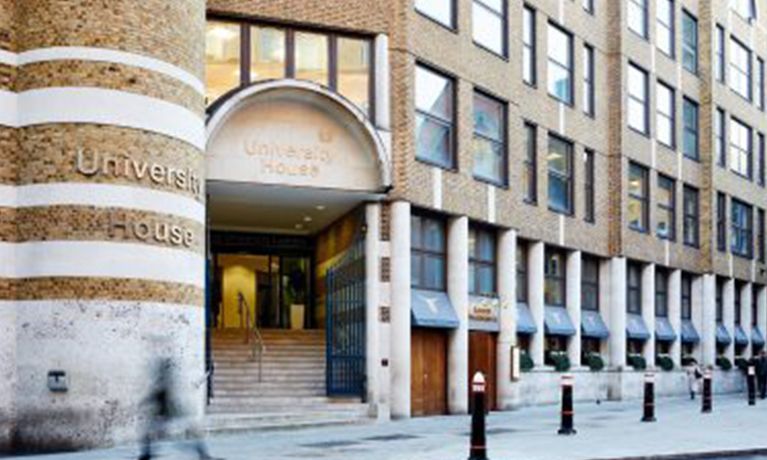 ---
Entry requirements
Typical offer for 2022/23 entry.
| Requirement | What we're looking for |
| --- | --- |
| A level | BBB |
| GCSE | Minimum 5 GCSEs at A*-C including English Language and Mathematics |
| BTEC | DDM |
| IB Diploma | 27 points |
View more detail on acceptable qualifications:
A-Levels
A-Level applicants are required to have three A2 Levels. We may include AS grades within an offer but we are not able to accept two AS Levels in place of one A2 Level. In some courses it may be necessary for entrants to have passed specific A2 Levels in nominated subjects. Please see the course pages for more information.
Access Diplomas
We welcome applicants who have completed, or who are studying, the Access to HE Diploma developed by the QAA. Successful completion of the course will require you to gain 60 credits with at least 45 to be achieved at Level 3 (with the remainder at Level 2). In some cases we will require you to have gained Merit or Distinction grades in a number of units or in nominated subjects. For more information on the entry requirements for your chosen course please see the relevant course pages.
BTEC Level 3 Diploma
We will accept the BTEC Level 3 Extended Diploma for entry to most courses. In some cases we will require applicants to have studied either certain named modules or a specific named Diploma. The appropriate course page will have full information on the entry requirements.
We also accept the BTEC Level 3 Subsidiary Diploma and BTEC Level 3 Diploma for entry to degree programmes, provided that they are studied in combination with other qualifications that provide a total volume of study that is equivalent to three A2 Levels. For example, you could be studying a BTEC Level 3 Diploma plus an A2 Level, or a BTEC Level 3 Subsidiary Diploma plus two A2 Levels. Where a specific A2 or BTEC subject is required for entry then you must be offering this as part of your combination of qualifications.
We recognise a breadth of qualifications, speak to one of our advisers today to find out how we can help you.
Are you eligible for the Fair Access Scheme?
We believe every student should have the opportunity to dream big, reach their potential and succeed, regardless of their background. Find out more about our Fair Access Scheme.
Select your region to find detailed information about entry requirements:

You can view our full list of country specific entry requirements on our Entry requirements page.
If you do not have the typical entry requirements, you may want to consider studying this course with an international foundation year. Upon successful completion our International Foundation Year - Business or International Year One - Business Management will provide you with the knowledge and skills you need to progress onto this undergraduate degree.
Alternatively, visit our International hub for further advice and guidance on finding in-country agents and representatives, joining our in-country events and how to apply.
English language requirements
If you don't meet the English language requirements, you can achieve the level you need by successfully completing a pre-sessional English programme before you start your course.
---
Fees and funding
2022/23 Tuition fees
| Student | Full-time | Part-time |
| --- | --- | --- |
| UK | £9,250 per year | Not available |
| International | £15,300 per year | Not available |
If you choose to study this course with a professional placement or study abroad year, you will need to pay a tuition fee of £1,250 to cover your academic support.
For advice and guidance on tuition fees and student loans visit our Fees and Finance page.
We offer a range of International scholarships to students all over the world. For more information, visit our International Scholarships page.
How do you know if you need to pay UK or international tuition fees?

We carry out an initial fee status assessment based on the information you provide in your application. Your fee status determines your tuition fees, and what financial support and scholarships may be available to you. The rules about who pays UK (home) or international (overseas) fees for higher education courses in England are set by the government's Department for Education. The regulations identify all the different categories of student who can insist on paying the home rate. The regulations can be difficult to understand, so the UK Council for International Student Affairs (UKCISA) has provided fee status guidance to help you identify whether you are eligible to pay the home or overseas rate.

If you meet all the criteria required by any one category, including any residence requirements, your institution must charge you the home rate. You only need to find one category that you fit into.
---
Facilities
Coventry University London's Enterprise Hub supports entrepreneurs by providing industry knowledge and guidance to help develop ideas into viable ventures. It's a dedicated space for enterprising students and professionals to solve problems, network professionally and collaborate on projects.  
If you need employability support, our dedicated Talent Team are here to help.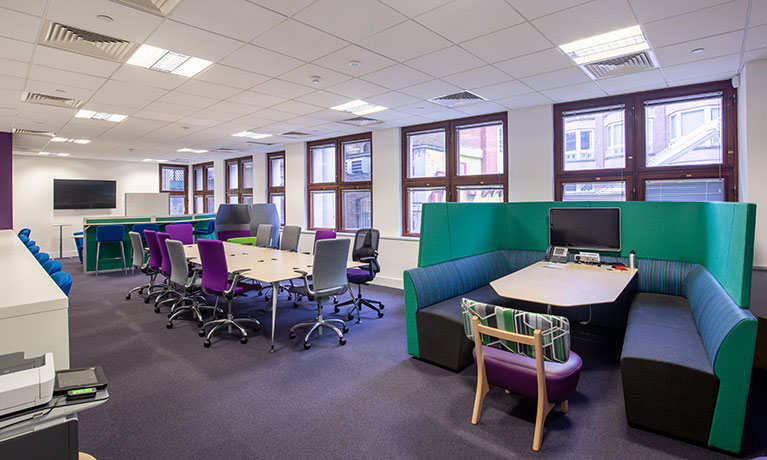 Our Enterprise Hub supports student entrepreneurs by providing extensive industry knowledge and guidance to help develop ideas into viable ventures. It is a dedicated space for enterprising students and professionals to solve problems, network professionally and collaborate on projects.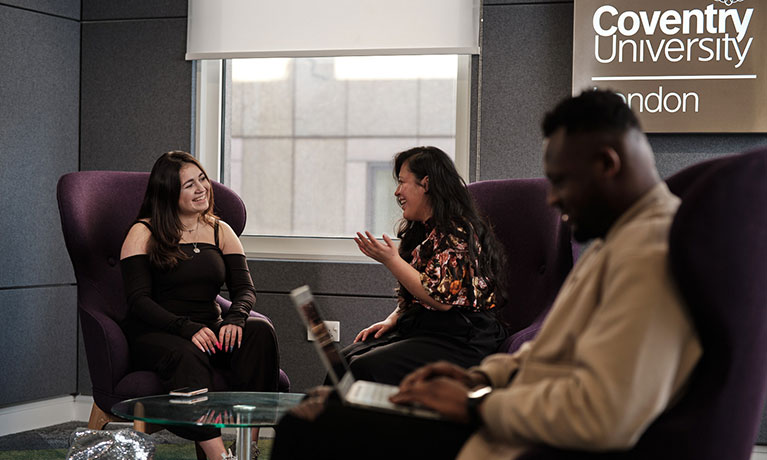 The Talent Team
Need employability support? Our dedicated Talent Team are on hand to help. They can assist you in applying for work placements, graduate level jobs and offer skills development workshops. They also organise networking events to introduce you to potential employers and industry contacts.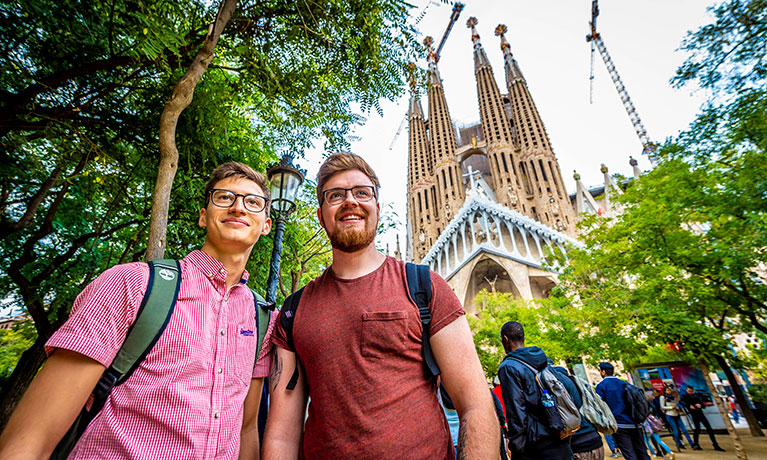 Gain a global perspective
There are opportunities to visit, study or work in the UK or overseas2. You could get the chance to visit advertising agencies, financial institutions, manufacturers and small businesses. Past students have visited Paris, Berlin, Helsinki, Rotterdam and Dubai.
---
Careers and opportunities
This course provides the flexibility to help students build a career in one or more of a wide range of business functions, and to work confidently internationally. It will also help develop the entrepreneurial skills students need to start their own business or run an innovative project within a large organisation.
Where our graduates work
First jobs after completing this course*:
Business and public service 50%
Managers, directors and senior officials 10%
Administrative 5%
Customer service 5%
Business, research 5%
Artistic, literary and media 5%
*Statistics from Unistats, 2017
---
How to apply
UK students

Full-time students applying to start in September should apply for this course through UCAS. Part-time students should apply directly to the university. Read our application pages to find out your next steps to apply.

How to apply

---

For further support or more information about your course get in touch with us today.

International students

International codes:
LONU052

Full-time and part-time students applying to start in September should apply directly to the university. Read our application pages to find out your next steps to apply.

How to apply

For further support for international applicants applying for an undergraduate degree view our International hub.
Disclaimers

Student Contract

By accepting your offer of a place and enrolling with us, a Student Contract will be formed between you and the university. A copy of the 2022/23 contract can be found here. The Contract details your rights and the obligations you will be bound by during your time as a student and contains the obligations that the university will owe to you. You should read the Contract before you accept an offer of a place and before you enrol at the university.

Tuition fees

The tuition fee for the course that is stated on the course webpage and in the prospectus for the first year of study will apply. We will review our tuition fees each year. For UK and EU students, if Parliament permit an increase in tuition fees, we may increase fees for each subsequent year of study in line with any such changes. Note that any increase is expected to be in line with inflation. Following the UK's exit from the European Union, EU students should be aware that there may be a change to UK laws following the UK's exit, this may change their student status, their eligibility to study part time, and/or their eligibility for student finance. We will act in accordance with the UK's laws in force in relation to student tuition fees and finance from time to time.

For International students the tuition fee that is stated on the course webpage and in the prospectus for the first year of study will apply. We will review our tuition fees each year. For international students, we may increase fees for each subsequent year of study but such increases will be no more than 5% above inflation.

Accreditations

The majority of our courses have been formally recognised by professional bodies, which means the courses have been reviewed and tested to ensure they reach a set standard. In some instances, studying on an accredited course can give you additional benefits such as exemptions from professional exams (subject to availability, fees may apply). Accreditations, partnerships, exemptions and memberships shall be renewed in accordance with the relevant bodies' standard review process and subject to the university maintaining the same high standards of course delivery.

Facilities

Facilities mentioned on this page may not be relevant for every course. Due to the ongoing restrictions relating to COVID-19, some facilities (including some teaching and learning spaces) and some non-academic offerings (particularly in relation to international experiences), may vary from those advertised and may have reduced availability or restrictions on their use.

Placements and study abroad opportunities

Please note that we are unable to guarantee any placement or study abroad opportunities and that all such opportunities may be subject to additional costs (e.g. travel, visas and accommodation etc.), competitive application, availability and/or meeting any applicable visa requirements. To ensure that you fully understand the requirements in this regard, please contact the International Office for further details if you are an EU or International student.

Additional costs

This course may incur additional costs associated with any field trips, placements or work experience, study abroad opportunities or any other opportunity (whether required or optional), which could include (but is not limited to), equipment, materials, bench fees, studio or facilities hire, travel, accommodation and visas).
---
---