Global Business Management BA (Hons)
Study level:

Undergraduate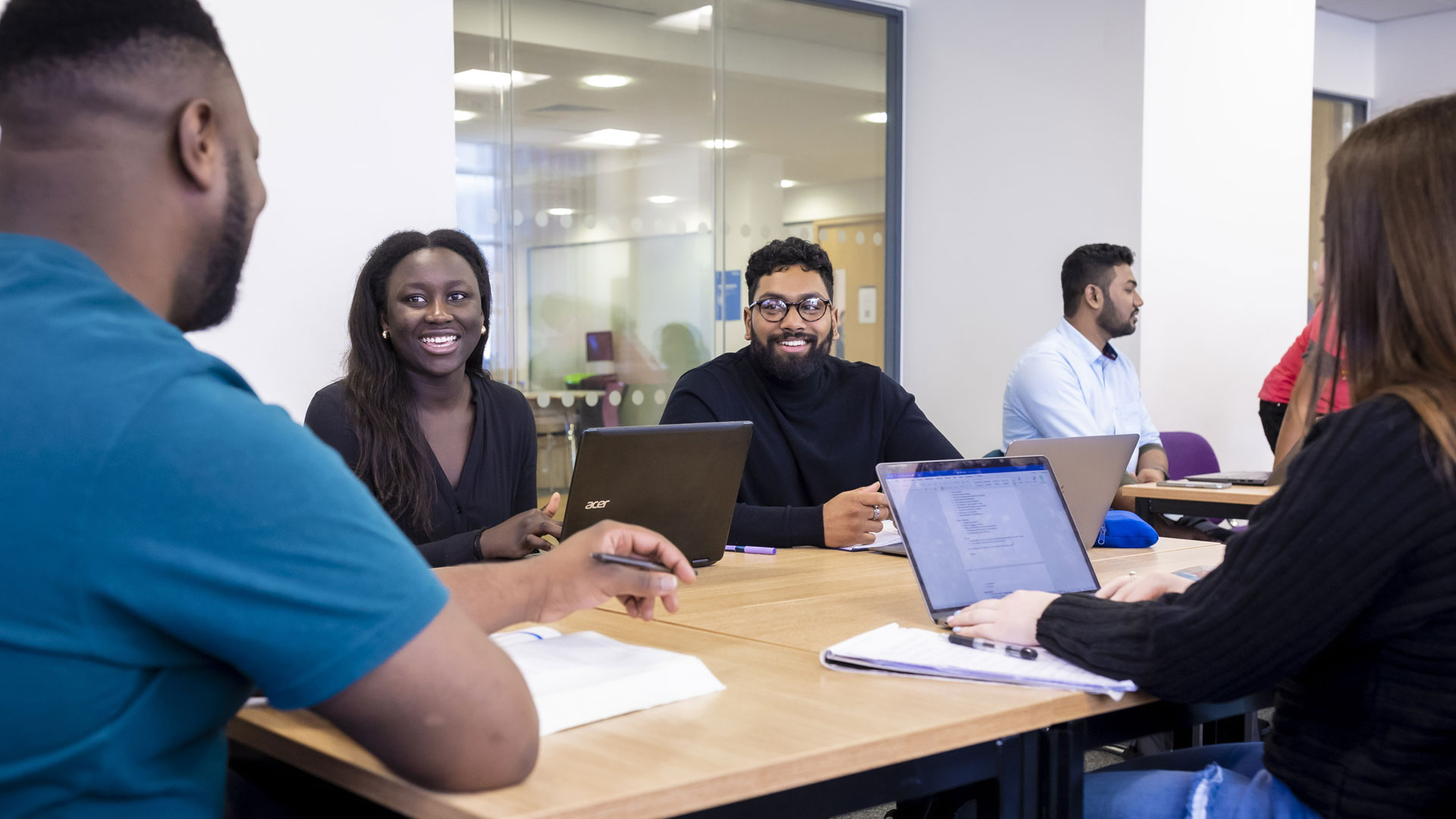 Develop a range of unique competencies and skills required to function as a manager or business leader in a global business environment. 
Location
Coventry University London (City of London)
Study mode
Full-time
Part-time
Sandwich
Duration
3 years full-time
4 years sandwich
5 years part-time (UK only)
Start date
September 2023
January 2024
May 2024
---
Course overview
Explore various business functions such as operations, marketing, accounting, human resource management and entrepreneurship.
Gain a solid grounding in the key business areas within a global context using teaching material sourced from many continents.
Increase your understanding of organisations and their management, the economy and the business environment.

Global ready
An international outlook, with global opportunities

Teaching excellence
Taught by lecturers who are experts in their field

Employability
Career ready graduates, with the skills to succeed
Why you should study this course
Real business experience
Gain a real business experience in the heart of the City of London. The real business experience will be delivered in the classroom by real-world case studies, live projects, simulations, and complemented by field trips and opportunities for work placements2.
London location
A university in the City of London, one of the world's premier business locations and a leading financial centre. You will find a diverse range of exciting businesses, from innovative start-ups to huge multi-nationals.
Industry insight
The course is taught by experts in the field of business, from both academic and professional backgrounds (please note staff are subject to change). There are extensive links to industry through networking events, client-based projects, and an exciting programme of industry speakers2.
Global learning experience
This course is considered from a global perspective to help you understand international business management issues, with the aim of preparing you for your career prospects upon successful completion.
Prepare for your future
Your course is designed to ready you for the fast-paced but exhilarating world of business. If you're interested in starting your own business, you could get business start-up advice and support from our Enterprise Hub.
A real insight into Radoslav Rashcov's time studying for a BA (Hons) in Global Business Management at Coventry University London. Find out how the quality of our academic staff and their industry experience helped Radoslav develop practical skills and knowledge for his future career.
---
In the first year you will consider the global nature of business, including the issues which impact on strategy and how organisations – and their people – behave and can be managed. Finance and marketing form two of your practical business disciplines, and you'll be encouraged to develop skills enabling you to access, gather, interpret, present and communicate business information. You'll also have the opportunity to develop your own professional skills and explore entrepreneurship, a key theme of this course.
Modules
Working in Global Diverse Teams - 20 credits

This module aims to introduce you to management within globally diverse organisations. You learn about different cultural perspectives on the behaviour of individuals and teams within different business contexts so you can work more effectively in the globalised economy.

Data Skills for Business - 20 credits

The aim of this module is to equip you with analytical and numerical skills that are relevant to professional and academic practice, as well as your future career development.

Business Accounting - 20 credits

This module is split into two and is designed to introduce you to the language, concepts and tools commonly used in management accounting.

The Economic Environment of Business - 20 credits

This module aims to provide you with a broad understanding of the competitive global context in which firms operate and make decisions and to explain the impact of economic policies on the behaviour of individuals, firms and institutions.

Principles of Marketing - 20 credits

This shows you the elements of the marketing mix and how a marketer integrates its effort to satisfy customer needs. It looks at segmentation, targeting and positioning so you can learn about relevant marketing tools and their applications.

Introduction to Entrepreneurship - 20 credits

This module is designed to give you introductory understanding of the nature of operations management in the service and the hospitality industries. It emphasises business awareness, proactive and logical thinking, and research and analysis to help hospitality managers make appropriate and practical customer experience management decisions on a local and global scale.
In the second year, you will explore how to create local and international opportunities for your future ventures through gathering information, critically evaluating options, and planning carefully. Tensions can exist between entrepreneurial leadership styles and you can explore these and more measured, traditional approaches to business opportunities. In all cases, you'll learn to develop and recommend viable solutions to business opportunities and challenges..
Modules
Entrepreneurship in a Global Context - 20 credits

This module will go into detail of the relevant themes on selected areas you studied in Year 1. At this stage, you should understand the nature of entrepreneurship and associated research of a potential business idea.

Leading and Managing People - 20 credits

This module aims to build on the study and practices of management and leadership you have experienced so far in the course. You will be encouraged to use theoretical models and frameworks to help you understand communication in a range of global business environments.

Digital Marketing - 20 credits

This module aims to provide you with the knowledge of contemporary digital marketing theories and concepts from a strategic point of view that will enable you to engage better with the digital generation.

Management Accounting - 20 credits

This module builds upon the foundations laid in the first-year studies, principally from Level 4 Business Accounting. It aims to give you the ability to select and apply appropriate management accounting techniques for decision making planning, control and performance evaluation purposes.

International Trade (20 credits)

This module shows you current issues involved in world trade and the challenges and benefits faced when trading in a variety of international markets.

Operations Management - 20 credits

One important aim of this module is for you to gain an understanding of the limitations of Management Accounting techniques. It teaches you what they try to do and how they do it.
There's no better way to find out what you love doing than trying it out for yourself, which is why a work placement2 can often be beneficial. Work placement or study abroad years usually occur between your second and final year of study. They're a great way to help you explore your potential career path, whilst developing transferable skills for the future.
If you choose to do a work placement or study abroad year, you will pay a reduced tuition fee of £1,2503. During this time you will receive guidance from your employer or partner institution, along with your assigned academic mentor who will ensure you have the support you need to complete your placement.
Modules
UK Work Placement - 0 credits

This module2 provides you with an opportunity to reflect upon and gain experience for an approved placement undertaken during your programme. A placement should usually be at least 26 weeks or equivalent; however, each placement will be considered on its own merits, having regard to the ability to achieve the learning outcomes.

International Study/Work Placement - 0 credits

This module2 provides you with an opportunity to reflect upon and gain experience for an approved international study/work placement undertaken during your programme. A work/study placement should usually be at least 26 weeks or equivalent; however, each placement will be considered on its own merits, having regard to the ability to achieve the learning outcomes.
In the final year, you will have the opportunity develop your strategic capabilities while also polishing the vital skills you may need for job applications and interviewing. You will focus on project management and research skills, which may be useful not only throughout your career but will also be particularly helpful as you undertake your 11-week final major project. (A choice of an internship, a dissertation, Entrepreneurship Business plan or a software-based business simulation.)
Modules
International Business Strategy - 20 credits

This module aims to give you the knowledge, skills, and competencies you need to interpret and develop a business strategy for creating and capturing value. Through this process, you develop an understanding of the impact of contemporary issues on the development and implementation of international strategy.

Project Management - 20 credits

We have designed this module to introduce you to the principles, tools and techniques of project management. It gives you an introduction to the importance of project management, organisational structure and strategy, project selection and prioritisation.

Business Research Skills - 20 credits

This module aims to provide you with an understanding of business research methodology and a range of research skills. This will help you to understand the features of research ethics in the discipline of business and management, and you can confidently integrate a university risk assessment within your research proposal.

Managing a Global Workforce - 20 credits

This module begins with defining the scope and functions of Human Resource Management and how you can apply this knowledge in your own work context.

Final-term project - 40 credits

Choose one from the following:

The aim of this module is to allow you to relate your university studies to practical situations in the workplace. You will do this by applying business research skills to a specific business issue or practice, and producing a set of key findings and recommendations in a Project Report.

Dissertation - 40 credits

You will conduct a comprehensive study on your chosen research topic in a logical, detailed way. You are responsible for framing a research problem guided by gaps in existing knowledge and by an organisational issue. Your aim is to independently research a question by using appropriate research strategies and apply specific knowledge and research methods to a relevant model.

Entrepreneurship Business Plan - 40 credits

The aim of this module is for you to write a business plan on the basis of your knowledge you acquired during your Year 2 of study (in particular in the 5002LON Entrepreneurship in a Global Context module). By the time you start this module, you should have learned the fundamental elements of entrepreneurship that are essential to pass.

Global Business Simulation - 40 credits

This is an action-based learning module where you have opportunities to act as business manager in a simulated business environment. You will make business decisions and see the results (real time) in a highly competitive environment over several rounds of play representing business years. This gives you real business experience on your learning journey and introduces you to an environment where you actively engage in deep learning through anticipating outcomes and observing the consequences of your business choices. The module helps you to reflect and refine your knowledge by actively engaging in group business review facilitated by the supervising academic/instructor.
We regularly review our course content, to make it relevant and current for the benefit of our students. For these reasons, course modules may be updated.
---
We designed the teaching and learning for this course to give you a strong academic knowledge of key theories and concepts to help you understand and appreciate current and relevant research in this subject area. You also have the opportunity to apply the theories and concepts to current practice through real-life scenarios, case studies and a variety of class activities. The course will also give you the opportunity to develop and demonstrate your essential analytical skills and respond to employer-related problems by making a set of clearly evaluated recommendations.
This course can be offered on a part-time basis. Whilst we would like to give you all the information about our part-time offering here, it is tailored for each course each year depending on the number of part-time applicants. Please contact registry.london@coventry.ac.uk for more information about studying this course part-time.
---
Teaching contact hours
The number of full-time contact hours may vary from semester to semester, however, on average, it is likely to be around 10 contact hours per week in the first and second year dropping to around 3 contact hours per week in the final semester of the third year as you become a more independent learner.
Additionally, you will be expected to undertake significant self-directed study of approximately 18 hours each week, depending on the demands of individual modules. 
The contact hours may be made up of a combination of face-to-face teaching, individual and group tutorials, and online classes and tutorials.
As an innovative and enterprising institution, the University may seek to utilise emerging technologies within the student experience. For all courses (whether on-campus, blended, or distance learning), the University may deliver certain contact hours and assessments via online technologies and methods.
In response to the COVID-19 pandemic, we are prepared for courses due to start in or after the 2023/2024 academic year to be delivered in a variety of forms. The form of delivery will be determined in accordance with Government and Public Health guidance. Whether on campus or online, our key priority is staff and student safety.
---
Assessment
This course will be assessed using a variety of methods which will vary depending upon the module.
Assessment methods include:
Case studies
Presentations
Management reports
Portfolios
Pitches
Videos
The Coventry University Group assessment strategy ensures that our courses are fairly assessed and allows us to monitor student progression towards achieving the intended learning outcomes.
---
International experience opportunities
This course takes a globalised approach to the curriculum, placing your learning in the context of international challenges, opportunities and regulatory frameworks. It will prepare you for working globally, whether overseas, or for a multi-national, or for a firm which trades internationally.
You may have the opportunity for an international field trip2, and you could also arrange to do an internship (as part of your final major project) overseas2. You may benefit from studying alongside a truly international cohort of students, learning from the perspectives they bring while developing your own ability to work cross-culturally.
Our course provides students with a real business experience from a global perspective in the heart of the city of London. This experience will be delivered in the classroom by real-world case studies, live projects, simulations, and complemented by field trips and opportunities for work placements. Students will have the opportunity to learn from experienced academics and industry practitioners who care about their students' academic experience, achievements, and well-being.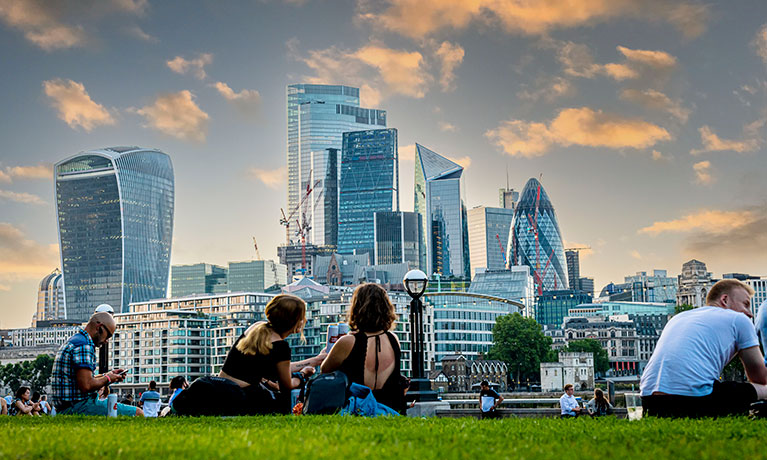 Lecturers are really supportive about everything. From your day to day class activities, to your coursework, they provide good mentorship. There's a lot of support for your future career as well as internship programmes; from the start to the end, they are preparing you for everything that you'll be facing in the future.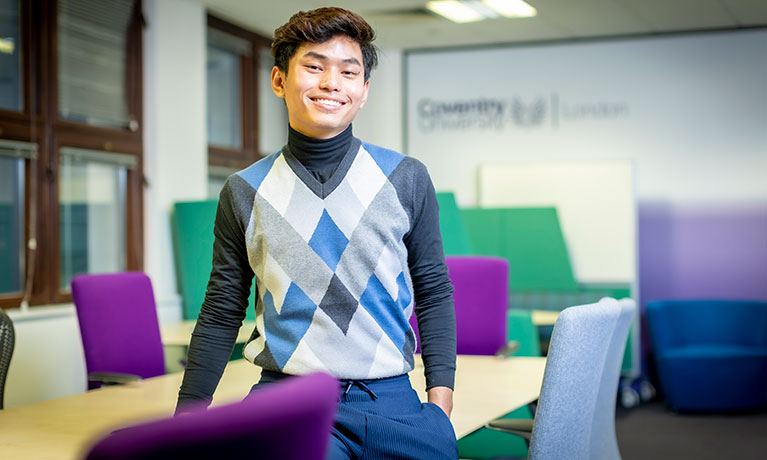 ---
Entry requirements
Typical offer for 2023/24 entry.
| Requirement | What we're looking for |
| --- | --- |
| A level | BBB |
| GCSE | 5 GCSEs at 4 / C or above including English and Mathematics |
| BTEC | DDM |
| IB Diploma | 27 points |
| Access to HE | The Access to HE Diploma to include 30 Level 3 credits at Merit. Plus GCSE English and Mathematics at grade 4 / C or above. |
We recognise a breadth of qualifications, speak to one of our advisers today to find out how we can help you.
Are you eligible for the Fair Access Scheme?
We believe every student should have the opportunity to dream big, reach their potential and succeed, regardless of their background. Find out more about our Fair Access Scheme.
Select your region to find detailed information about entry requirements:

You can view our full list of country specific entry requirements on our Entry requirements page.
If you do not have the typical entry requirements, you may want to consider studying this course with an international foundation year. Upon successful completion our International Foundation Year - Business or International Year One - Business Management will provide you with the knowledge and skills you need to progress onto this undergraduate degree.
Alternatively, visit our International hub for further advice and guidance on finding in-country agents and representatives, joining our in-country events and how to apply.
English language requirements
IELTS: 6.0 overall with at least 5.5 in each component area
If you don't meet the English language requirements, you can achieve the level you need by successfully completing a pre-sessional English programme before you start your course.
---
Fees and funding
2023/24 Tuition fees
| Student | Full-time | Part-time |
| --- | --- | --- |
| UK | £9,250 per year | Request fee information |
| International | £16,800 per year | Not available |
If you choose to study this course with a professional placement or study abroad year, you will need to pay a tuition fee of £1,250 to cover your academic support.
For advice and guidance on tuition fees3 and student loans visit our Fees and Finance page.
We offer a range of International scholarships to students all over the world. For more information, visit our International Scholarships page.
The following are additional costs not included in the tuition fees:
Additional overseas field trips or visits: £400+ per trip.  
Any costs associated with securing, attending or completing a placement (whether in the UK or abroad) 
How do you know if you need to pay UK or international tuition fees?

We carry out an initial fee status assessment based on the information you provide in your application. Your fee status determines your tuition fees, and what financial support and scholarships may be available to you. The rules about who pays UK (home) or international (overseas) fees for higher education courses in England are set by the government's Department for Education. The regulations identify all the different categories of student who can insist on paying the home rate. The regulations can be difficult to understand, so the UK Council for International Student Affairs (UKCISA) has provided fee status guidance to help you identify whether you are eligible to pay the home or overseas rate.

If you meet all the criteria required by any one category, including any residence requirements, your institution must charge you the home rate. You only need to find one category that you fit into.
---
Facilities
Our Global Business Management BA (Hons) students have access to a wide range of facilities4 to help you prepare for a successful career in business leadership and management roles. 
Take a virtual tour of our campus to explore all of the facilities available to you.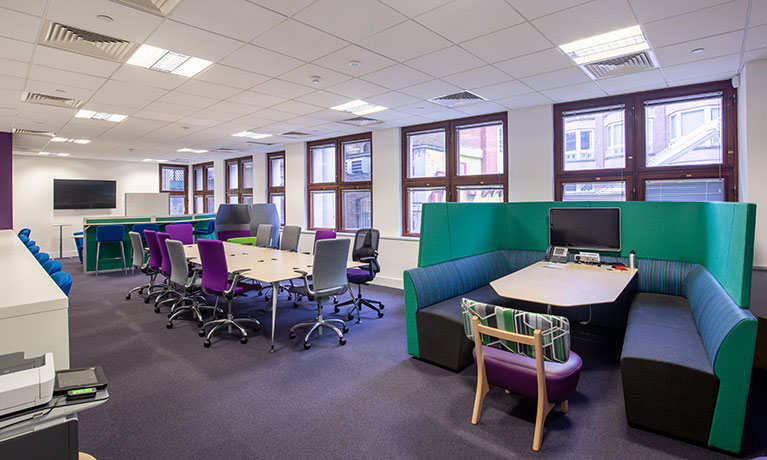 Our Enterprise Hub supports student entrepreneurs by providing extensive industry knowledge and guidance to help develop ideas into viable ventures. It is a dedicated space for enterprising students and professionals to solve problems, network professionally and collaborate on projects.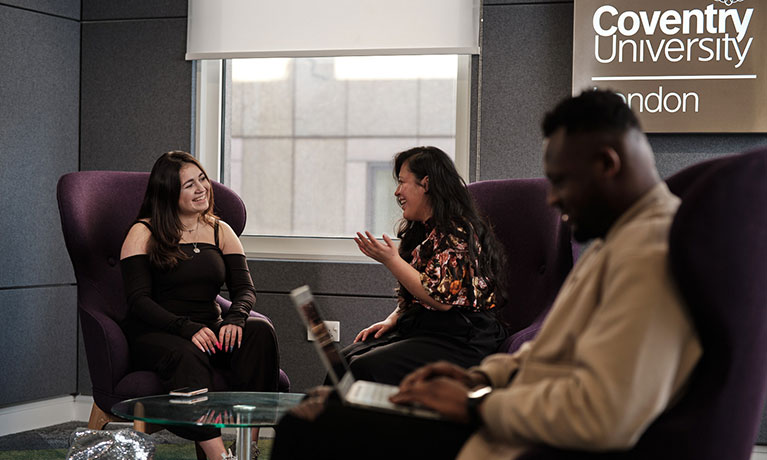 The Talent Team
Need employability support? Our dedicated Talent Team are on hand to help. They can assist you in applying for work placements, graduate level jobs and offer skills development workshops. They also organise networking events to introduce you to potential employers and industry contacts.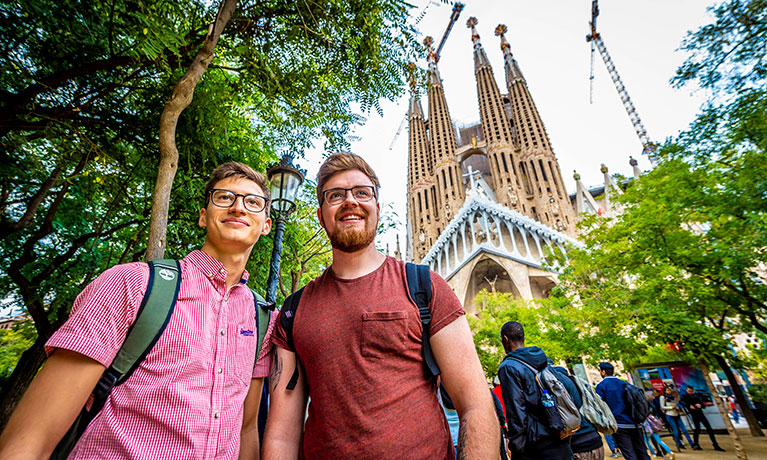 Gain a global perspective
There are opportunities to visit, study or work in the UK or overseas2. You could get the chance to visit advertising agencies, financial institutions, manufacturers and small businesses. Past students have visited Paris, Berlin, Helsinki, Rotterdam and Dubai.
---
Careers and opportunities
On successful completion of this course you will:
Be able to understand and apply core business functions and processes in the global context.
Develop knowledge, skills and experience necessary to manage people, physical and financial resources.
Evaluate and provide data in order to make informed business management decisions and manage complex strategic and management issues of global and local businesses.
Be equipped with investigative and analytical skills in order to examine impact of risk on global companies.
Develop international management competencies required to operate in multicultural environment and diverse community.
Be able to appraise, critically analyse and apply contemporary theories to real-world scenarios.
Be able to analyse specific global business situations in to identify areas of good practice and use creative solutions.
This course provides the flexibility to help you build a career in one or more of a wide range of business functions, and to work confidently internationally. It will enable you to develop into a career-ready, globally aware graduate with management, communication, numerical and information technology skills, and will also help develop the entrepreneurial skills you need to start your own business or run an innovative project within a large organisation.
Where our graduates work
Our previous graduates have gone on to work at:
Shell
RASCO
Think Mahogany, a creative-forward thinking communications agency
Monzo – an online bank
Further study
Upon successful completion of our Global Business Management BA (Hons) course, you may wish to continue to further your studies at postgraduate level. You can do that right here at Coventry University London, with our Global Business MBA. You could continue to build on what you have learnt, further preparing you to build the managerial aptitudes needed to run operations and manage destinations sustainably.
We also offer alternative postgraduate degrees if you decide to take a slightly different route. You can explore all of your options, including other locations within the Coventry University Group. You may be entitled to an alumni discount on your fees if you decide to extend your time with us by progressing from undergraduate to postgraduate study.
"Stepping out of this university makes you feel like a true professional"
Our students are at the heart of everything we do here at Coventry University London. Hear about Hitanshu, Shaikh, Amrin, Hani and Philippine's experiences of studying with us in the City of London.
---
How to apply
UK students

Full-time students applying to start in September should apply for this course through UCAS. Part-time students should apply directly to the university. Read our application pages to find out your next steps to apply.

How to apply

---

For further support or more information about your course get in touch with us today.

International students

International codes:
LONU052

Full-time students applying to start in September 2023 should apply directly to the university.

How to apply

For further support for international applicants applying for an undergraduate degree view our International hub.
Disclaimers

Coventry University together with Coventry University London Campus, CU Coventry, CU London, CU Scarborough and Coventry University Online come together to form part of the Coventry University Group (the "University") with all degrees awarded by Coventry University.

1Accreditations

The majority of our courses have been formally recognised by professional bodies, which means the courses have been reviewed and tested to ensure they reach a set standard. In some instances, studying on an accredited course can give you additional benefits such as exemptions from professional exams (subject to availability, fees may apply). Accreditations, partnerships, exemptions and memberships shall be renewed in accordance with the relevant bodies' standard review process and subject to the university maintaining the same high standards of course delivery.

2UK and international opportunities

Please note that we are unable to guarantee any UK or International opportunities (whether required or optional) such as internships, work experience, field trips, conferences, placements or study abroad opportunities and that all such opportunities may be subject to additional costs (which could include, but is not limited to, equipment, materials, bench fees, studio or facilities hire, travel, accommodation and visas), competitive application, availability and/or meeting any applicable travel COVID and visa requirements. To ensure that you fully understand the visa requirements, please contact the International Office.

3Tuition fees

The University will charge the tuition fees that are stated in the above table for the first Academic Year of study. The University will review tuition fees each year. For UK (home) students, if Parliament permit an increase in tuition fees, the University may increase fees for each subsequent year of study in line with any such changes. Note that any increase is expected to be in line with inflation.

For International Students, we may increase fees each year but such increases will be no more than 5% above inflation. If you defer your course start date or have to extend your studies beyond the normal duration of the course (e.g. to repeat a year or resit examinations) the University reserves the right to charge you fees at a higher rate and/or in accordance with any legislative changes during the additional period of study.

4Facilities

Due to COVID-19, some facilities (including some teaching and learning spaces) and some non-academic offerings (particularly in relation to international experiences), may vary from those advertised and may have reduced availability or restrictions on their use.

Student Contract

By accepting your offer of a place and enrolling with us, a Student Contract will be formed between you and the university. The 2023/24 Contract is currently being updated so please revisit this page before submitting your application. The Contract details your rights and the obligations you will be bound by during your time as a student and contains the obligations that the university will owe to you. You should read the Contract before you accept an offer of a place and before you enrol at the university.
---
---