Adult Nursing
There is currently a shortage of qualified nurses and healthcare workers along the Yorkshire coast.
CU Scarborough, working in collaboration with healthcare partners which include the local NHS trust and GP practices, is aiming to fill the void by providing an Adult Nursing degree in the region.
The BSc Adult Nursing degree places equal value on practice and theory. You will study a wide range of subjects including anatomy and physiology, pharmacology, psychology, sociology and research methods.
You will study and develop effective skills in communication, compassion, relationship building with patients, evidence informed practice and public health and policy.
Nursing is a very rewarding profession with excellent career and development prospects. Our degree course can enable you to meet diverse professional challenges and will develop you into an adaptable, flexible, reflective and compassionate practitioner.
The course is full-time, with one half practice based, which involves shift work on placement. The other half is spent on campus in Scarborough.
Over the past twelve months practices have been supporting various student nurses and this has proven very successful as a number of the students have applied for vacancies in the area. We are now working closely with CU Scarborough to offer a nurse training programme in Scarborough and hope to encourage local people to train as nurses and take up positions when they qualify.
Why study Nursing at CU Scarborough?
Aside from our state-of-the-art campus and strong local partnerships, you will get your BSc Adult Nursing degree from Coventry University. The award winning university was recently listed by Times Higher Education as one of the world's top 200 young universities and is currently the highest-ranked 'new university' in the 2018 Complete University Guide league table.
The majority of successful Coventry University Nursing students find employment as qualified nurses in the NHS, and in a recent national survey, Coventry University nursing placements were rated 2nd best in the UK for student satisfaction (Nursing Times).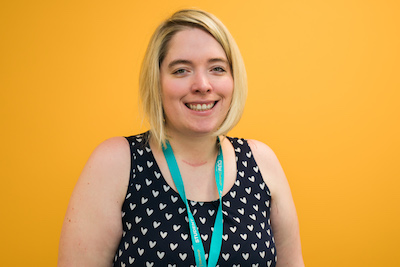 I've wanted to be a nurse for as long as I can remember, however, I didn't achieve the qualifications I needed when I was at school so I didn't think I'd ever have the opportunity. I went to a careers adviser last year who told me about CU Scarborough and their Access to Health & Human Sciences course.

I chose CU Scarborough to study Nursing as I have enjoyed my time on the Access course and found the staff to be helpful and engaging. Lizzi helped me with my UCAS application and I felt I had the opportunity to receive further support if I needed it.

I'm finally realising my dream. I'm also really looking forward to the mixture of lectures and practical hands on experience. My career aim is to work as a nurse on the NHS and eventually specialise in either Oncology or Intensive Care.
I've always had a passion for the health industry. A few years ago I started to study Nursing in Hull, but for one reason or another I ended my studies. When this course opened at CU Scarborough it was the perfect time for me, an opportunity too good to miss.

CU Scarborough have been very helpful. Anything I was unsure of they explained to me. I rang them constantly! Emails, phone calls, face to face – everyone has been so helpful.

I'm looking forward to starting the course, very much so. I can't wait, I'm on the countdown! My main aim is to complete my studies, I've got a busy, demanding three years ahead. I'll get a feel for it then hopefully specialise in a specific area in the future.

Register your interest
Fill in the below contact form and one of our recruitment team will be in touch.