Clearing 2019
Clearing places available on this course
Limited places are available on some of our courses* with the following tariffs: HNC= 32pts, HND= 40pts, degree= 48pts (*excludes Nursing/Design courses). Contact us to discuss your options:
---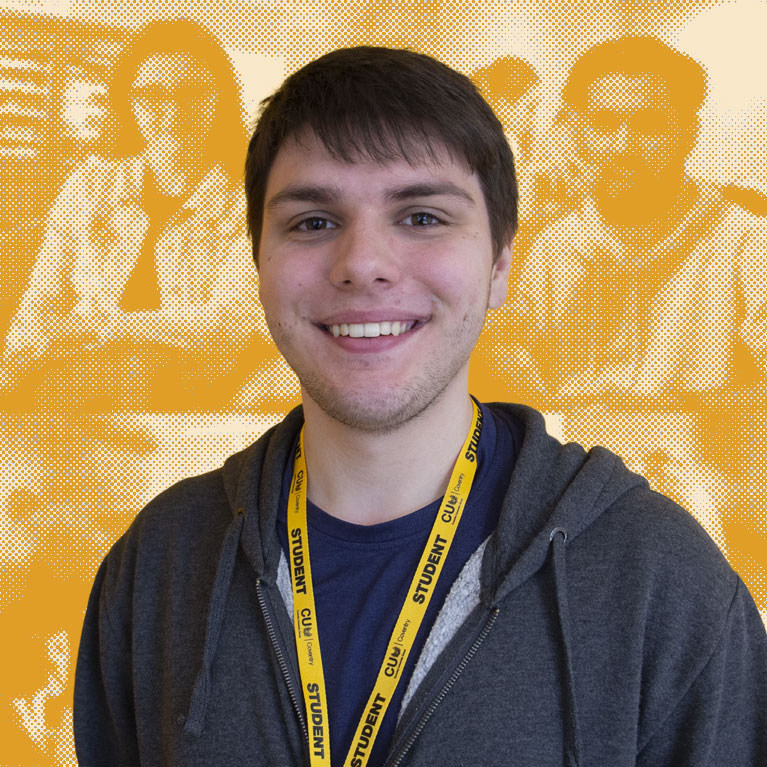 Rise above
I can always ask questions and get feedback. It's the friendly environment that enhances my learning and makes it a true blessing to be at CU Coventry.
Jamie Umblijs, Management & Leadership BA (Hons)
Course code:
I901 - Degree
109I - HND
009I - HNC
Study options:
3 year - Degree
2 year - HND
1 year - HNC
Location:
Starting:
September 2019
November 2019
January 2020
March 2020
April 2020
June 2020
Fees:
---
Get in touch
For questions regarding study and admissions please contact us:
Digital technology pervades our society. Therefore, studying it opens the possibility of an exciting career in the IT industry.
The digital sphere isn't just about improving efficiency; it improves business prospects, can shape the development of a company and can influence the way people operate. Innovations in technology have improved operations in companies and governments of all sizes, and through IT, small businesses can quickly become successful on a global scale
The BSc (Hons) Digital & Technology Solutions course has been specifically designed to create digitally aware graduates who are prepared for the technological jobs of today and the future.
Why CU Coventry
We offer a style of education which is flexible and designed to fit around your life, allowing you to benefit from a modern, forward-thinking higher education institution, reinforced by the quality and reputation of Coventry University. We aim to provide career-focused courses, wherever possible, coupled with placement opportunities to help prepare you for the world of work. We are dedicated to making higher education accessible and enjoyable to everyone, so we keep our fees low and made it a policy to cover one module at a time, allowing you to become a specialist in each topic before moving onto the next.
Employability
Dedicated Careers & Employability department who will assist you in finding employment
Top Quality Courses
Taught by industry professionals, awarded by Coventry University
No End of Year Exams
Our modern teaching techniques mean no last-minute cramming and less stress
Professional Recognition
Specific courses contain additional industry recognised qualifications from awarding bodies
The first year introduces you to basic digital principles, which are reinforced in year two with more business-orientated case studies and practical work. In the final year, you will learn and refine complex advanced skills, equipping you with the knowledge and capabilities that allow successful transition into industry and the graduate job market.
Modules
Overview
By studying this course, you should gain a good understanding of the role of digital technologies in business and how it's used to gain competitive advantage and streamline business functions. You will also be introduced to the management of key data and the development of information systems, supported by hardware and software components. Entering at an introductory level, most of the modules in this year contain a practical element, so you receive the best combination of theoretical and practical learning. Students who complete year one are eligible for a Higher National Certificate (HNC) in Digital & Technology Solutions.
Modules
This module will help you gain an understanding of the principles of project management and how businesses operate, encompassing project management methodologies as well as what is needed to setup and run your own business. Also covered are Customer Relationship Management systems, business automation and working strategies that will be used in future modules.

This module looks at the design of software applications. You will study design principles, concepts and their goals, covering a variety of software design frameworks and gaining the knowledge to successfully meet software requirements.

You will also study development processes including conventional and agile, and have the opportunity to analyse different programming paradigms, building prototypes in accordance with software requirements. Real world examples will help you develop your understanding in adopting an appropriate model from software development methodologies to build their solutions.

This module is designed to provide advanced skills required for a workshop or field-based customer services/installation engineer, including the essential business communications, health and safety and management skills essential for these roles.

You will explore hardware and operating systems, how to design computer systems for specific applications and how to install a variety of operating systems, as well as learning techniques for hardware, operating systems and network troubleshooting designed to be applied in workshop scenarios.

We will also look at networking; teaching you how to design and implement most of the networks you are likely to encounter working for small to medium enterprises across one or multiple sites.

The module prepares you for relevant Microsoft and CompTIA qualifications, and is delivered using flipped learning, where you will pursue your own research outside of the classroom.

This module is designed to provide you with practical experience of developing mobile applications, web applications and interfacing with Internet of Things (IoT) enabled devices, with an emphasis on employer-driven needs, emerging markets, and contemporary subject areas within the discipline.

You will be introduced to the latest techniques to design and develop robust applications for mobile devices.

We will explore the growth in the mobile application market and its impact on mobile application development. You will be encouraged to develop a genuine mobile app idea, provide the project plan, design, develop and deploy the app to Android or iOS stores.
Overview
As the course progresses, this academic year builds on the knowledge gained in year one to cement a solid foundation of core principles. After completing the HNC you will be working at a higher level and begin building your knowledge and understanding of server-side and client-side programming, security applications and software development to actively support businesses. Year two also covers computer hacking and the importance of data security in today's world. Students who complete year two are eligible for a Higher National Diploma (HND) in Digital & Technology Solutions.
Modules
This module covers a range of areas relating to IT security and its evolving nature, including perception of IT security, legislation, regulations and standards. Using practical workshop scenarios, you will examine the security weaknesses that threaten organisations and how these are exploited, developing your own ethical hacking skills within a closed test network.

By developing your own penetration tests and defensive strategies you will be able to compare and contrast the suitability of different approaches and learn security incident management.

The module prepares you for relevant Microsoft and CompTIA qualifications, and is delivered using flipped learning, where you will pursue your own research outside of the classroom.

This is a diverse module which aims to prepare you for entry into computer networks and server management fields. You will have access to high-tech labs and specialist equipment required to setup computer networks and will develop skills to design, develop and manage networks and servers in a variety of settings.

This module focuses on practical elements of computer infrastructure management which may include setting up computer networks, configuring network operating systems, use of various server technologies and setting up a working network environment.

In addition to progressing towards your degree course, you will also be able to take two professional qualifications in networking and server management.

This module aims to equip you with a comprehensive understanding and knowledge of web development skills by utilising advanced web programming techniques and concepts. You will gain the necessary knowledge and experience to design, develop and maintain a server-side database, and by the end of the module, you'll have hands-on experience working with Database Management Systems (DBMS).

By emphasing advanced server-side and client-side programming and integration of web applications with server-side database applications, you will be able to build dynamic web applications using scripting languages, for example, PHP.

This module explores the development process from requirement and design through to implementation; creating software artefacts, design diagrams, project plans and a range of program code including desktop, mobile, server-side and test scripts.

In addition, we will examine and deliberate on a use-case-driven method that is built on the Unified Modelling Language (UML I and II). The knowledge and skills you will acquire are designed to help you adapt to the challenges of working in a global software development team.
Overview
An optional placement or sandwich year gives you the chance to gain further insight into the industry or career you are seeking to follow, enabling you to apply your theoretical knowledge to the workplace. You can also choose to take an optional year abroad between years two and three. If you decide to take advantage of a placement year this version of the degree will help you acquire valuable work experience and gain an understanding of what employers seek in graduates. It is your responsibility to find a placement with an employer within your chosen sector. The careers and employability department, alongside the course team, will support you throughout your placement year.
Overview
In the final year, you will analyse how complex and fast-changing businesses use digital technology. We cover key processes, the role of information systems in supporting business functions, enterprise planning systems and their functional capabilities. Finally, you'll get the chance to demonstrate your skills in a number of independent projects, taking charge of processes from inception to delivery. Students who complete the final year are awarded a BSc (Hons) degree in Digital & Technology Solutions.
Modules
This module covers how services are managed, delivered and supported by organisations and is structured around the ITIL framework. You will explore a range of areas relating to IT businesses involved in service and support, as well as how related small to medium-sized enterprises operate and are managed.

The module places you into a virtual business context, where you can learn various ITIL skills and how to apply them in realistic business scenarios. You will also examine related contemporary standards and compare and contrast different IT service management approaches and standards.

This module is delivered using flipped learning, where you will pursue your own research outside of the classroom.

This is the second part of the ITIL Service Management and Support module in which you will apply your service and support knowledge to a practical project potentially derived in partnership with local employers. Projects include options for you to work on your own as well as in small groups of two or three.

This module prepares the student for relevant ITIL examinations and is delivered using flipped learning, where you will pursue your own research outside of the classroom.

The aim of this module is to develop future project management practitioners who can manage an IT or generic project in a business context, which should enhance career opportunities in project management and related employment. This will also provide a sound educational experience that creates graduates with a critical understanding of the key components of project management.

By the end of this module, you will be able to explain the stages in the system development lifecycle and the activities that are carried out to implement an IT project, apply basic project planning techniques, and explain the procedures needed to monitor, control and report upon an IT development project

You will be prepared for Prince 2 Foundation certification as part of this course, or alternatively, can sit an internally designed assessment based on similar principles.

The final year project is designed to allow you to demonstrate your competence in software development, web application, networking, server management or IoT. Project work will relate the academic skills acquired during the degree course and their application to real life situations.

You will have the opportunity to conduct individual research to undertake a substantial project, choosing from a list of possible projects or coming up with your own idea to resolve an existing or potential business problem. The project could be based on development of real-life web and database driven software, mobile application or a prototype based on a combination of technologies e.g. web and mobile app development along with IoT.
15th
Coventry University is ranked 15th in the UK in the Guardian University Guide 2020. CU Coventry is part of the Coventry University Group.
If you are fascinated with computer systems, software, the online arena and business, our Digital & Technology Solutions degree with enable you to learn about appropriate processes, practices and legislation that will allow you to integrate into the world of IT.
Facilities
Located on our new Mile Lane campus, you will have access to our Library & Learning Services (LLS), fully equipped seminar rooms and an impressive IT suite. Plus, you can take advantage of reading rights in Coventry University's Lanchester Library, make use of sport centre facilities and receive full membership to Coventry University Students' Union (CUSU).
Staff
Each course unit has been developed and is taught by specialists in the field of digital technology. With years of experience in the industry, our lecturers bring a wealth of expertise that is crucial to the success of our students within the industry.
Practical Experience
Throughout your studies, you will find that the course is underpinned with practical experience. You will have the chance to create functioning websites, networks and databases with access to industry-standard software.
Placements
At CU Coventry we put a strong focus on getting our graduates ready to enter the job market. This can be done in a variety of ways; one key element is work placements. We have a dedicated careers service who are always on hand to help students look for and get onto beneficial work placements.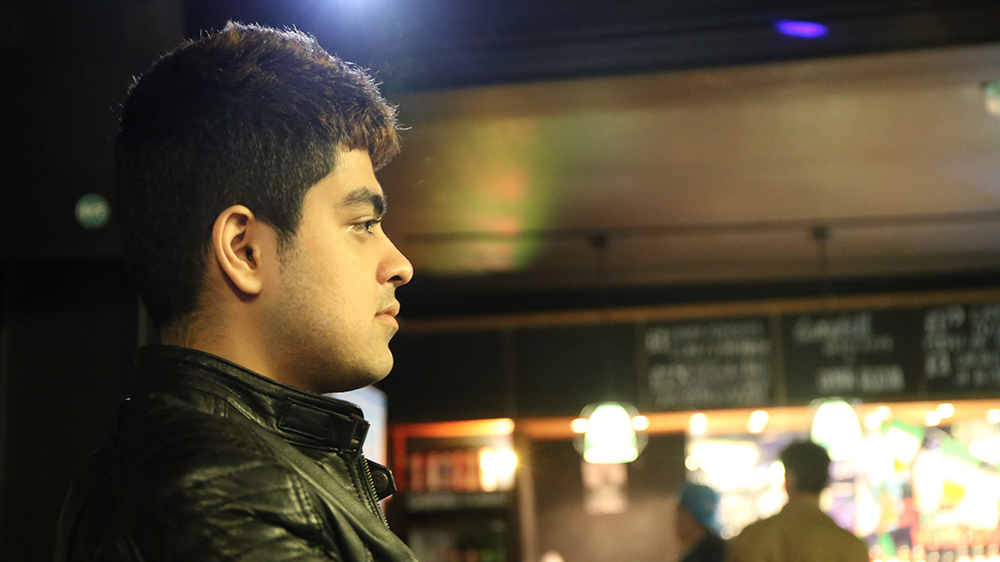 Tanooj - Becoming A Musician
Tanooj is an international student who is thriving at CU Coventry. He runs an IT business in the morning before he comes to university, studies in the day and then plays gigs with his emerging band in the evening.
Discover Tanooj's Story
Upon completion of this course, you will receive a qualification awarded by Coventry University.
You will receive support with applying for short and long-term placements, to gain the experience employers desire, with our in-house Careers & Employability department.
You will have the opportunity for multi-campus learning in Coventry, Scarborough and London.
In order to make higher education accessible to as many people as possible, we keep our tuition fees competitively priced.
Small tutorial group sessions ensure that you receive the mentoring help and support you need.
We deliver one module at a time during each block. This means you can dedicate your time to specialise in each subject without the distraction of numerous modules and multiple deadlines.
Your main study themes are:
Network development and maintenance: Developing and designing networks including security, logistics, maintenance, testing and integration. You will also be introduced to theories relating to network design and maintenance and examine how networks are built and maintained through practical experiences and theoretical research.
Project management: Throughout the programme, you will learn service management, developing entrepreneurship skills and the importance of autonomous working. You will be given many practical tasks which you must manage yourself, setting and achieving milestones to allow progression onto the next stage of the project. You will learn time management skills and the use of Gant charts and other tools to appropriately allocate resources and time. This is crucial for industry application.
Software design and development: Identifying the most appropriate software to undertake tasks within a business, including developing, designing and manipulating software to meet a specific aim. You will explore concepts and theories related to programming which provide solutions to a wide variety of business problems with the emphasis being laid on the whole of the software development process.
At CU Coventry, students learn through a variety of modes including, tutorials, scenario-based learning sets, case studies, seminars and peer-to-peer learning. Progression through the modules develops knowledge and skills including communication (written and oral), study skills, research methods, information retrieval, IT, data processing and presentation and career development. We will also encourage you to consider your employability and/or entrepreneurial development through these modules.
Unlike traditional institutions, there are no multi-hour final exams. Instead, learning is assessed through course work and phase tests, which is more reflective of the work environment.
The learning outcomes of modules, assignments and projects will be clearly stated. Your work will be marked according to how well you achieve these learning outcomes and your final feedback will refer to each outcome, as well as providing an overall percentage grade.
Assessment methods vary and include: practical class and project performance, written practical reports, project thesis, oral presentations, tutorial tasks and assessments which take place at the end of each six-week block.
Course Breakdown (approx.):
On completion, you will be able to:
Demonstrate understanding and knowledge of the theoretical, analytical and practical aspects of policies, strategies and processes – within a changing environment, to meet stakeholder interests.
Critically appraise theories related to how digital technology integrates with an international marketing and sales strategy. Including, the risk factors that need to be considered in the development of a successful strategy.
Be proficient in developing international-level strategy, incorporating and considering risk, such as country, currency, cultural and competitors.
Develop appropriate research and analysis techniques, alongside the ability to undertake reliable market research activities.
Operate, lead and collaborate in a team to solve problems of a practical (experimental) nature and to provide appropriate solutions.
Apply appropriate presentation and evaluation tools to establish the significance of research data produced.
Full-time students are expected to attend CU Coventry every day of the week.
The majority of this will be face to face teaching, with the addition of individual and group tutorials and independent/online learning, as well as enhancement activities on Wednesdays.
Classes run daily and students are allocated to either:
Morning - 9am-1pm or
Afternoon - 2pm-6pm
Both morning and afternoon sessions have the addition of Enhancement Wednesdays when students can choose individualised learning activities between 9.30am-1.30pm to support their study, providing time in the afternoon to engage in clubs and societies.
Part-time students receive 7 hours per week direct face-to-face delivery and 3 hours per week blended learning.
Outside of this, there will also be independent study and online support.
Teaching will take place on Tuesday and Thursday evenings 6pm-9.30pm. Students are also able to book individual tutorials in advance, from 5.30pm-6pm.
Please note our part-time offering is subject to numbers.
We hold tutorials in small groups every week. These sessions are mandatory and ensure you receive detailed feedback about your work, go into depth on specific topics and have any of your burning questions answered.
Groups are kept at an average of 25-50 students per class. This way, students can take advantage of small numbers to increase contact time with lecturers.
Clearing places available on this course
See if you have enough points (UCAS tariff 2019)
Don't know your points total? Work it out
Additional requirements may apply
Tuition Fees
We pride ourselves on offering competitive tuition fees which we review on an annual basis. Course fees are calculated on the basis of what it costs to teach each course and we aim for total financial transparency.
Fees & Funding
Full-time (UK/EU)
For the academic year 2019/20, each six-week block will cost £1,587.50. A full academic year is made up of four of these blocks, so this means that a normal full-time year is £6,350. This covers some of your learning materials, access to the CU Coventry Library and Learning Services, all your classes and online tutorials.
Part-time (UK/EU)
The part-time course fee is dependent on how many modules you choose to study in an academic year. Each stage of the qualification (HNC/HND/Degree) will require you to complete four academic blocks. You can study up to four blocks in one academic year or study at a slower pace (usually three academic blocks per year). Please note if you do study at a slower pace you will need to re-enrol to complete your studies in the next academic year.
For the academic year 2019/20, each block for part-time students will cost £1,587.50. Therefore, the total fee per stage of your qualification if completed in the academic year 2019/20 is £6,350.
Funding
As a full-time or part-time student resident in the UK or EU, you can apply for a loan to cover the cost of your tuition fees at CU Coventry from Student Finance England.
International
For the academic year 2019/20, each six-week block will cost £2,312.50. A full academic year is made up of four of these blocks, so this means that a normal full-time year is £9,250. This covers some of your learning materials, access to the CU Coventry Library & Learning Services, all your classes and online tutorials.
Career prospects
At CU Coventry, we focus on seeing our students all the way through to employment, with an on-site dedicated Careers Zone team.
With a Digital Technology & Solutions BSc (Hons) degree behind you, your career options are broad and may include developer, analyst and managerial roles.
97%
of our students were in work or further study six months after they left university.
Destination of Leavers from Higher Education (DLHE) 2016
Where our graduates work
Graduates can go onto study a master's degree, in subjects such as Forensic Computing, Networking Computing and Computer Science.
Previous graduates have gone on to work successfully in leading, global companies such as Countrywide, Exasoft and Impetus Automotive.
Disclaimer
The University will charge the tuition fees that are stated on the course webpage and in the prospectus for the first year of study. The University will review tuition fees each year. For UK and EU students, if Parliament permit an increase in tuition fees, the University may increase fees for each subsequent year of study in line with any such changes. Note that any increase for UK and EU Students is expected to be in line with inflation. For international students, the University may increase fees for each subsequent year of study but such increases will be no more than 5% above inflation.