Tourism & Hospitality Management BA (Hons)
Course Code
UCAS Code: N890 - BA (Hons)
UCAS Code: 09VN - HND

Location
CU London (Dagenham
London)
Study mode
Full-time
Sandwich
Duration
4 years full-time (study abroad or work placement)
3 year - Degree
2 year - HND
Start date
September 2022
October 2022
---
Course overview
Study level: Undergraduate
HNC/HND courses
The Tourism and hospitality industry is a fast paced and challenging, requiring flexible, hardworking and determined individuals to head the evolving industry. If you enjoy diverse working conditions, networking with people of all cultures and using creativity and discipline in everything you do, this rewarding and exciting industry could be perfect for you.
Students who study this course benefit from varied career prospects. As a broad and widely-respected degree, you are not limited to careers in just the tourism sector. As this course incorporates business and management as well, you could progress into the hotel industry, events management, travel operations and more.
Why CU London
We offer a style of education which is flexible and designed to fit around your life, allowing you to benefit from a modern, forward-thinking higher education institution, reinforced by the quality and reputation of Coventry University. We aim to provide career-focused courses, wherever possible, coupled with placement opportunities to help prepare you for the world of work. We are dedicated to making higher education accessible and enjoyable to everyone, so we keep our fees low and made it a policy to cover one module at a time, allowing you to become a specialist in each topic before moving onto the next.
Top 5
Coventry University has been rated Top 5 for Hospitality, Event Management and Tourism in 2021.
Guardian University Guide 2021
The Confederation of Tourism and Hospitality
The Confederation of Tourism and Hospitality (CTH) is the UK's leading specialist professional awarding body for qualifications in the growing hospitality and tourism sector. Graduates are awarded a Level 6 Advanced Diploma in Tourism Management, a professionally recognised qualification.
---
How can we help?
Chat with an advisor now or leave a message and we'll get back to you as soon as we can.
Chat now
Leave a message
---
What you'll study
Tourism is a key area of both the domestic and global economy.
As such, there is a real demand for talented individuals who understand the management of tourism and hospitality businesses and who can think about business development.
This course is designed with this in mind, providing a skillset to be successful in this growing market.
Students are introduced to the impact of globalisation on countries, cultures and the tourism and hospitality industry. This introductory year will provide a comprehensive understanding of the key issues and problems in the contemporary development of hospitality and tourism. You'll explore management and marketing principles, the global arena and tourism basics, gaining a solid foundation for progression into years two and three. Students who complete year one are eligible for a Higher National Certificate (HNC) in Tourism & Hospitality Management.
Modules
Understanding the Global Hospitality and Tourism Industries

Looking at internal and external factors you will consider the global aspect of tourism and hospitality. As an introduction to the course, you will look at cultural diversity with the interactions and practices of an international company coming to the UK. You will also understand the basics of how to analytically examine a company.

Hospitality Operations

You will learn about the day-to-day business planning and operations from a managerial point of view. You will cover revenue, returns, health and safety, allergies, staff training and more. Considering all operations, you will also analyse the effectiveness of operations management practices, discussing approaches to achieve and monitor operational effectiveness.

Marketing and Financial Management in Hospitality and Tourism

Aligning with the financial aspects covered in the operational modules, you will look at fully integrated marketing responses at all levels, with the importance of branding and customer loyalty. This is connected with the importance of fiscal management and the need for a thorough understanding of revenue, profit and loss and capital investment.

Tourism Geographies

Developing general geographical knowledge, you will explore the importance of landmarks and tourist attractions. This will include a variety of destinations, tourist types and characteristics. This module also examines the impact of tourism on the country, including an examination of the social, cultural, geological and geographical features of tourist destinations.
In the second year students will learn to identify key theoretical and sociological approaches and analyse the ways in which social factors and institutions are constructed and represented. Students who complete year two are eligible for a Higher National Diploma (HND) in Tourism & Hospitality Management.
Modules
Human Resource Management in Tourism and Hospitality

A fundamental element of operational performance in the tourism and hospitality sector. You'll be introduced to aspects of human resource management. Gaining the skills required for successful people management, you will see how transferable skills are implemented to improve business operations.

Sustainable Tourism and Destination Management

In this module, you can expect to build knowledge on the emergence of alternative types of tourism and ethical practices as antidotes to traditional modes of mass tourism. The specific aims of this module are to investigate the multiple connections between different types of tourism, their uses and impacts on environments. The emergence of new more sensitive and apparently more sustainable forms of tourism.

Strategic Marketing for Hospitality and Tourism

Whilst focusing on contemporary management issues, you'll discuss the changing nature of marketing from a strategic perspective. There's a real focus on brand identification and the importance of customer service, so you'll develop a planned and focused approach to long-term marketing campaigns including digital, social media and traditional marketing efforts.

Crisis Management and the Impact on the Global Hospitality and Tourism Industry

This module will examine crisis management in tourism and hospitality from the consumer and stakeholder viewpoints, whilst highlighting the impact of pertinent media management. Crisis management engages students critically with relevant theories and principles, as they relate to modern events such as virus outbreaks, attacks and tsunamis which have shaken customer confidence.
An optional placement or study abroad year gives you the chance to gain further insight into the industry or career you are seeking to follow, enabling you to apply your theoretical knowledge to the workplace. You can also choose to take an optional year abroad between years two and three. If you decide to take advantage of a placement year this version of the degree will help you acquire valuable work experience and gain an understanding of what employers seek in graduates. It is your responsibility to find a placement with an employer within your chosen sector. The Talent Team, alongside the course team, will support you throughout your placement year.
Modules
Professional placement or Study abroad
This year you are working at a professional level, taking on a managerial perspective and clarifying your leadership skills. You'll be building on the culmination of knowledge gained in previous years and focusing on transferable skills including project and time management. Centring on executive topics, you'll cover events management, strategic business and present a professional-level consultancy project. You'll be confident in your own development planning and demonstrate commitment to your continuous improvement as an aspiring manager of teams. Students who complete the final year are awarded a BA (Hons) degree in Tourism & Hospitality Management.
Modules
Emerging Issues in the Tourism Industry

Focusing on the current global market, this module explores recent research on the evolution of tourism policies, strategy making, implementation and measurement. You'll have clear awareness of major, current, theoretical and policy issues. You'll also cover tourism regulations and how they fit into contemporary policy and governance frameworks.

Strategic Business Impact

As a manager within a hospitality or tourism organisation, decisions taken must consider the internal business and macro environment. You will put your skillset to the test, undertake an analysis of the wider business environment and consider how to utilise outcomes to shape decisions made as part of a leadership team.

Event Management for Tourism and Hospitality

The module provides a theoretical and practical approach to planning, managing and evaluating events in the tourism and hospitality industry. It examines the skills necessary to become a successful events manager, such as marketing for events, financial reporting, project planning, event bidding and consumer behaviour. Excitingly, the practical application of learning includes arranging and hosting a real event for final year students.

Investigative Project in the Tourism and Hospitality Industry

The independent project is a strategic endeavour, to demonstrate that business success in the industry is the product of efficient collaboration of key elements.
We regularly review our course content, to make it relevant and current for the benefit of our students. For these reasons, course modules may be updated.
---
How you'll learn
This course is available as a full-time three year or optional four-year sandwich course, the latter incorporating a work placement or study year in a related field.
Our teaching methods are varied, offering a number of teaching styles to suit the needs of all our students, so in addition to lectures, we also utilise a blended learning approach, including online aspects, workshops and group work. Additional support is available via email and our online learning platform, Aula.
Progression through the modules develops knowledge and skills, including communication (written and oral), study skills, research methods, project management, presentation and career development. We will also encourage you to consider your employability and/or entrepreneurial development.
Unlike traditional institutions, there are no end of year exams. Instead, learning is assessed through coursework and phase tests, which is more reflective of our learning model.
You can expect up to 20 hours of learning activities per week, made up of face-to-face teaching, individual and group tutorials, online classes and independent learning.
The learning outcomes of modules, assignments and projects will be clearly stated. Your work will be marked according to how well you achieve these learning outcomes and your final feedback will refer to each outcome, as well as providing an overall percentage grade.
---
Assessment
The learning outcomes of modules, assignments and projects will be clearly stated. Your work will be marked according to how well you achieve these learning outcomes and your final feedback will refer to each outcome, as well as providing an overall percentage grade.
Assessment methods vary and include, practical class and project performance, written practical reports, project thesis, laboratory experiments, tutorial tasks and assessments, which take place at the end of each six-week block.
Course Breakdown:
Coursework
Interactive Assessments
---
Job ready
On completion, you should be able to:
Demonstrate understanding and knowledge of the theoretical, analytical and practical aspects of policies, strategies and processes within a changing environment.
Critically appraise theories related to the development of a tourism management strategy including, the risk factors that need to be considered in the development of a successful strategy, such as, country, currency, cultural and competitor risk.
Develop appropriate research, alongside the ability to undertake reliable market research activities.
Operate, lead and collaborate in a team to solve problems of a practical (experimental) nature and to provide appropriate solutions.
Apply appropriate presentation and evaluation tools to establish the significance of research data produced.
---
Entry requirements
Haven't met the entry requirements or don't have the right qualifications? You may still be able to progress onto a degree you'd love by studying a foundation or access course.
View our full list of country specific entry requirements on our Entry requirements page. You can also explore our International foundation year courses.
---
Tuition Fees
We pride ourselves on offering competitive tuition fees which we review on an annual basis. Course fees are calculated on the basis of what it costs to teach each course and we aim for total financial transparency.
| Student | Full time | Part time |
| --- | --- | --- |
| UK | £6,800 per year | Not available |
| International | £15,300 per year | Not available |
---
---
Careers and opportunities
One of the strongest sectors in terms of growth and employment opportunities, the tourism industry brings £106 billion to the UK economy. With a degree in tourism, you have the opportunity to move into a wealth of careers, such as management, marketing, business and governance.
Where our graduates work
Graduates have gone on to work successfully in leading, global companies such as the Marriott Hotel, Whitbread and Birmingham Airport.
Other graduates have gone onto further study in business, advertising, public relations, enterprise and branding at institutions across the UK and internationally.
---
How to apply
UK Students

Full-time UK undergraduate students apply through UCAS. Otherwise, you will need to apply to CU directly. Read our application pages to find out your next steps to apply.

---

If you'd like further support or more information about your course get in touch with us today.

International Students

International students should apply directly to CU directly. Read our application pages to find out your next steps to apply.

How to apply

For further support for international applicants applying for an undergraduate degree view our International pages or Coventry University Group's International hub.

---

If you'd like further support or more information about your course get in touch with us today.
You may also like
CU London (Dagenham, London)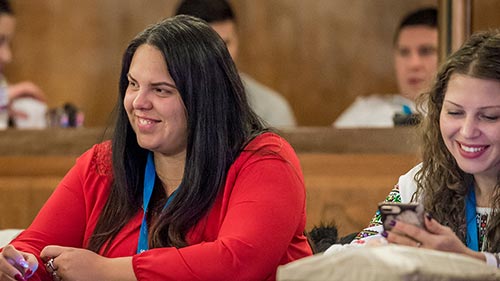 CU London (Dagenham, London)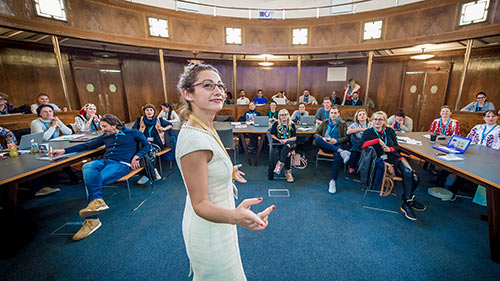 Business Management & Leadership
---
Disclaimer

The tuition fee for the course that is stated on the course webpage and in the prospectus for the first year of study will apply. We will review tuition fees each year. For UK and EU students, if Parliament permit an increase in tuition fees, we may increase fees for each subsequent year of study in line with any such changes. Note that any increase is expected to be in line with inflation. Following the UK's planned exit from the European Union, EU students should be aware that there may be a change to UK laws following the UK's exit, this may change their student status, their eligibility to study part time, and/or their eligibility for student finance. We will act in accordance with the UK's laws in force in relation to student tuition fees and finance at that time.