Case Studies
Employer Case Studies
Coventry City Council
Coventry City Council is the local government body responsible for the governance of the City of Coventry in England.
They see the value in apprenticeships as a method to improve social mobility within Coventry's communities and to strengthen the skills base of their organisation.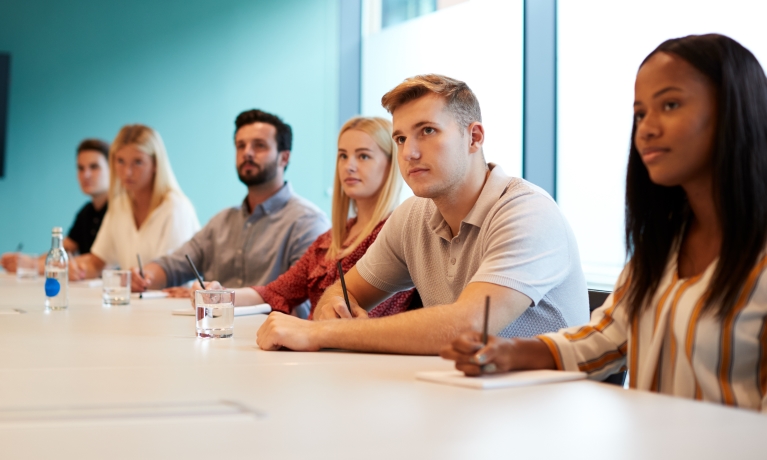 Continuing a long history of collaboration, Coventry University and the Council partner on numerous high profile initiatives including the RISING Global Peace Forum, Hope for Community, FabLab, MyCoventry. The university is therefore able to tailor it's apprenticeship programmes and modules to the organisations cultural and business needs.
Andy Hyland, Workforce Planning & Apprenticeship Manager at Coventry City Council says:
The Council works with Coventry University on a variety of different apprenticeship programmes, the largest being our Social Work Degree Apprenticeships. These apprenticeships have enabled us to upskill our current employees and embed career pathways ensuring that we meet current and predicted skills shortages. We are pleased to work in partnership with a local provider to maximise the benefits for the City of Coventry as part of our One Coventry approach.
---
Vaultex
Chartered Manager Degree Apprenticeship
Vaultex, one of the UK's leading cash handling companies, prides itself on investing in its people by providing quality developmental opportunities for staff.
Vaultex already has a successful graduate programme, but wanted to develop a programme for undergraduates, too. Coventry University's Chartered Manager Degree Apprenticeship, developed in partnership with the Chartered Management Institute (CMI), provides opportunities for apprentices to become future managers and leaders. The programme is tailored to the company's culture and business needs, so that by the time they graduate, apprentices are prepared and ready to step into a management role. As well as a BA Honours degree, they also achieve the professional qualification of Chartered Manager, awarded by CMI. Learning and Development Manager Paul Hannon says:
The aim was to grow and nurture new talent. We recognised it would work both ways. Not only would we encourage career development, we'd be future proofing Vaultex for when people leave the company - with fully trained and experienced people ready to step in.
Five Vaultex Higher Level Apprentices, undertaking Chartered Manager Degree Apprenticeships in different departments, started the programme in January 2016. Paul Hannon is very happy with how the programme is going:
Based on our experience so far, from the outset right through to now, I would certainly recommend Coventry University. The guys have been fantastic…and helped us develop what we've got today, with the view that we're looking to take it further and start another programme in the not-too-distant future.
---
Apprentice Case Studies
Andrew
Management & leadership
Andrew, a Quality Specialist with an international manufacturing company, undertook a Degree Apprenticeship in Management and Leadership. We sat down for a chat with him.
What led you to take this route to a degree?
I decided to undertake this apprenticeship as it provides a university education experience that is complimentary to my career. It focuses on academic study that is actually relevant and applicable to the learner's day job. By having a qualification from Coventry University I also strongly believe that the quality of my future career prospects will be greatly improved".
And have your expectations been met?
Yes, absolutely – the course content and delivery has been exceptional. I have been able to study how various academic concepts have been applied in other industries outside of my own, allowing me to bring some different best practices and ways of thinking into my day to day work. I have also developed my critical analysis techniques and learned important time management skills through balancing full time work with study."
How do you think your apprenticeship has benefitted your employer?
Throughout the process my knowledge and understanding of the wider business has grown significantly, enabling me to add more value to my current role. More specifically during my final business project, and studies into customer quality, I led the creation and distribution of a customer satisfaction survey. This new tool has captured tangible feedback from a vast number of our key customer accounts, and will be used to tactically improve the service that we offer them – potentially leading to increased retention rates and market share".
---
Roisin
Management & leadership
Roisin, a Sourcing Fulfilment Specialist, undertook a four-year Degree Apprenticeship programme leading to a BA (Hons) degree in Management and Leadership. Here's what she had to say about her experience.
It was an amazing opportunity to get work experience while learning. I could apply everything I learned to 'real-life' situations. Although it was hard work combining study with a full-time job, Roisin feels the benefits far outweighed any difficulties.
It helped me with my prioritisation skills, and learning how to manage people and completing business projects has really helped me in my career; I would not be as confident or competent today without this degree. It is not just an academic course, but a life development course too.
The support we received was outstanding. We got quick responses from our tutor with detailed suggestions and improvements, and she really made us apply ourselves. It was amazing to see how much we all improved academically."
Roisin sees the Apprenticeship programme as a win-win for both the her and her employer. She said,
The apprentices on the degree are more motivated in day jobs because of the great opportunity, and because we are treated well, we are willing to work harder and give more back to the company in return for the great training."