Coventry University's first civil engineering degree apprentice among handful of national trailblazers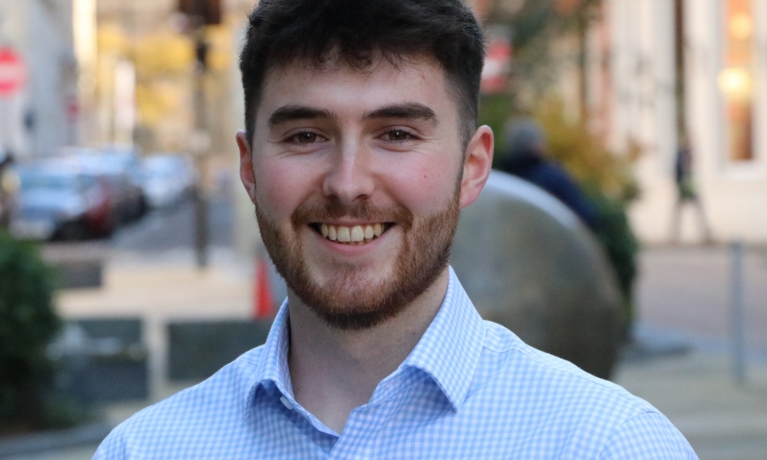 ---
Wednesday 28 July 2021
Press contact
---
A Coventry University student is among a small group of apprentices who are the first in the UK to have completed their Civil Engineer degree apprenticeships.
Scott Griffiths, who works as a structural engineer at Waterman group in Birmingham, passed his Level 6 Civil Engineering degree apprenticeship end point assessment in June, achieving Incorporated Engineer (IEng) status with the Institution of Civil Engineers.
He began his apprenticeship journey on a Level 3 apprenticeship at the age of 18 and progressed through a part-time Higher National Certificate (HNC) at CU Coventry, before starting on the Civil Engineer degree apprenticeship.
Explaining his journey, Scott said:
As I approached the end of my GCSEs, I already knew that the apprenticeship route was for me. I felt like whatever career I might pursue, I could make better progress working for a company in that time than I would in full-time education.
Scott learned to manage the challenge of balancing a full-time job and part-time study. The discipline he mustered from this experience has helped him to be better organised and goal-oriented, which has driven him to achieve more in his personal life, work and studies.
On the benefits of studying via the apprenticeship route, Scott said:
Working day-to-day in the industry that my studies applied to allowed me to see the value in every portion of the qualification. I could take more information in because I had somewhere to place it, and as a result, I was able to achieve much higher grades than I would have done in a full-time scenario.
Armed with his new degree and Incorporated Engineer status, Scott is well positioned to become a chartered engineer.
The Level 6 Civil Engineering Degree Apprenticeship launched in January 2018 under the new government apprenticeship scheme utilising the levy. The apprenticeship programme, unlike a traditional part-time route, required the apprentice to do their job role, study for their degree and not actually complete their apprenticeship until they had got the experience and evidence to demonstrate that they were working at an Incorporated Engineer level. For Scott to have achieved all of that in the past three years since joining as a direct entrant is an amazing achievement and one that he should be very proud of. Richard Davis (Apprenticeship Manager) at the Institution of Civil Engineers summed it up best to me in referring to Scott as 'one of a small number of trailblazing apprentices'.

John Ironman, Associate Head, School of Energy, Construction and Environment, Coventry University
Coventry University offers degree apprenticeships across a wide range of courses.