CU Scarborough offers flexible route into nursing with new blended learning degrees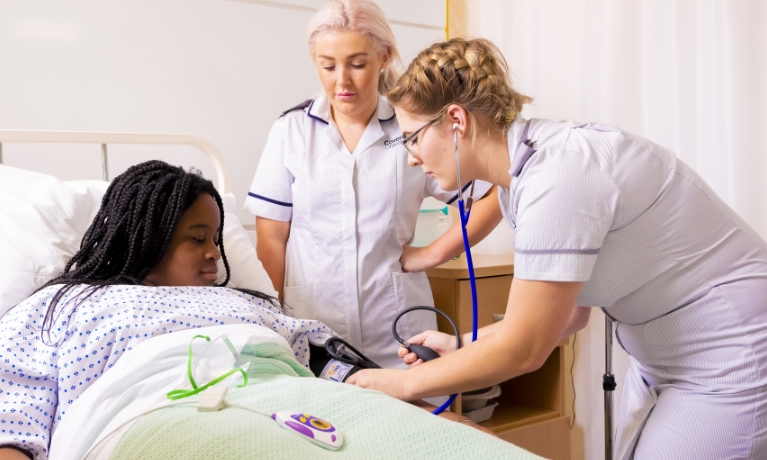 ---
Wednesday 31 March 2021
Press contact
---
CU Scarborough is offering people who would like to become nurses a flexible way to study that makes it easier to balance with family life and part-time work.
The new BSc (Hons) Adult Nursing Blended Learning degree (3 years) and Adult Nursing (pre-registration) Blended Learning MSc (2 years) combine flexible, fully interactive digital learning with practical clinical placements. These are both designed to break down barriers for people wanting to get into nursing and help address the national shortage of nurses in the NHS.
The new degrees - starting in May this year – are accredited by the Nursing and Midwifery Council and are also suitable for people in other careers whose jobs have been negatively affected by the pandemic and want to join the nursing profession.
Half of the content for both courses is academic, 95 per cent of which is online and 5 per cent face-to-face at the CU Scarborough campus. The other half of the course is placement-based learning, a portion of which will be simulated using state-of-the-art technologies. This provides students with the flexibility to study from any location for the majority of the courses.
With their versatile method of delivery, the adult nursing blended learning degree and masters open access to nursing to a wider range of students, potentially resulting in a more diverse workforce. This could also help to increase the number of qualified staff available to the NHS, which currently has a shortage of around 50,000 nurses.
CU Scarborough is just one of the Coventry University Group campuses that are offering the new degrees, with CU Coventry and CU London also available to students.
We are delighted to be one of the first institutions in the region to offer these innovative and flexible degrees. Alongside the mix of online and face to face learning, students will also enjoy periods of full-time work placements in the nursing sector similar to traditional adult nursing. This new delivery mode and the heavy inclusion of innovative digital technology will appeal to a wider pool of prospective students, including those who may previously have had barriers to a nursing career, thereby going some way towards addressing the nursing shortage crisis.

Claire Barwick, Head of Curriculum for Health and Education, CU Scarborough
Questions regarding study and admissions can be directed to the CU Scarborough team.
For UK applicants, Student Finance is available for both undergraduate and postgraduate study, while students who meet the NHS Learning Support Fund eligibility criteria will be able to apply for a £5,000 NHS grant to support them with their living costs during their studies.