CU London welcomes its first apprentices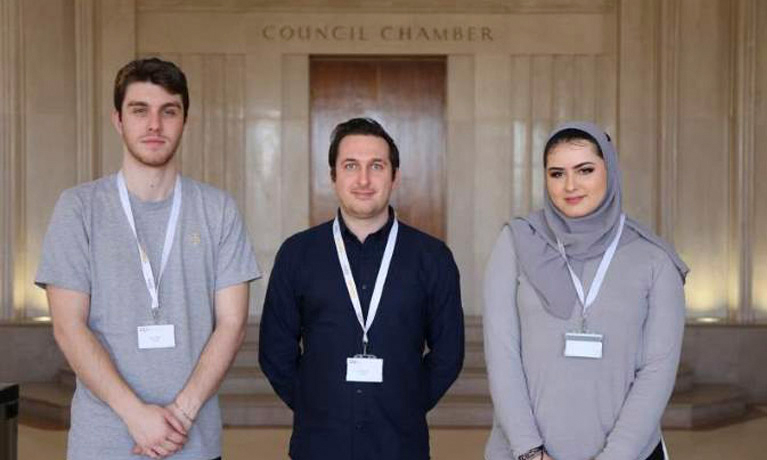 ---
news
Monday 23 April 2018
Press contact
---
East London's newest university campus has welcomed its first apprentices on board.
Apprentices from multinational company Unipart, a leading provider of manufacturing, logistics and consultancy services, are being given the chance to add to their educational arsenal by completing CU London's digital and technology solutions professional degree apprenticeship.
The two apprentices represent a landmark for CU London, part of the Coventry University Group, which opened in September 2017 at the Civic Centre in Dagenham after a £4.5 million transformation.
Completing the course will give them the opportunity to move up in the company as well as expanding their own knowledge and continuing to earn a wage while studying.
For Unipart, they will have two employees learning more about the demands of their industry at the highest level at a fraction of the cost of training them in house.
The pair were welcomed on board by CU London apprenticeships manager Kerry McGreavy, who ran through the expectations of their time at the campus, as well as their IT tutor Syed Naqavi.
This is the start of CU London's relationship with Unipart and we are pleased to welcome our first apprentices on board. We are looking forward to working with Unipart to train more apprentices in the future in a range of different subjects.

Andy Ginn, Associate Pro Vice Chancellor of CU London
The apprentices will be trained in providing solutions for a range of areas including software, business and systems analysis, cyber security, data analysis and network infrastructure as they complete 10 modules over the length of the course.
Based upon a high-quality and low-cost career-focused model of higher education, CU London offers lower fees and more flexible, high quality learning options and is looking to increase the number of companies it works with to provide apprenticeships in the near future.
Degree apprenticeships are available to anyone over 18 and can be completed by new recruits or existing staff new to a role.
I want to develop as a person and working with CU London will help me to work and study simultaneously, giving me the best of both worlds.

Mario Ndokaj, Apprentice
The students should be able to gain a lot of knowledge, give back to the company and develop into valuable assets within the team.

We also hope they pass on their knowledge to new employees and inspire them to go down the apprenticeship route in the future. They are setting an example to their colleagues and paving the way for even more apprentices to study at CU London.

Matthew Butler, Unipart manager
For more information about Coventry University degree and higher apprenticeships, please visit the appenticeships website.