Coventry University announces plans for a second campus in London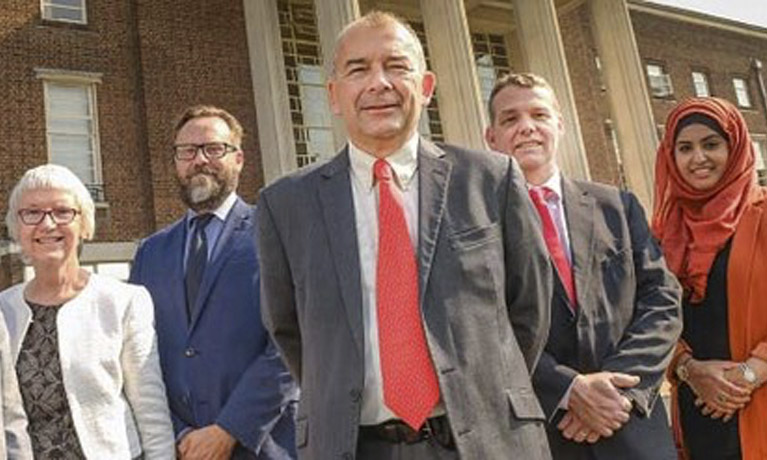 ---
news
Thursday 22 September 2016
Press contact
---
CU London will offer a new kind of university education when it opens its doors at the Civic Centre in Dagenham in September 2017.
The University has been working with Barking and Dagenham Council to develop plans for the new campus and student applications are now being accepted.
The new campus will provide life-shaped learning through a range of full-time and part-time courses, all of which are awarded by Coventry University.
Based upon the high-quality and low-cost career focused model of higher education pioneered by the University through its CU Coventry model, CU London will offer lower fees, lower entry requirements and more flexible learning options - all of which will make higher education more accessible.
Part-time study options include a Saturday university for those who work during the week, foundation years for those who want to step up to a degree and more vocational learning preparing students for future careers.
Part-time students can still complete a degree in three years and student finance support is available.
The Civic Centre will continue to be owned by Barking and Dagenham Council but will be rented to Coventry University on a 10-year lease.
It is Coventry University Group's second campus in the capital and courses on offer will include degrees in accountancy, business, law, engineering, science, finance, health and social care, IT, marketing and tourism, counselling, early years and policing.
The Uni@Work division will also be delivering Higher and Degree Apprenticeships through partnerships with local businesses.
The move has guaranteed the survival of the Civic Centre, which has been under threat, and the building will also remain available to the community for meetings.
We are underlining that first-class education is not constrained by boundaries and can be accessed by all.

Throughout the Coventry University Group, our focus is on giving our students a top class experience across all aspects of their academic life through our innovative programmes of teaching and learning, excellent placement opportunities and a substantial investment in our infrastructure and facilities.

Professor John Latham, vice-chancellor of Coventry University
CU London is the latest offering from the Coventry University Group delivering more vocationally based courses with no end of year exams. It joins existing sites already established in Scarborough and Coventry.

It will not only be more accessible, but also more affordable. Rents and living costs in Barking and Dagenham are much lower than in many areas of the capital and yet it is only 30 minutes from central London, so students will get the best of both worlds.

We are now pleased to be able to accept applications and look forward to hearing from potential students interested in studying at CU London.

John Dishman, chief executive officer and director of CU Coventry
We are delighted to have attracted such a high calibre university to Barking and Dagenham and believe the Civic Centre will provide the perfect location, also benefiting the surrounding area and local economy.

This will also provide local residents, who have aspirations for higher education, a fantastic opportunity to not only attend such a well-respected university, but to do so at a price they can afford.

The range of courses on offer, the flexibility available in both part-time and full-time courses, along with the lower fees, altogether make this a very attractive and achievable prospect for local people wanting to further their education.

Leader of Barking and Dagenham Council, Cllr Darren Rodwell
Coventry University has had an unprecedented year of success including being named as 'University of the Year' in the annual Times Higher Education (THE) Awards as well as being named as 'Modern University of the Year' in The Times and Sunday Times Good University Guide 2016 for the third year running.
The Guardian University Guide 2017 saw Coventry maintain its ranking of 15th and cement its pace as the top modern university in the UK.
Further information is available by visiting www.coventry.ac.uk/cul.
Find out more about the Coventry University Group.