Skills Bootcamp in Data Science
Applications will open in September, start date 6 November 2023
Course overview
In collaboration with Gradcore is delivering Skills Bootcamps as part of the government's Skills for Life. This is a unique opportunity to learn industry best standards and practice, develop technical skills, and all whilst we work with you to find suitable employment after you finish the course.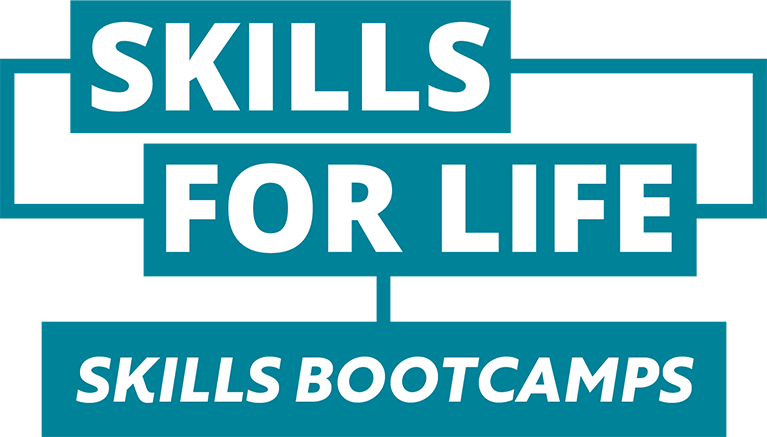 Places are limited and will be allocated on a first-come, first-served basis to eligible applicants. Please note that individuals are only eligible to participate in one Skills Bootcamp from April 2023 – August 2024 but can apply for multiple Skills Bootcamps.
You do not need any prior qualifications but will need to meet eligibility criteria and entry requirements as highlighted below.
This 10-week academic training will feature blended learning: eight guided learning hours, Monday-Thursday 6pm to 8pm (online) and up to 12 hours a week of structured, unsupervised. The two-hour live sessions will include academic content delivery and guided practical activities. Real-time content delivery will typically be recorded and made available for later review, and flexible support will be available outside of formally timetabled sessions. The final two weeks (weeks 11 and 12) of the course will be dedicated to employability tuition followed by employability support and guaranteed interview.
An important element of Bootcamp delivery will be practice-based learning. We will embed personal and professional learning and development into our core delivery to ensure that you develop the personal and interpersonal skills required to operate successfully as a digital professional.
Dates
Technical delivery:
Week 1 - Week 10: 6th November 2023 - 19th January 2024
Employability tuition
Week 11- Week 12: 22nd January 2024 - 2nd February 2024
Guaranteed interview
By 19th February 2024
Employability support and coaching
29th January 2024– 29th July 2024
Venue
Online
Qualification
Upon successful completion of this course, learners will receive a Certificate of Attendance from Coventry University. Learners must attend a minimum of 80% of all online sessions to receive a certificate of attendance at the end of the course.
Fees
This course is provided completely free of charge to the unemployed or self-employed applicants as the financial costs are being covered by the WMCA, with funds provided by the government's Skills for Life initiative.

For those already employed, and looking to develop new skills, employers are asked to fund 30% of the costs - £1,111
What will you learn?
The amount of data that is currently being generated is growing exponentially, and organisations are beginning to see an increasing need for data analytics to be performed. This need is fuelled by the requirement to gain a competitive advantage, by gaining insights into the data they currently possess.
The main purpose of this course is to provide yourself with the necessary information to be informed on the role of a data scientist and some of the skills that are required. Some of the later material in the course covers statistics and machine learning techniques that could potentially be applied to your career.
On completing the bootcamp, candidates will learn to create intelligent models which can predict future outcomes based on past data, generate artwork, or give you incredible insight into hard-to-find connections within your datasets. You will gain a deep understanding of data flows within organisations and systems, and how huge amounts of data can be engineered to produce knowledge.
Course breakdown

Weeks 1: Introduction to the Programme

Introduction to information systems and digital technology, key technologies for on-line learning, communicating, collaborating, and presenting.
Understanding requirements, setting objectives, planning and time-management, professional behaviour and professional ethics
Working with others, team dynamics, roles, behaviours and personalities

Weeks 2-3: Data Management

Data Types and Structures
Data Cleaning
Data Storage
Scoping and Acquiring Data
Legal requirements

Week 4: Programming for Data Science

Python Data Types and Data Structures
Conditional and Control Statements

Week 5: Data Storage

Week 6: Descriptive Statistics and Inference

Mean/mode/median
The bell curve
Correlation

Weeks 7-8: Machine Learning and Applications

Clustering
Distance Measuring
Neural Networks and Stochastic Models
Using algorithms to gain insight from data

Week 9: Data Science Ethics

Data science for good and evil
Distance Measuring
Bias
Importance of training data

Week 10: Data Science Project

Presenting to a broad audience
Communicating data science outcomes

Week 11 - 12: Employability tuition and job interviews

CV writing, job applications, LinkedIn profile, interviews, job search, becoming self-employed & other masterclasses

Week 12 onwards (up to 6 months): Signposting to jobs and employability guidance
Entry requirements

In addition to the eligibility criteria outlined above, applicants will need to meet the following minimum requirements to apply successfully for our leadership and management bootcamp.

Applicants should be available to attend the complete course from 6 of November 2023 to 2 February 2024
You must have an appropriate standard of English so that you can access relevant resources and complete the course modules and assignments.
The ability to input information on a keyboard smoothly while typing.
This can be either a laptop or desktop. It doesn't matter which one, but it should have enough RAM and memory to support your studies. In addition, your computer will need a working microphone, speakers and web camera.
As a PC user, you need to make sure that you have the correct operating system, such as Windows 10 or 11 or OS X. Newer versions tend to work faster.
You will need a good office suite, such as Microsoft Office. A good web browser, like Google Chrome, is also important. It can also be helpful to have an antivirus installed.
For an online course, a decent internet connection is essential so you can keep up with your work. A high-speed Wi-Fi connection can be obtained either at home (preferred for the best.

Computer or software specifications:

250 GB hard drive or higher
8 GB RAM or higher
2.0 GHz Intel or AMD processor
Windows 10 or MAC OS 10.10 or later
Google Chrome 96, Firefox 48, Safari 11 or later
Anti-virus program

Before you begin, it's important to make sure that your computer is in tip-top working order and is properly equipped. You need to be prepared for any situation that could arise; for example, most classes have pre-recorded video lectures or live video chats, and if your speakers or headphones don't work, you will struggle to participate.

Unemployed applicants should be committed to securing a job interview and or attending an interview arranged by the graduate team by 19th February 2024, and continue to engage with employability activities in order to move into/return to a role that utilises the skills acquired in this Skills Bootcamp within 6 months of completion of the course.

Self-employed applicants should be committed to submitting a plan in writing confirming how they will utilise skills gained during this course to gain a job interview by 19 February 2024 and secure a new opportunity/contract that utilises the skills acquired in this Skills Bootcamp within 6 months of completion of the course.

Note: Are you aware that you can only participate in one Skills Bootcamp during the fiscal year running from April 2023 to March 2024? While you can apply for more than one Bootcamp, should you be offered multiple places, you may accept only one.
Eligibility Criteria

To be eligible to join this course applicants must meet all the following criteria:

must be aged 19 or older
West Midlands Combined Authority residents
have the right to work in the UK. This can be checked on gov.uk/prove-right-to-work
meet residency requirements - applicants should be UK nationals or other person with a right to live and work in the UK without any immigration restrictions who have been ordinarily resident in the UK, or the British Overseas Territories, or the Crown Dependencies (Channel Islands and Isle of Man) for at least the previous 3 years on the first day of learning.
Those who have not already taken accredited Cyber Security training.
Those who are not currently enrolled in an apprenticeship or programme funded from the Adult Education Budget.

Note: If you are unsure if you meet residency criteria, please refer to the information provided on the AEB Funding Rules page.

Agree to provide mandatory personal data and supplementary information on their employment outcomes for up to 8 months following completion of the Skills Bootcamp.

Be either

unemployed within the last 12 months, or
career changers/returners/redeployed, or
self-employed/employed
How to apply

As a free course with places limited to 25, our application process will ensure the training is made available to those who will benefit most from the opportunity.

To apply please complete all steps below:

* If you are required to hold a Visa to work in the UK you will be asked to evidence of your right to work in the UK with a "right to work share code". If possible, please obtain this code before submitting your application via the government website: https://www.gov.uk/prove-right-to-work.

The deadline for applications is 9am on 23 October 2023. We'll contact selected applicants by the end of the day on Monday 5th December to arrange a short online call to check eligibility.
If you are not satisfied with any aspect of your Skills Bootcamp and wish to raise a complaint you should do so in the first instance with Coventry University by emailing GGill@cusltd.co.uk with full details of your issue. If you are not satisfied with how your complaint has been dealt with you may write to DfE through their Whistleblowing and Complaints process. Complaints 03700002288; Whistleblowing advice line on 0800 028 0285 or help@nspcc.org.uk.
Whistleblowing involves entering a 'whistleblowing' webform on the 'Contact the Department for Education' page, which can be found here: Contact the Department for Education - DFE Online Forms.
Whistleblowing submissions for Skills Bootcamps must be clearly marked 'Skills Bootcamps'. They will be submitted via the DfE's whistleblowing submission process and will be escalated to the DfE Skills Bootcamps policy team for response.