Early Childhood Development and Learning BA (Hons)
Study level:

Undergraduate
HNC/HND courses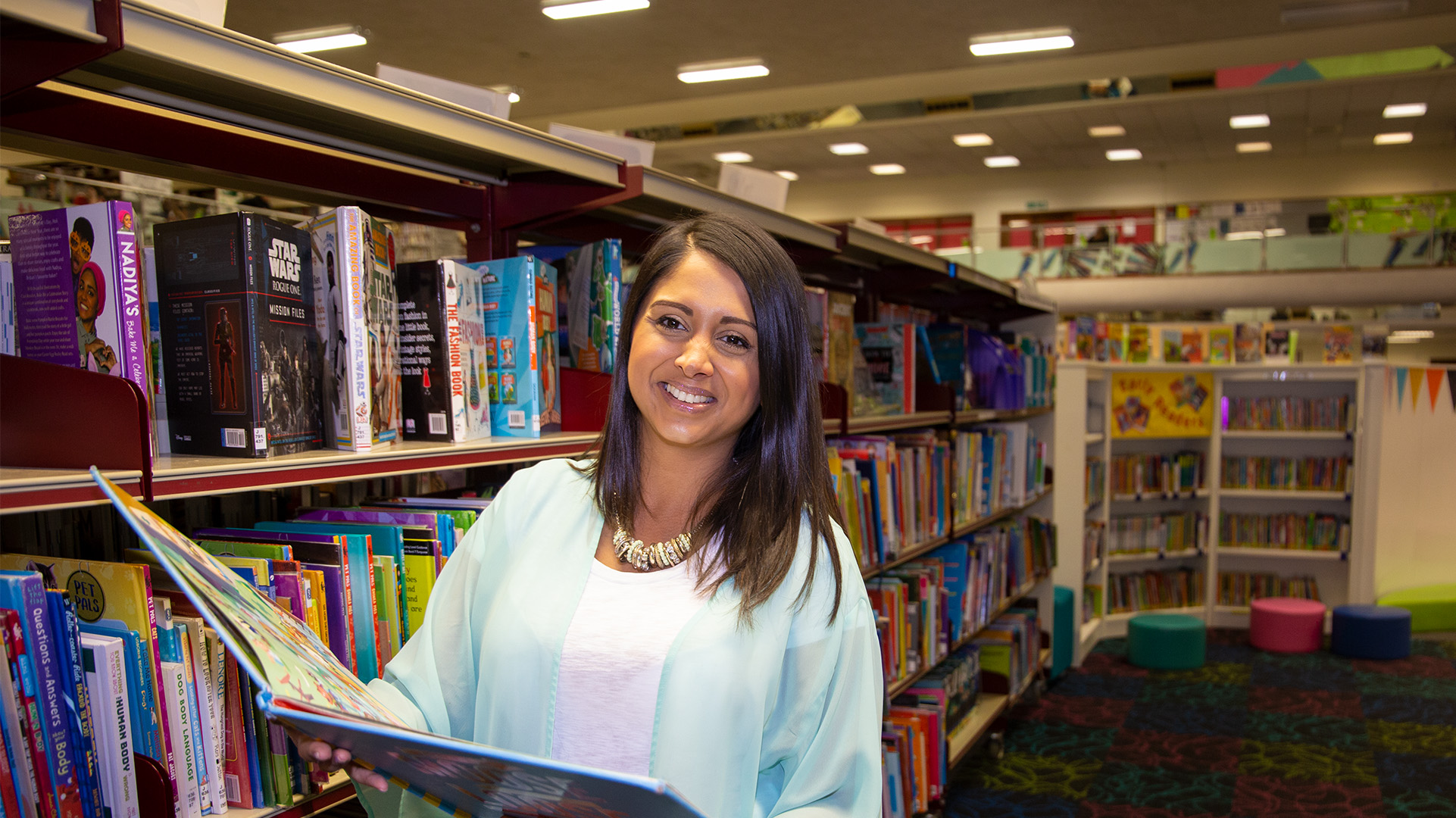 Working with children on educational and personal development can be an extremely rewarding career. Focusing on ages 0 to 8, this course aims to produce graduates who can contribute to early years provision.
Location
CU Coventry (Coventry)
Study mode
Full-time
Part-time
Duration
3 year - Degree
2 year - HND
1 year - HNC
Flexible part-time
Course code
X300 / X301 / X302

---
Course overview
Success in this field demands creativity, empathy, logic and a great deal of knowledge alongside the ability to draw upon life experiences.
As no two days are the same in this industry, this course focuses on policies, processes, best practices and practical learning to help you understand the key fundamentals of child development2.
Opportunities to engage with students at other international universities and industry experts through initiatives like our Collaborative Online International Learning (COIL) project.
Conduct critical research with our highly-experienced staff.
Opportunity to take part in invaluable practical placements2,5 (if taking the Graduate Practitioner route.
Additional option to work towards obtaining Graduate Practitioner status in early childhood settings*
Undertake an investigation into a topic relating to early childhood enabling you to make informed recommendations for future policy, research and practice.
You are encouraged to draw on your own personal experience and make links between your study at university, your personal experience and your professional practice in the field of early childhood.
You can explore a range of international perspectives on early childhood, which you can apply to your own research area.
*Subject to meeting all the competencies set out by The Early Childhood Studies Degree Network (ECSDN), which includes securing and passing work-based assessed placements. Successful completion of all modules (across all three levels) and assessed placements will lead to an Honours degree with Graduate Practitioner Competencies. Please check the ECSDN website for further information.
Why CU Coventry
We offer a style of education which is flexible and designed to fit around your life, allowing you to benefit from a modern, forward-thinking higher education institution, reinforced by the quality and reputation of Coventry University. We aim to provide career-focused courses, wherever possible, coupled with placement opportunities to help prepare you for the world of work. We are dedicated to making higher education accessible and enjoyable to everyone, so we keep our fees low and made it a policy to cover one module at a time, allowing you to become a specialist in each topic before moving onto the next.
Memberships
The Early Childhood Studies Degree Network (ECSDN)
Sector-Endorsed Foundation Degrees in Early Years Professional Association (SEFDEY)
How can we help?
Chat with an advisor now or leave a message and we'll get back to you as soon as we can.
Chat now
Leave a message
---
With a child-centred approach, this year is designed to introduce the key concepts and principles within childhood development and learning. Setting the framework for both academic and professional skills, you will gain an understanding of factors that impact upon learning and development from both individual needs to environmental influences for children between the ages of 0 to 8 years. Within the first year you will be introduced to the Early Years Foundation Stage (EYFS), alongside a number of other international curricula.
Students who successfully complete year one are eligible for a Higher National Certificate (HNC) in Early Childhood Development and Learning.
Modules
Collaborative and Supportive Relationships in Early Years Setting

This module examines fundamental core values and principles when working in early years settings, so that collaborative and supportive relationships are formed and sustained. You will develop an understanding of how effective communication is at the heart of early years practice. You will explore the importance of promoting inclusive relationships with children and families through equality, diversity and anti-discriminatory practice.

Promoting Children's Health, Wellbeing and Safety

This module introduces the key concepts surrounding safeguarding, Adverse Childhood Experiences, resilience and wellbeing in the early years. You will learn evidence based neurobiological development and the importance of nurturing healthy lifestyles and behaviours. You will seek to develop an understanding of how external and internal influences can affect the ability of children to reach their full potential and gain knowledge of safeguarding policy and practice.

The Child, the Family and the Community

This module examines how the family unit has evolved over time and its impact on the developing child. You will explore the rationale for these social and economic changes and use this learning to analyse how the strength of a family can affect the development of healthy, happy and well-adjusted children. You will also study the role that home learning environments, family construction, parenting styles and cultural heritage play in shaping childhood.

Learning and Development Through Play

This module focuses on advocacy for play and how adults can encourage children to become independent thinkers and problem solvers. You will explore why and how children play and the sensitivities. As an early years practitioner you should be instrumental in providing play opportunities to children, and therefore must understand its importance and the range of influences to promote quality and appropriate experiences for children.
As the course progresses, you will continue to build on knowledge gained in year one to solidify core principles. Critical appraisal of childhood perception is introduced, alongside evaluations of diversity in development methods. You will analyse the role of statutory guidance for early years practice and legislation. Finally, you delve into the global sphere, interacting with students from international universities to understand global methods (subject to availability). This research is then used to compare different countries' early years policies with the UK educational system. Students who successfully complete year two are eligible for a Higher National Diploma (HND) in Early Childhood Development and Learning.
Modules
Early Years Pedagogy and Practice

This module examines approaches to the early childhood curriculum and how these curricula relate to a range of theories of learning and pedagogical approaches / practices. We will encourage you to develop an understanding of early childhood education worldwide and how this is reflected in government policies and ideologies. You will assess the value of different curricular and pedagogical approaches in promoting children's learning and development and gain appropriate subject and pedagogical knowledge.

Theoretical Perspectives on Child Development

From Jean Piaget to Lev Vygotsky, theorists over time have developed different perceptions of childhood development. You will explore the evolution of teaching and learning methods in line with postmodern theorists and contemporary practices. This module is designed to develop your child theoretical knowledge and how it is rooted in children's social, cognitive and biological development.

Sustainability in the Early Years

The ethos of this module will be to look at early years for sustainable development, both as an active citizen and an educator, within the context of increasing consumption and diminishing resources. You will aim to develop conceptual knowledge about nature, the environment and sustainability in relation to contexts and theories of early years. You will draw on literary, philosophical and scientific approaches to explore the relationship between education and nature.

Researching and Assessing Children and Families

This module is a desk-based research project that focuses on developing the analytical and personal skills required to research and assess children and families. You will learn a range of research methods such as qualitative and quantitative data, structured interviews, ethical research and observations.
There's no better way to find out what you love doing than trying it out for yourself, which is why a work placement2 can often be beneficial. Work placements usually occur before your final year of study. They're a great way to help you explore your potential career path and gain valuable work experience, whilst developing transferable skills for the future.
Modules
Professional Placement

Study Abroad
In year three, you explore cultural diversification and management as well as delving into international perspectives of children. You'll examine family structures and different environments, analysing and understanding diverse ethnic backgrounds and educational differences. You will be trained at an executive level, learning the skills required to manage a nursery, including key components such as the recruitment of staff and the Management of Special Needs and Disabilities (SEND) requirements. By successfully completing year three you will be awarded a BA (Hons) degree in Early Childhood Development and Learning.
Modules
International Perspectives of Childhood

With a critical mindset, this module will address issues regarding the effectiveness of policy and practice for the child and family around the world. Delving into wealth and poverty, child exploitation and the impact of conflict and migration on families, you will discuss how socio-economic and environmental incidents can affect the development of children.

Effective Leadership and Management of an Early Years Environment

This module supports the development of advanced professional skills and academic knowledge relevant to a graduate working in the Early Years Sector in the areas of leadership and partnership working. You will learn how the nature of leadership and management is examined within a theoretical context when leading and supporting others in practice within the Early Years Foundation Stage, uncovering issues associated with the changing early years workforce.

Inclusion, Equality and Diversity

This module examines the concepts of inclusion, equality and diversity with reference to the experiences of some children in the early years. You will be involved in debating topics such as poverty, gender or ethnicity in order to consider how we might use different theoretical ideas and approaches to promote social justice and rights-based practice when working with children. Building upon understanding of inclusive practice, the focus is to develop your critical thinking skills within the early years setting as you examine and critique recent significant legislation and policy initiatives, reports and research.

Research Project

This module is an accumulation of the theories, holistic knowledge and practices learned over the duration of the course compacted into a research project of your choice. Choosing any subject covered over the course, you can work autonomously, conducting individual research.
We regularly review our course content, to make it relevant and current for the benefit of our students. For these reasons, course modules may be updated.
---
How you'll learn
There are two main taught options for this course. It is available as a full-time three year programme with local placement in stage 1 and 2 or an optional four-year sandwich course where you undertake a work placement or study year in a related field2,5. Alternatively, part-time study is also available.
Our teaching methods are varied, offering a number of teaching styles to suit the needs of all our students, so in addition to lectures, we also utilise a blended learning approach, including online aspects, workshops and group work. We also operate an open-door policy, with additional availability via email and our current online learning platform, Aula.
Progression through the modules develops knowledge and skills, including communication (written and oral), study skills, research methods, project management, presentation and career development. We will also encourage you to consider your employability and/or entrepreneurial development.
Unlike traditional institutions, there are no end of year exams. Instead, learning is assessed through coursework and practical assessments, which is more reflective of our learning model.
Students who undertake the Early Childhood Development and Learning degree will have the opportunity to undertake assessed placements at each level (levels 4, 5 and 6). Upon successful completion of these placements, students will obtain a licence to practise, in line with best practise in the early childhood sector. As they have acquired the ECSDN Graduate Practitioner Competencies in early childhood settings. The competencies have been developed by members of the Early Childhood Studies Degrees Network (ECSDN) in consultation with students and employers, with an aim of 'strengthening a graduate-led Early Childhood workforce that is responsive to workforce needs and improves outcomes for children' (ECSDN, 2018).
Full-time
If you choose to study full-time you can expect up to 20 hours of learning activities per week, made up of face-to-face teaching, individual and group tutorials, online classes and independent learning.
Part-time
If you choose to study part-time you'll usually receive up to 11 hours per week of blended learning, including classes, tutorials and online learning. Outside of this, there will also be independent study and online support. Please note: part-time courses run subject to numbers.
The learning outcomes of modules, assignments and projects will be clearly stated. Your work will be marked according to how well you achieve these learning outcomes and your final feedback will refer to each outcome, as well as providing an overall percentage grade.
Assessment methods vary and include, practical class and project performance, written practical reports, project thesis, oral presentations, tutorial tasks and assessments which take place at the end of each six-week block.
Course Breakdown:
Coursework
Practical Assessments
---
Teaching contact hours
The number of full-time contact hours may vary from semester to semester, however, on average, it is likely to be around 20 contact hours per week (excluding during placements and optional placement year).
Additionally, you will be expected to undertake significant self-directed study of up to 30 hours each week, depending on the demands of individual modules.
The contact hours may be made up of a combination of face-to-face teaching, individual and group tutorials, and online classes and tutorials.
As an innovative and enterprising institution, the University may seek to utilise emerging technologies within the student experience. For all courses (whether on-campus, blended, or distance learning), the University may deliver certain contact hours and assessments via online technologies and methods.
In response to the COVID-19 pandemic, we are prepared for courses due to start in or after the 2022/2023 academic year to be delivered in a variety of forms. The form of delivery will be determined in accordance with Government and Public Health guidance. Whether on campus or online, our key priority is staff and student safety.
---
Assessment
This course will be assessed using a variety of methods which will vary depending upon the module.
Assessment methods include:
Formal examinations
Phase tests
Essays
Group work
Presentations
Reports
Projects
Coursework
Exams
Individual Assignments
The Coventry University Group assessment strategy ensures that our courses are fairly assessed and allows us to monitor student progression towards achieving the intended learning outcomes.
---
Entry requirements
Typical offer for 2022/23 entry.
| Entry level | What we're looking for |
| --- | --- |
| HNC | 64 UCAS tariff points. Minimum 5 GCSEs graded 9-4 / A* - C including Maths and English. Minimum two A2 levels or BTEC equivalent qualification. |
| HND | 80 UCAS tariff points. Minimum 5 GCSEs graded 9-4 / A* - C including Maths and English. Minimum two A2 levels or BTEC equivalent qualification. |
| Degree | 104 UCAS tariff points. Minimum 5 GCSEs graded 9-4 / A* - C including Maths and English. Minimum two A2 levels or BTEC equivalent qualification. |
Students will be subject to a DBS check before enrolment.
If you do not have the typical entry requirements, we offer a number of programmes to help you secure a place. Successful completion of one of the below programmes guarantees you a place on a degree course with us, subject to meeting specified criteria.
Foundation Year
This degree programme has an integral stage 0 attached to it, so if you do not meet the entry requirements you may enter at the foundation level. Successful completion of our Health, Education & Wellbeing Foundation course will guarantee you progression onto this degree programme.
Access Course
Access to HE courses aim to bring your academic skills and topical knowledge up to optimal standard for higher education study. If you undertake an Access to HE course and then successfully complete a degree programme, the remaining balance of your Advanced Learner Loan will be written off. Successful completion of our Health & Human Sciences Access to HE course will guarantee you progression onto this degree programme.
We recognise a breadth of qualifications, speak to one of our advisers today to find out how we can help you.
Are you eligible for the CU Support Scheme?
We believe every student should have the opportunity to dream big, reach their potential and succeed, regardless of their background.
| Entry level | What we're looking for |
| --- | --- |
| HNC | 64 UCAS tariff points. Minimum 5 GCSEs graded 9-4 / A* - C including Maths and English. Minimum two A2 levels or BTEC equivalent qualification. |
| HND | 80 UCAS tariff points. Minimum 5 GCSEs graded 9-4 / A* - C including Maths and English. Minimum two A2 levels or BTEC equivalent qualification. |
| Degree | 104 UCAS tariff points. Minimum 5 GCSEs graded 9-4 / A* - C including Maths and English. Minimum two A2 levels or BTEC equivalent qualification. |
Students will be subject to a DBS check before enrolment.
If you do not have the typical entry requirements, you may want to consider studying this course with a foundation year. Upon successful completion our Health, Education & Wellbeing Foundation course will provide you with the knowledge and skills you need to progress onto this undergraduate degree.
Alternatively, visit our International hub for further advice and guidance on how to apply and travelling to and living in the UK.
English language requirements
IELTS: 6.0 (HNC - year 1/HND - year 2) or 6.5 (Degree/Top Up - year 3).
If you don't meet the English language requirements, you can achieve the level you need by successfully completing a pre-sessional English programme before you start your course.
---
Tuition Fees
We pride ourselves on offering competitive tuition fees which we review on an annual basis. Course fees are calculated on the basis of what it costs to teach each course and we aim for total financial transparency.
| Student | Full-time | Part-time |
| --- | --- | --- |
| UK | £8,050 per year | £8,050 |
| International | £16,650 per year | Not available |
How do you know if you need to pay UK or international tuition fees?

We carry out an initial fee status assessment based on the information you provide in your application. Your fee status determines your tuition fees, and what financial support and scholarships may be available to you. The rules about who pays UK (home) or international (overseas) fees for higher education courses in England are set by the government's Department for Education. The regulations identify all the different categories of student who can insist on paying the home rate. The regulations can be difficult to understand, so the UK Council for International Student Affairs (UKCISA) has provided fee status guidance to help you identify whether you are eligible to pay the home or overseas rate.

If you meet all the criteria required by any one category, including any residence requirements, your institution must charge you the home rate. You only need to find one category that you fit into.
---
Facilities
All our facilities are located at Mile Lane. Our building has been designed to enable collaboration, creativity and innovation to flourish, and includes (subject to availability):
Indoor and outdoor social spaces, including a café
A library that includes loan laptops, over 115,000 eBooks and a silent study area
Open access IT suites and 83-inch teaching screens
Engineering lab, science lab and a moot courtroom
Student support and careers advice teams
---
Careers and opportunities
Presentations, both in small groups (between 5 and 20) and individual, will also be used to ensure that students are effective communicators.
This skill is valued by employers and vital for a career working with children in education or other contexts. Reflective statements may also be submitted alongside a presentation to ensure that academic writing continues to be a focus throughout the course. All assessment will be designed to enhance student development, both personal, professional and academic, through the application of skills and the synthesis of theory and practice.
Opportunities to progress in your career during and beyond the course, with your study with us opening up a number of avenues for future career development in areas such as:
Teaching in early years and primary schools, educational leadership and management
Working in services relating to Inclusion and SEND, safeguarding
Children's mental health, speech and language therapy, play therapy
Family support worker, social work
Early childhood education and care research, publication
Further studies in Early Childhood at postgraduate level
Where our graduates work
Graduates from previous Early Childhood Development and Learning BA (Hons) degree have gone onto work in:
Primary schools
Private day nurseries
Forest schools
Local authority
Further education colleges and schools
Child-minding
Further study
Early Childhood MA
Education MA
Leadership and Management MA
PGCE
SCITT
EYITT
---
How to apply
UK students

Full-time UK undergraduate students apply through UCAS. Otherwise, you will need to apply to CU directly. Read our application pages to find out your next steps to apply.

---

If you'd like further support or more information about your course get in touch with us today.

International students

International students should apply directly to CU directly. Read our application pages to find out your next steps to apply.

How to apply

For further support for international applicants applying for an undergraduate degree view our International pages or Coventry University Group's International hub.

---

If you'd like further support or more information about your course get in touch with us today.
Disclaimers

Coventry University together with Coventry University London Campus, CU Coventry, CU London, CU Scarborough and Coventry University Online come together to form part of the Coventry University Group (the "University") with all degrees awarded by Coventry University.

1Accreditations

The majority of our courses have been formally recognised by professional bodies, which means the courses have been reviewed and tested to ensure they reach a set standard. In some instances, studying on an accredited course can give you additional benefits such as exemptions from professional exams (subject to availability, fees may apply). Accreditations, partnerships, exemptions and memberships shall be renewed in accordance with the relevant bodies' standard review process and subject to the university maintaining the same high standards of course delivery.

2UK and International opportunities

Please note that we are unable to guarantee any UK or International opportunities (whether required or optional) such as internships, work experience, field trips, conferences, placements or study abroad opportunities and that all such opportunities may be subject to additional costs (which could include, but is not limited to, equipment, materials, bench fees, studio or facilities hire, travel, accommodation and visas), competitive application, availability and/or meeting any applicable travel COVID and visa requirements. To ensure that you fully understand the visa requirements, please contact the International Office.

3Tuition fees

The University will charge the tuition fees that are stated in the above table for the first Academic Year of study. The University will review tuition fees each year. For Home Students, if Parliament permit an increase in tuition fees, the University may increase fees for each subsequent year of study in line with any such changes. Note that any increase is expected to be in line with inflation.

For International Students, we may increase fees each year but such increases will be no more than 5% above inflation. If you defer your course start date or have to extend your studies beyond the normal duration of the course (e.g. to repeat a year or resit examinations) the University reserves the right to charge you fees at a higher rate and/or in accordance with any legislative changes during the additional period of study.

4Facilities

Facilities are subject to availability. Due to the ongoing restrictions relating to COVID-19, some facilities (including some teaching and learning spaces) may vary from those advertised and may have reduced availability or restrictions on their use.

5Placements

Satisfactory health clearance may be required. However, an enhanced criminal record disclosure will be required. As part of the health clearance checks you will be required to provide information about your immunity and vaccination status. You will also be required to provide information about your COVID-19 vaccination status. We therefore recommend that you are fully vaccinated including the COVID-19 vaccine. The information you provide will be used to determine your eligibility to go on placement(s). Placements are provided at the placement provider's discretion. The University is therefore unable to guarantee the provision of placements or the location and type of placement offered.
Enhanced DBS and health clearance may be required dependent on provider.

Student Contract

By accepting your offer of a place and enrolling with us, a Student Contract will be formed between you and the university. A copy of the 2022/23 Contract can be found here. The Contract details your rights and the obligations you will be bound by during your time as a student and contains the obligations that the CU Group will owe to you. You should read the Contract before you accept an offer of a place and before you enrol at the university.
---