Dr Bhussun (Sunny) Ramsurrun
Senior Lecturer
Email: sunny.ramsurrun@coventry.ac.uk
After leaving another British University, Sunny joined Coventry University London where he taught the HRM module and was assigned as module leader and moderator as well as strategic partners (Turkey and Malaysia) where similar modules are being taught. In addition, Sunny have been teaching various modules at Coventry University London. Moreover, Sunny has developed some very interesting modules and assisting in others modules development. Currently Sunny is the Module leader for Human Resource Management and Business and Management & Decision Making for respectively (PG and UG) which are core modules for Business and HR students. Furthermore, Sunny has developed the HR software for students to learning new technology skills.
Additionally Sunny has participated in various activities held within the University. Currently he is representing the HR department within CIPD East London Branch as an academic committed member and in past has contributed in the preliminary session of the setting up a research centre at Coventry University London.
Qualifications
PhD in Quality Management (Business), Centre for Management
Quality Research RMIT University (Business Faculty RMIT Melbourne Australia)
MBA, Management Centre, Faculty of Social Science, University of Leicester, UK
Bachelor in Business Administration Degree (Accounting), Newport University, UK
Professional and Industry Memberships
CIPD Academic Member
CIPD East London committee member
Research and Consultancy
Sunny's current research interests include improving global competitiveness of the SME sector through quality management and the retention of the employees, talent management, employee engagement and performance management. He has already published some articles on these relevant topics such as leadership, quality management.
Publications and Scholarship Activities
An analysis of Sabah Tourism Attraction motivational Factors in Malaysia Joint publication (2011)
A Case Study Analysis of E-copreneurship Within a Manufacturing Firm in Malaysia. Joint Publication (2011)
The role and impact of transformational leadership styles changes program within the Health and Education sector in Australia RMIT University Publication (2004)
An Interactive Behaviour of Senior Team Leaders ".RMIT University Conference paper on Leadership at Workplace. RMIT publication (2003)
The Use of International Business Profile Benchmarking within the SME Sector: A Multiple Case Study (Nov 2006) RMIT publication
Global Competitiveness within Small and Medium Manufacturing Enterprises in Mauritius (pp 884-890) 7th International Conference on ISO9000 and TQM in Melbourne, Australia (2002)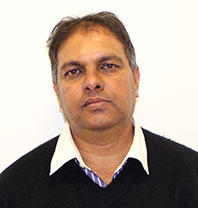 Teaching Areas
Human Resources Management
Strategic Management
HR Simulation
Dissertation
Business and Management and Decision Making