May Ho
Lecturer in Business and Management
Email: ae1396@coventry.ac.uk
May is a Chartered Manager, AgilePM and PRINCE2 Practitioner, and Certified Carbon Literacy Facilitator committed to building a better world through education. She has 12 years' experience in contributing to and/or leading various functions, including Customer Success, Sustainability and Corporate Responsibility, Diversity, Equality, Equity, and Inclusion (DEI), and Learning and Development in management consulting, information technology services and advisory, arts and heritage, and non-profit sectors in London, UK and Hong Kong SAR, China.
May has 3 years' experience in education and training. She is a Lecturer in Business and Management at Coventry University London. Prior to that, she joined Coventry University London as an Associate Lecturer. May also delivers leadership executive coaching and mentoring programmes at the South Eastern Regional College in Northern Ireland and facilitates leadership and management apprenticeship programmes in the private sector. She is an Assessor for the University of Cambridge CISL eight-week sustainability online short courses.
May is the founder of artwhich®, an educational and sustainability consultancy firm. She is a non-executive director at a renewable energy trading start-up, an advisory board member at a community interest company, a primary school governor, and holds various voluntary roles in non-profit organisations such as London Transport Museum and STEM Learning. Prior to that, May worked for Gartner, Clarivate, Thomson Reuters, and the University of London.
Qualifications
MSc in Applied Landscape Archaeology, University of Oxford, Expected in 2025
MSt in Sustainability Leadership, University of Cambridge, 2023
MA in Managing Archaeological Sites, Distinction, University College London (UCL), 2013
BA (Hons) in Graphic Design, Central Saint Martins, University of the Arts London (UAL), 2012
Professional and Industry Memberships
Chartered Manager, Chartered Management Institute (CMI)
Master Member, European Mentoring and Coaching Council (EMCC)
Member, Institute of Directors (IoD)
Affiliate Member, Global Association of Risk Professionals (GARP)
Student Member, Chartered Institute of Personnel and Development (CIPD)
Individual Member, MyAxelos PRINCE2 Project Management
Research and Consultancy
May's research interests are in the areas of leadership capacity, customer and visitor engagement, and sustainability management and leadership.
Teaching Areas
Global Strategic Management (Level 7)
Managing Global Workforce (Level 7)
Sustainability and Corporate Responsibility (Level 7)
Introduction to Entrepreneurship (Level 4)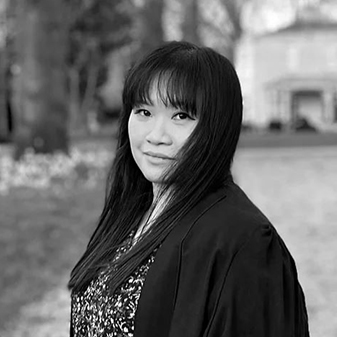 Teaching Areas
Global Strategic Management (Level 7)
Managing Global Workforce (Level 7)
Sustainability and Corporate Responsibility (Level 7)
Introduction to Entrepreneurship (Level 4)