Callum Morrison
Senior Lecturer
Email: callum.morrison@culc.coventry.ac.uk
Following a career in banking and sales, advertising and marketing, digital and international business, Callum became a management consultant, and finally a teacher. His particular talent is conceptualising (multiple) insights and data, grounded in economics, and business theory, to formulate series of interlocking frameworks that are teachable, memorable, and easier to implement than simple ideas. Callum has also taught political science, economics, and international business.
At Coventry University London, he has used his conceptualisation talent and broad knowledge to conceive entrepreneurship modules and courses that arm students with the ways and means to understand the viability and scalabity of a business, and what needs to be done to plan, initiate, lead and manage a business.
In addition, every term he commits organising the GREAT reading group, the SUPER, project groups comprising students, who provide SME with market insights and research, and also, organising visits to Coventry University London by leading business authors, academics, and local business people to deliver practical business that broaden, the knowledge of the students, and the reach of the Coventry University brand and influence into the business community.
Qualifications
MBA international Business (CASS)
Chartered Institute of Marketing diploma
Chartered Institute of Credit Management diploma
Finance and Leasing Association diploma
Professional and Industry Memberships
3C community
Institute of Entrepreneurship
Research and Consultancy
Pedagogy, and delivering the learnings to the students of a module as an integrated process readily applied by the students when practising a whole business discipline, rather than teaching isolated and generic frameworks and insights
Publications and Scholarship Activities
Metaphors as a teaching and business development tool. Unpublished Research output: "Candelabra" – Strategy-driver aggregation tool, bringing together PEST, Porters, and other independent tools to summarise business growth from inception to launch.
"Engine clock" 12–step process to setting up a business, operationalising and revenue generation. From the 12 step process the critical success factors are revealed leading to cash flow analysis and business viability.
"OPULANCE" – Entrepreneur Profiling tool providing a rapid methodology with immediate data presentation and mining functionality
"MrBuddie" - Business partnering profiling and process tool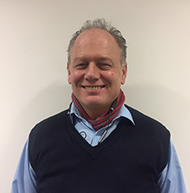 Teaching Areas
Entrepreneurship (M059)
Entrepreneurship (M060)