Student satisfaction at an all time high
Publication Year / 2013 / Categories / Achievement / Student
---
Tuesday 20 August 2013
Press contact
---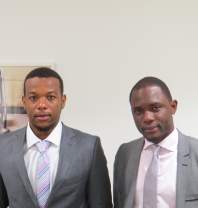 Coventry University student satisfaction levels have risen significantly for the fifth consecutive year.
The National Student Survey 2013, published on 13 August, sees Coventry climb into the top two of modern universities in the whole of the UK for student satisfaction; five per cent better than the average for England.
The overall score increased to 90% of final year undergraduates who are satisfied with the quality of their course, up from 86% in 2012 with the University doing particularly well in the teaching quality category, with 94% of students surveyed agreeing that tutors are "good at explaining things" and 93% saying staff members are "enthusiastic about what they are teaching".
According to the survey completed by over 283,000 students, Coventry is also in the top 15 of all universities in the UK.
Sanusi Dantata, a Global Business MBA student at Coventry University London Campus, said:
'The Coventry University tutors have been great since the start of my course. I have been inspired by their motivation to teach and increase our knowledge to greater height. Coventry has been so far engaging and interesting'.