Richard Moon's story
Internship Manager Richard Moon has been a key part of the Talent Team since joining the university in 2011. In his role, he has helped place countless students into internship roles, as well as helping to strengthen connections with local employers.
As part of our 10 year anniversary celebrations, Richard has shared his top moments from the past decade at Coventry University London.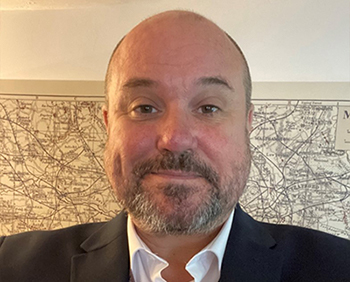 What was Coventry University London like when you first arrived?
From memory, it was a very friendly and welcoming place. I always enjoyed working here – obviously, as I've been here so long! It was a very close network - the staff has increased to probably four or five times its size since then. It was quite exciting because it was a new campus, we were able to be really creative in our job roles. I came in with a lot of experience in careers and business development so it clicked, it worked, and I enjoyed it.
What have you seen change or evolve during your time working at Coventry University London?
Growth in staff numbers, student numbers and the number of courses. When I started, we were only working with MBA students. It's just been getting bigger and bigger, and I've seen campuses open up internationally.
Can you share a standout moment, something that has made you proud to work here?
I think apart from being proud of what the Talent Team achieves with regard to placing students in internship roles and building employer relations, I would say an initiative I set up called Synergy. Synergy was a business competition where students would form teams that would act like businesses. Each team would have a managing director, a finance director, a marketing director and so on. They would raise money over six weeks by putting on events, or making stuff and selling it, and there would be a winning team at the end. Over the three years that Synergy ran, the students raised £15,000 for the Teenage Cancer Trust. It was really good fun. We now run many similar initiatives at Coventry University London such as Business Simulations, the Enterprise Hub and our High Flyers and Get Ahead programmes, all of which enable our students to build their business skills.
What is it that makes Coventry University London so unique?
We're unique because we go above and beyond to find high-quality internships for students and give them the best student experience we can. We're very proud of what we've done over the years and what we're still doing now.
What would you like to see Coventry University London achieve in the future?
I think we are going to continue to grow in every way. I would like to see us increasing links with the local community, sustaining our reputation and continuing to provide a world class experience to our students.
Discover the Talent Team
Find out more about how the Talent Team help our students to craft their career plans, gain real work experience and prepare for employment after university.