Student taking the Primary Education course encourages others to follow his lead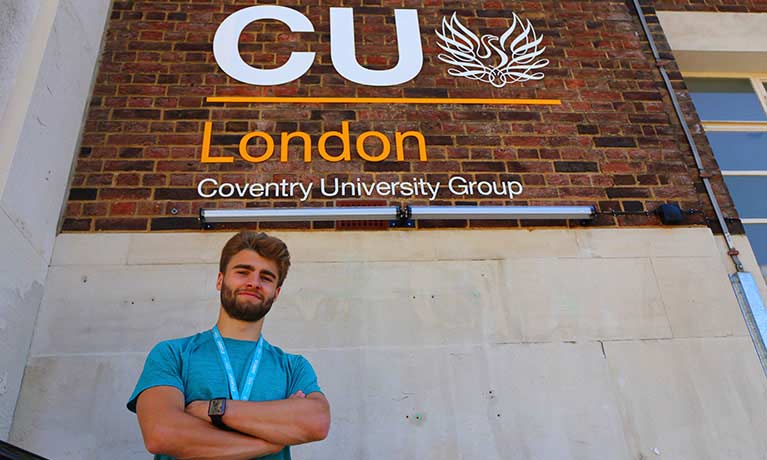 Degree news / Student news
---
news
Friday 06 July 2018
Press contact
---
A former semi-professional footballer and Special Constable is focusing on a new challenge - entering into the 'female-dominated' world of primary school teaching.
As of the last academic year, 85 per cent of teachers working in a primary or nursery setting are female.
Charles Grimme-Yexley, a 21-year-old student at CU London, is currently the only male taking the Primary Education & Teaching Studies degree and has encouraged others to follow his lead.
Charles, who is from Romford, gained a football scholarship with Dagenham and Redbrige AFC after leaving Marhsall Park Secondary School, but wasn't offered a professional contract.
He has since worked as a lifeguard, a Metropolitan Police Special Constable and uprooted to New Zealand for 10 months, where he played football semi-professionally for Napier City Rovers whilst working as a football coach for children.
He now mixes his Primary Education studies with part-time work as a lifeguard and is aiming to eventually specialise in teaching physical education to youngsters.
He said:
I am aware that male primary school teachers are sought after in the UK. Looking back on my primary school days, I can count on one hand how many male teachers I had.

However, a male teacher can bring many different skills and attributes to the classroom, so knowing there aren't many of us has motivated me to make a difference.

I would advise any male considering going into primary education to not be afraid to enter a female dominated environment.

If you believe you can make a good teacher you should pursue that as a career and make a difference.

CU London is an open and growing higher education institution and I am very much enjoying my time here, I feel lucky to have an experienced tutor who has so much practical knowledge to pass on to all of us on the course.
Charles is currently in his first year on the Primary Education & Teaching Studies degree at CU London and is enjoying learning from course leader, Yvonne Thomas.
Yvonne said:
We have an excellent group of students on the Primary Education & Teaching Studies course and Charles is well aware of how few and far between male teachers are in this field.

As long as somebody has the willingness to learn and the ambition to really go for a career in teaching, they can do it and I am sure Charles will have a fantastic career.